Where Did My Teddy Go? by Famela Simmons – Book Review
Where Did My Teddy Go? by Famela Simmons – Book Review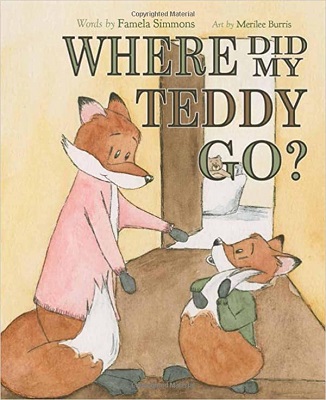 Where Did My Teddy Go?
Author – Famela Simmons
Publisher – Mascot Kids
Release Date – 7th March 2023
Pages – 38
ISBN 13 – 978-1637550830
Format – Hardcover
Star Rating – 4
I received a free copy of this book.
This post contains affiliate links.

Synopsis
The day is done and night has come–it's bedtime for the Foxes. But oh no! Where did Teddy go? Join Child Fox as Mama Fox helps him bathe, brush, and dress for bed while searching for his beloved toy.
Where Did My Teddy Go is a young children's rhyming picture book by author Famela Simmons.
The story features a young fox and his mother. It's bedtime but the little fox can't sleep because he can't find his teddy bear. The tale revolves around mother and son searching different places for the teddy.
The plot is very sweet and I love the repetitiveness of some of the words, which is perfect for new readers. The rhyming works and flows well throughout.
The illustrations are quite old-fashioned and remind me of the books I read as a child. This isn't a bad thing, I think these types of illustrations add a softness and a relaxed feel to children's books, which makes it perfect for the plot.
The story was a quick read and would be perfect for bedtime, especially given the subject matter.
Overall, a lovely, wholesome read that was both enjoyable and adorable.
---
Purchase Online:
Famela Simmons
Famela Simmons is not an award-winning author of dozens of children's books that have been made into film adaptations the world over. In her spare time, she does not jump from airplanes, continent hop, or make gold out of cheese–but she does dream of all these things and more while living with her beloved husband in Orange County, California.
Author Links:
---
The above links are affiliate links. I receive a very small percentage from each item you purchase via these links, which is at no extra cost to you. If you are thinking about purchasing the book, please think about using one of the links. All money received goes back into the blog and helps to keep it running. Thank you.