A Lucky Day by Carlos J Server – Book Review
A Lucky Day by Carlos J Server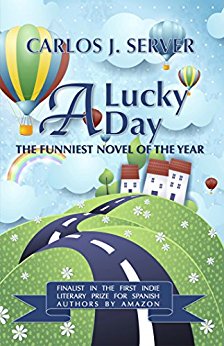 A Lucky Day
Author – Carlos J Server
Publisher – Createspace
Pages – 231
Release Date – 5th February 2017
ISBN 13 – 978-1542364317
Format – ebook, paperback
Reviewer – Marcia
I received a free copy of this book
Post Contains Affiliate Links

The largest prize ever awarded by the EuroMillions lottery has been won by a lucky someone from a small village on the French Riviera. What starts out as the happiest day in history for the local inhabitants soon turns into a race against the clock to find the lucky winner and cash in the lottery ticket.
A priest with verbal incontinence, a sweet little old lady with secret sexual fantasies about the local butcher, a village mayor who's held power for thirty years, and a mailman in love with the wife of a villainous baker are just a few of the quirky characters who will make you laugh and occasionally bring a tear to your eye as you enjoy everyday situations taken to extremes.
A Lucky Day is a heartwarming comedy peopled by a highly entertaining cast of characters. Truly a novel to be savoured slowly, if possible.

The book opens with a quote "Luck is an arrow that finds its target in the least expected place." Konrad Adenauer.
The story goes back and fought between different time frames, starting with two main characters, Jeanette and Adrian getting lost and arguing about directions, whilst travelling in Spain. The couple notice a sign for Sainte Marie d'Azur, not far away, so they decide to stop and ask for directions on how to get back to the highway. When they entered the village, with their son Charlie, the town it would appear is deserted. Eventually they discover a church. Hoping that someone will be inside they go in.
Chapter two then goes back in time and switches to a different character, and I found myself going back and forth between characters and times. At first it was difficult to keep track of all the characters, but once I did, the plot turned out to be very easy to follow.
The story is about a missing lottery ticket, and the speculation that can occur when people try to guess who the winner is. It reminded me that it only takes one person to spread rumours/gossip, and for one other person to believe them, and things can quiet easily get out of hand.
The book ends with the big reveal of who the lottery ticket belonged to.
A Lucky Day has a lot of humour to it, and I did find myself smiling at various places in the book. I read the last part of the book in a library and had to control myself so as not to laugh too loudly, and disturb the other users. It is a very enjoyable book, and I found myself racing through it.
Book Reviewed by Marcia
Purchase Links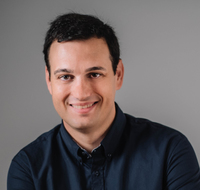 Carlos J. Server (Valencia, Spain, 1975) first became a household name in 2014 with his debut novel, Un día con suerte, a finalist in the First Annual Indie Literary Prize Contest cosponsored by Amazon, the prestigious Spanish newspaper El Mundo, and publisher Esfera de los Libros. Contest judges considered more than seven hundred works by authors from thirty-two countries. Un día con suerte became an overnight Internet phenomenon, quickly rising in the charts to become the No. 1 bestselling eBook in Spanish on Amazon in Spain, the United States, the United Kingdom, Mexico, Germany, France, Holland, and Italy. It has maintained its ranking in Europe as the top-selling comic novel in eBook form available in Spanish on Amazon throughout 2015 and 2016.
The global launch of A Lucky Day, the English version of Mr. Server's first novel, will take place in February 2017, making the novel available to English-speaking readers everywhere. This will be followed in June of the same year by the publication of A Singular Baptism, the English version of his second novel.
In his fast-paced, suspenseful, highly entertaining novels, Carlos Server invites us to enjoy tales reminiscent of Billy Wilder and Woody Allen, two artists much admired by the author.
Author Links