Take the Body and Run by Jada Ryker – Book Review
Take the Body and Run by Jada Ryker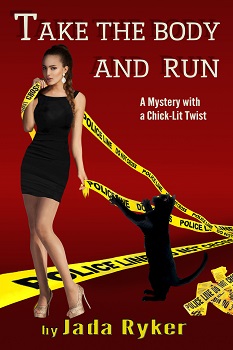 Take the Body and Run
Author – Jada Ryker
Publisher – Createspace
Pages – 264
Release Date – 20th September 2016
ISBN-13 – 978-1518872617
Formats – ebook, paperback
Reviewer – Nalini
I received a free copy of this book
Post Contains Affiliate Links

Macey's first day in the college employee relations department ends with a knife at her throat.
Macey is certain things can't get any worse. She's wrong. An angry employee vows to put her on an online hit list. When he turns up dead, she's a suspect–and on the hit list.
To keep her secrets and her life, Macey partners with two unexpected allies who cause her pulse to race with steamy attraction–and exasperating annoyance. Vince, a handsome, driven lawman, digs up more than just clues to the brutal murder. Brett, a fun-loving pathologist with a deadly sense of humor, drives everyone crazy with his fart machine-will travel.
Macey's supersized black cat Wikket, possessing courage, curiosity, and crankiness in equal portions, assists in his own grumpy, feline fashion, golden eyes open and claws extended.

This book is a 2016 Kindle Scout Winner and is touted as a mystery with a Chick-Lit Twist.
Macey Malloy is the newly hired Employee Relations director at a university. The very first day, she's threatened at knife point, has a nameplate thrown at her, is called a 'heartless bitch', and has her shoulder pinched. And it's only the morning of the first day of the fall semester.
In the first staff meeting, the aggressive behaviours continue. There are personal attacks and acrimonious disputes. People are 'smirking,' 'sneering' and hurting others by viciously by grabbing and twisting appendages. Then there's the attack by a typewriter cart.
To top it all, Macey has a secret.
I don't know what to make of this book. There are too many characters, some do need to be kept though: Vince the dick, and Brett with his fart-machine are two. I feel that Ryker loses focus as there's is a lot going on. She has a bit of trouble with her tenses and keeping irrelevant details out. Such as the dimpled twins throwing bricks from a golf-cart! When her father and his cult show up at her door, she loses me.
What Ryker does well: Angela before and after the bar; the long evening of drinking, grabbing and lunging. The pace slowed down the flow but it was worth it. Ryker is hilarious when she describes her colleagues in the conga line.
Book Reviewed by Nalini
Purchase Links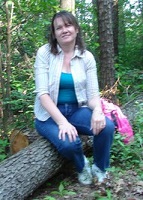 Jada spent the first twenty-odd years of her life in rural Kentucky, many of those years without electricity or running water. In her writings, Jada draws upon her early years of deprivation.
Now, she lives in central Kentucky with her wonderful husband and their cat, rescued from the animal shelter. In her day job, Jada works in higher education. She holds a masters degree in public administration.
Author Links