Who was Joseph Pulitzer? by Terrence Crimmins – Book Review
Who was Joseph Pulitzer? by Terrence Crimmins – Book Review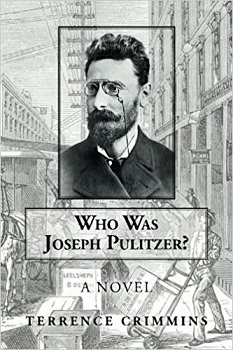 Who was Joseph Pulitzer?
Author – Terrence Crimmins
Publisher – Knollwood Press
Pages – 276
Released – 27th July 2016
ISBN-13 – 978-0991378319
Format – ebook, paperback
Reviewer – Nia
I received a free copy of this book
Post contains affiliate links
Pulitzer was a rags to riches story who revolutionized the newspaper industry by introducing sensationalism and shaking the ground of American politics by demanding changes to stop the rich from exploiting the poor.
Crimmins' novel brings us into the day to day life of this unique genius, who arrived in America as an immigrant who barely spoke English yet twenty years later developed and edited two of the biggest newspapers in the nation. Pulitzer's run-ins with the other newspaper titans of the Gilded Age show us the men who laid the foundations of American journalism, and his confrontations with the wealthy robber barons brings us into the drama of how Pulitzer began a surge for reform that was so very important to improve the quality of American life.
Pulitzer's wife tries desperately to comfort the man whom she deeply loves, yet their romance is shattered by how Pulitzer's workaholic Napoleonic ambitions came to cause him a terrible breakdown, causing this newspaper widow further to the sidelines in this captivating drama of American life.
Crimmins' dramatic novel brings us into fundamental elements at the heart of American society, describing the life of a man who fought essential political battles that changed life as we know it in the United States.
Review
I adored this book – it was deliciously enjoyable and I finished it in one sitting. Before reading this book, all I knew about Joseph Pulitzer was 'the Pulitzer prize is a thing that exists'.
It tells us the story of the Hungarian born immigrant in the US, how his single mindedness and strong sense of righteousness (whether you agree with him or not) turned him from a young man without a penny to his name to a newspaper tycoon.
The most interesting thing for me? The man was an ass. He revolutionised the media industry, changing the way news was reported and bringing important social issues to the forefront so people other than the ultra rich had a say in the way the country was run – I can't question that he did amazing things but my god, what an ass. He was a stubborn, argumentative workaholic with a chip on his shoulder the size of a continent.
This is a truly compelling read, the writing style of the author feels like a nod to the style of Joseph Pulitzer himself – dramatizing and sexying up the facts to give you a finished product that you enjoy reading, while giving you all the facts.
Above all, this feels like a timely novel – this biography shows us the moment in time where newspapers went from bland statements of fact to more sensational versions… to sensational articles with little to no facts. Fake news. I found it quite thought provoking, considering the trade-off between the ends and means of Pulitzer's legacy.
I think I'd struggle to find a more enjoyable and interesting biography than Who was Joseph Pulitzer?
Reviewed by Nia

---
About the Author

Terrence Crimmins was the youngest of nine in an Irish Catholic family in Pittsburgh, Pennsylvania, where he rooted for the Pirates and the Steelers. He continued his Catholic education at Boston College, where he also learned to drink beer and play rugby, and received Bachelors and Masters degrees.
Crimmins has done newspaper work, online columns, published in a scholarly journal, optioned a screenplay for a biographical picture, and taught history in Baltimore, Maryland, for a number of years.
He is now relaxing back in Pittsburgh, and writing short stories and an novels about the comedy and the drama of the American experience.





---