Where Sunflowers Grow by Chloe Shelton – Book Review
Where Sunflowers Grow by Chloe Shelton – Book Review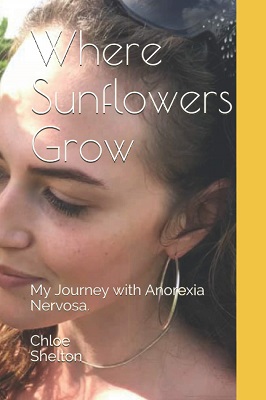 Where Sunflowers Grow
My Journey with Anorexia Nervosa
Author – Chloe Shelton
Pages – 211
Released – 29th December 2020
ISBN-13 – 979-8587753266
Format – ebook, paperback
Rating – 5 Stars
I received a free copy of this book.
This post contains affiliate links.


Synopsis
I came up with the idea of writing a book of my own journey with Anorexia Nervosa after reading Demi Lovato's 'Staying Strong'. I was inspired to help others who are fighting this disorder, those caring for a sufferer or simply educate those interested in the disorder. Hopefully this book can show there is a way out of the landmines that is Anorexia Nervosa.
One moment, I was a normal little girl and the next I was the resilient young woman fighting for survival in the depths of Anorexia. As those I loved stood by and watched me destroy myself we all knew the only person who could truly save me was myself. I had to find a way out. I was lucky to have the support of my family, partner, friends and medical team by my side. The reason I am able to tell my story is because of them. Hopefully the input of a Mum, boyfriend and best-friend can offer some support too.
For those of you who have been reading the blog for a long time will know that we don't normally review biographies/memoirs. The reason being in that I feel awkward giving a review on someone's life. It's not like I can evaluate the characters or whether something fits or not with the plot as this is real people and their real lives we are talking about. However, I was asked by my sister and niece if I would review this book as they know Chloe personally.
I have never met Chloe. Up until I was asked if I would like a copy of the book I'd never heard of her before nor her battle with this terrible disease that caused her so much pain, heartbreak, and suffering, not just for her but for her family and close friends too.
Chloe now twenty-three-years-old documents her life living with Anorexia Nervosa (Ana as she named it), which she states began when she was just seven years old. Since she was seventeen she has wanted to write a book to inform others about the condition and also the personal impact it has on the person suffering from the disease and those around them.
We get to read first hand the way that 'Ana' took hold of not only Chloe's body but her mind too. The highs and the lows that she has been through. Her battle to get support and the waste of space that Camhs is (I've got plenty of harrowing stories about them too, a service that isn't fit for purpose in my eyes).
As well as Chloe's story we get to read sections from her mum on how she felt, a lot of time helplessness and kept in the dark were brought to mind as Chloe learned tricks to try to fool her, her family, and the medical staff trying to help her. We also hear from her best friend and boyfriend and their take on her illness and living with 'Ana'.
The book is written by Chloe and you can tell from the way it reads that this is a young woman who is pouring everything out into the world. It kind of felt like she was in the room with you telling you her life story and you were there to just listen and let her get everything off her chest that she has been wanting to spill out for years.
Some of the information felt quite private, but Chloe has decided to share her whole story with us, as well as provided us with photos to show her at different stages/ages in her battle with 'Ana'.
For anyone who is suffering from Anorexia Nervosa and doesn't know where to turn or whether they should seek help, please pick Where Sunflowers Grow and let Chloe's story help you. For those family members and friends of sufferers, this book will give you some insight into the illness that you might not get to hear firsthand from your loved one. It is a book that will open your eyes to this devastating disease. There is no quick fix but with love, support, and good medical intervention there is hope at the end of the tunnel.
Purchase Online From:
---
What did you think of 'Where Sunflowers Grow'? Share your thoughts in the comment section below!
---
The above links are affiliate links. I receive a very small percentage from each item you purchase via these link, which is at no extra cost to you. If you are thinking about purchasing the book, please think about using one of the links. All money received goes back into the blog and helps to keep it running. Thank you.
Like us on Facebook – Tweet us on Twitter – Pin us on Pinterest – Join us on Instagram