Christmas on Lily Pond Lane by Emily Harvale – Book Review
Christmas on Lily Pond Lane by Emily Harvale – Book Review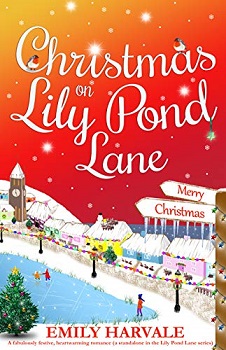 Christmas on Lily Pond Lane
Author – Emily Harvale
Publisher – Crescent Gate Pub
Pages – 276
Released – 16th September 2018
ISBN-13 – 978-1909917361
Format – ebook, paperback
Reviewer – Stacey
Rating – 5 Stars
I received a free copy of this book
Post contains affiliate links.
Snow is falling in Little Pondale, lights are twinkling and the smell of pine trees and roasting chestnuts fills the air…
But Mia Ward is in a bit of a jam. She'd planned to rent out Corner Cottage for Christmas but thanks to best friend, Ella Swann, it's double-booked. Now Mia's got to let one 'party' down, or find another cottage – fast.
Best friends and single mums, Cathy Cole and Christy Franks want their kids to have an old-fashioned Christmas. Ice-skating, carol singing, making decorations, and tobogganing are on their list of festive fun and Little Pondale is the perfect place. Especially as it has no mobile phone reception. That will make it harder for Cathy to be found.
City banker, Leo Hardman is wondering if renting a cottage for Christmas as an anniversary surprise for his parents, was such a good idea. Little Pondale may be where his parents met, but his mum doesn't seem pleased to be back, and his brother, Hal isn't happy that the village is so tiny and only has one pub.
Meanwhile, Jenny Lake is settling in at her cousin's bakery, having left her (broken) heart in Florence, but Christmas was never her favourite time of year. And Reverend Glen Fox has taken over at St Michael and All Angels. He's glad it's a temporary post because village life is not for him.
But luckily, for locals and visitors alike, there's a sleigh-load of Christmas magic heading for Lily Pond Lane; enough to put a sparkle in everyone's festive season. Although Christmas may not go quite as each of them has planned.

If like me you have been reading 'The Lily Pond Lane' series by Emily Harvale, then you will be delighted to know that there is a Christmas book featuring all the wonderful characters. If you haven't been reading the series, then now is the time to catch up.
Mia, Ella, and their partners Jet and Gill are looking forward to their first Christmas together. Mia and Ella love the festive season and are determined to brighten up the village with their decorations, much to the annoyance of their boyfriends who are doing all the hard work. It is whilst sorting out the decorations on the rental cottage that they realise that it has been double booked, they can't let either family down, so Jet comes up with a wonderful idea.
Newcomer to the village Reverend Fox has his eye on another new villager, baker Jenny, though it would seem that Jenny is off men and off Christmas too. Mia is determined to get the two together and change Jenny's mind about Christmas, but will she succeed?
There are also new faces as the holiday letters arrive, but not everything goes smoothly for them.
I have absolutely loved the whole Lily Pond Lane series and couldn't wait to get started on this book. It certainly lived up to my expectations. It was a delight to be back with all the villagers and with Mia and Ella being so ecstatic about Christmas, you can't help feeling that way too – Even if it is only October.
The book is as beautiful on the inside as the cover looks and gives you that warm fuzzy feeling. I found it unputdownable and read it in one sitting. If you pick up just one Christmas book this year, make sure it is this one.
Reviewed by Stacey
---
Purchase online from:
---
About the Author

Having lived and worked in London for several years, Emily returned to her home town of Hastings where she now spends her days writing… and chatting on social media. Emily is a Member of the SoA, a PAN member of the RWA and a Pro Member of ALLi. She's an Amazon bestseller and a Kindle All Star. Emily loves writing and her stories are sure to bring a smile to your face and a warmth to your heart.
Emily says, "I write about friendship, family and falling in love. I believe in happing endings." When she isn't writing, she can be found enjoying the stunning East Sussex coast and countryside, or in a wine bar with friends, discussing life, love and the latest TV shows. Chocolate cake is often eaten. She dislikes housework almost as much as she dislikes anchovies – and will do anything to avoid both.





---