I Know Where She is by SB Caves – Book Review
I Know Where She is by S.B. Caves – Book Review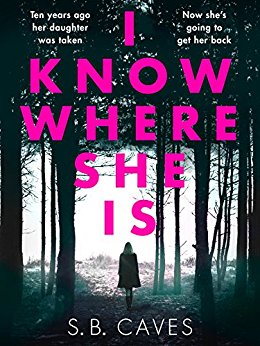 I Know Where She is
Author – S.B. Caves
Publisher – Canelo
Pages – 257
Release Date – 14th August 2017
Format – ebook
Reviewer – Stacey
I received a free copy of this book
Post Contains Affiliate Links

On the tenth anniversary of her daughter Autumn's abduction, Francine receives an anonymous note containing just five words: I KNOW WHERE SHE IS
When a young woman approaches her the next day claiming to have sent the letter Francine wants to dismiss it as a cruel, twisted joke.
But the stranger knows things that only Autumn would know.
It soon becomes clear that Francine must go to dark places in order to learn the truth about her child's kidnapping.
She will discover that danger comes from unexpected sources. She will do things she never imagined herself capable of.
But will Francine get her daughter back – or is it too late?
Review
On the tenth anniversary of her daughter, Autumn, disappearance, Francine receives a note pushed through her letter box with the words, 'I Know Where She Is' wrote in childish handwriting.
She takes the note to her ex husband, Autumns dad Will, for his help, but he shuts her down, and tells her that it will be kids, and to leave him alone and that she needs professional help.
Then a strange young woman, Lena, appears stating that she wrote the note, and that Autumn, now called Melody, is being held in a big house in the woods with lots of other girls, and that she can't get the police involved, as they already know about them.
With no one to turn to, an ex who thinks she's nuts, and a determination to get her daughter back, Francine finds herself on her own, and has to make some tough choices if she is to get her daughter back, going to lengths she never thought she was capable of.
I Know Where she is, is a brilliantly executed thriller. The book opens straight into the action, there is no build up, and this works perfectly, getting you involved from the very beginning.
S.B. Caves took me in a direction I wasn't expecting, and into a dark seedy criminal world, one that goes on behind closed doors, and hidden well from society.
Francine is a woman on the edge. She has lived with the pain, hurt, anguish, and guilt over her daughter's disappearance for the past ten years. She has clung onto hope for so long, that when Lena turns up, she wants to disbelieve her, but knows deep down that what Lena is telling her is the truth.
Lena, is a very mixed up young woman, who came across much younger than she was. Even though she was a victim, I did find it hard to warm to her. I don't know why, there was just something about her that bugged me.
The subject matter might not be something everyone will be comfortable will, but it was handled delicately, and although you knew what these young women were going through, it was never pushed in your face, or explicitly explained.
My only concern is how it ended. I was hoping for something more, but it ended quite abruptly. Though there was talk of the future, I'm not sure if there would be scope for a sequel.
If you are after a fast paced, dark, gritty thriller, that will hook you from the first page and have you eagerly rushing through it, then I Know Where She is would be perfect. It definitely won't disappoint.
Book reviewed by Stacey
Purchase Links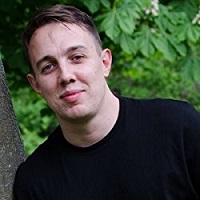 S.B. Caves was born and raised in North London. He loves crime and thriller novels, classic horror movies, Korean/Japanese thriller films and true crime documentaries. He is also a huge boxing fan.
Author Links