Hesitation Wounds by Amy Koppelman – Book Review
Hesitation Wounds by Amy Koppelman – Book Review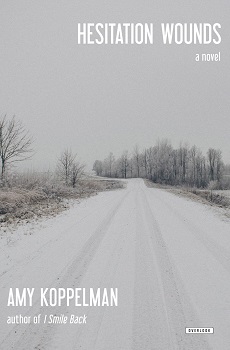 Hesitation Wounds
Author – Amy Koppelman
Publisher – Overlook Press
Pages – 192
Release Date – 3rd November 2015
Format – ebook, paperback, hardcover
Reviewer – Stacey
I received a free copy of this book
Post Contains Affiliate Linka

Dr. Susanna Seliger is a renowned psychiatrist with a speciality in treatment-resistant depression. The most difficult cases come through her door, and Susa will happily discuss medication or symptom management but draws the line at messy feeling. Her mantra and most fervent anti-prayer, and the undeniable fact of her past is that the people who love you leave.
But the past is made present by one patient, Jim, whose struggles tear open Susa's hastily stitched up wounds, and she's once again haunted by the feeling she could have saved those she's lost, including her adored, cool, talented graffiti-artist brother.

Hesitation Wounds is an unusual, and quite honestly difficult book to read. It follows the life of Dr. Susanna Selger, a psychiatrist, who looks after patients that are suffering from severe, and treatment-resistant, depression.
When Susa meets one of her patients, Jim, there seems to be some kind of connection between the two of them, which brings on Susa having flashbacks, especially of her older brother Dan, who committed suicide many years before.
The story is told in both the here and now, and in the past, as Susa deals with her everyday life and her patients in the present, and has many a conversation with her dead brother in the past.
Sometimes the two do seem to intertwine and I did have to look back over a few paragraphs to work out whether I was in the present, or in the past, but this didn't take anything away from the book.
The story is an emotional one and requires your full attention, but Amy's style of writing and her true to life knowledge of depression make the story authentic and a pleasure to read. You can tell that Amy has certainly done her research into the condition.
If you are looking for something a little out of your comfort zone, I would highly recommend 'Hesitation Wounds', just remember the tissues.
Book reviewed by Stacey
Purchase Links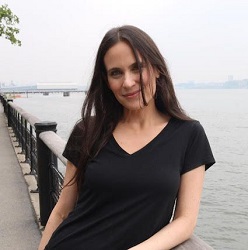 Amy Koppelman is the author of two critically acclaimed novels, A Mouthful of Air and I Smile Back. She received her undergraduate degree from University of Pennsylvania, and an MFA in fiction from Columbia University.
Koppelman and her screenwriting partner adapted I Smile Back for the screen. The film, starring Sarah Silverman, premiered at the 2015 Sundance, Toronoto and Deauville Film Festivals.
Amy lives in New York City with her family. She is an outspoken advocate for women's mental health. Amy would love to participate in your book club when reading her newest book – Hesitation Wounds.
Author Links