Life After America by Joseph Mark Glazner – Book Review
Life After America by Joseph Mark Glazner – Book Review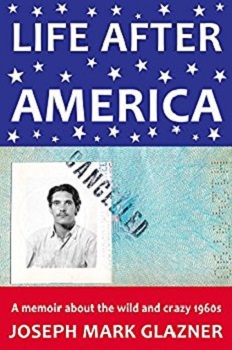 Life After America
A memoir about the wild and crazy 1960s
Author – Joseph Mark Glazner
Pages – 234
Released – 25th October 2017
ISBN-13 – 978-1775005803
Format – ebook, paperback
Reviewer – Clive
Rating – 4.5 Stars
I received a free copy of this book
Post contains affiliate links.
What would you do if your country was on the wrong side of history?
Would you leave if you had the chance–even if leaving might ruin the rest of your life?
In 1967, Joseph Mark Glazner, a twenty-two-year-old American writer, left Los Angeles behind forever and became one of the first war resisters to go to Canada during the extremely divisive Vietnam War.
Life After America is Glazner's upbeat, personal memoir about his first two years in Canada as an FBI fugitive, new immigrant, tabloid writer, journalist, and John Lennon's accidental muse.
Glazner, an internationally acclaimed crime novelist, recounts with dark humor and the eye of a thriller writer his nearly bungled escape from the US, the sweetness and pitfalls of love in an era of sexual revolution, and his own youthful quest to make an impact on the world.

This memoir will appeal to many readers, particularly if you lived through the 'sixties, or have an interest in anti-war movements, US/Canadian politics, journalism or the Beatles.
In Life After America Joseph Mark Glazner gives a very personal memoir of his time in Canada avoiding the US Draft for the Vietnam War. He includes every argument for and against his flight to Canada and I sense from his writing that he is still not totally comfortable with his action.
In the event, his flight to Canada was not exactly the most daring thing that a person has ever done.  Glazner was well educated, from a middle class family and with sufficient savings to cover his living costs for several months, pending his work permit.  Contrast this with the millions of people across the world who are currently taking far greater risks to escape oppression and war or to simply make a better life for themselves and their families. Can his hour long flight from New York to Montreal really compare with trusting meagre life savings to smugglers, crossing the Mediterranean in an inflatable boat or avoiding landmines on the Myanmar/Bangladesh border?
And when he arrived the Canadian authorities allowed him to stay with little inconvenience, he was not forced to live and work without papers.
Of course, there was always the risk that Canada would give in to US pressure to return draft-dodgers and he could not go home as he risked imprisonment.  Interestingly at one stage the FBI did tell him that provided he came home and enlisted he would not be prosecuted.
Glazner arrived in Montreal with just one remote contact who offered some floors pace to sleep on and it was impressive how he built up a network of contacts to create a budding career in journalism. I was interested to learn that he made Canada his home and still lives there.
He also provides good backgrounds to the US politics of the time, the build-up and tactics of the Vietnam War, and the Kennedys. In Canada he describes the French speaking separatism movements, the ascension of the Liberal Pierre Trudeau as well as the music and literature of the time.
Glazner writes in a factual but very easy to read first person style and up to a point the book is interesting without being mind-blowing. Then we get to the John Lennon and Yoko Ono Bed-In section when for me the whole book came alive.
My Kindle version had numerous links to a substantial Notes section at the end of the book where Glazner provides lengthy explanations of contemporary people and events. He also gives references to film and video evidence of his activities with John and Yoko.
The first 60% of this book rates no more than three stars but with such a great finish it has to be an overall four and half star review.
Reviewed by Clive
---
Purchase online from:
---
About the Author

Joseph Mark Glazner is also the author of five crime novels written under his own name, including Smart Money Doesn't Sing or Dance, and two crime novels under his pen name Joseph Louis, including the Shamus and Arthur Ellis nominated Madelaine.
He is also a co-writer of the cult science fiction feature film The Shape of Things to Come. His by-lined and ghost-written articles have appeared in such diverse newspapers and periodicals as Executive, The Globe and Mail, Toronto Star, Sunday Express (Montreal), Omni, Cavalier, The Five Cent Review, and Midnight.
Glazner had also run a think tank and provided communications advice to governments and corporations in Canada, United States, and the Bahamas.
Glazner grew up in rural Warrenville, New Jersey. He is a graduate of the University of Southern Southern California (psychology, magna cum laude) and an elected member of Phi Beta Kappa. He and his partner Joanie Shirriff live in Toronto, Canada.





---