A Quick interview with Wendy Steele
A Quick interview with Wendy Steele
Today on the blog we welcome author Wendy Steele, with a quick interview about her latest book 'The Flowerpot Witch' which was released on 19th June 2018. There is also an international giveaway to enter at the bottom of the page too. Post contains affiliate links.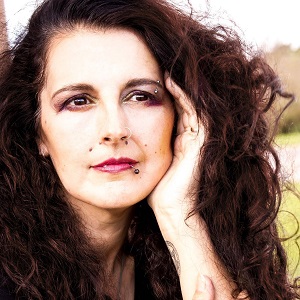 Wendy Steele is author, wise woman, goddess. She is writer, dance teacher, mother and healer. Her passion is magic.
'The Lilith Trilogy' leads the reader along the paths of the witches Qabalah, following Angel Parson's story of betrayal, retribution and redemption. Her magical story contains high magic as well as pagan ritual.
'The Standing Stone Book Series' focuses on the lives of three women linked together across time and space by the standing stone. The countryside is the focus of their magic, embracing the gods and goddesses, tree spirits, elves and fairies.
Her latest series, The Wendy Woo Witch Lit Series, begins with The Naked Witch. Lizzie Martin, receptionist, single mother and witch, is asked by her new boss to conform and embrace the corporate dress code. The reality of paisley to pin stripe, an unexpected stay in hospital, monitoring of her fourteen year old daughter's latest crush, the search for the truth about her father's death and two new men in her life, give Lizzie plenty of plates to spin. In the Orphan Witch, Lizzie is grieving while trying to find her real mother and the truth about her father and in the third book, The Flowerpot Witch, she embarks on a new career, thwarted at every step by those around her.
You can hear Wendy telling her short stories in Pan's Grotto on her Welsh riverbank, on her YouTube channel, The Phoenix and the Dragon.
Wendy's non-fiction title 'Wendy Woo's Year – A Pocketful of Smiles' offers the reader 101 ideas to bring a smile to every day.
Wendy lives in Wales with her partner, Mike, and cats. If she's not writing or teaching dance, you'll find her renovating her house, clearing her land or sitting on her riverbank, breathing in the beauty of nature.
What is Witch Lit and why did you decide to write in this genre?
Borrowing the basis from the genre Chick Lit, Witch Lit books are heroine-centred narratives that focus on the trials and tribulations of their individual protagonists within a modern world, coping with work and home life and with a soupçon of humour. All you do is substitute 'witch' for 'chick'.
Women read more fiction than men, so why not? Who wouldn't want to read about a female protagonist who can destroy three coconuts on a shy…on a bad day? The basis for the genre may be borrowed from Chick Lit but you won't find witches pining for love, though they're not averse to a shapely buttock and a chiselled jaw line.
For the past decade, magical realism has showcased vampires, werewolves and a popular school for witches. Now it's time for real magic and real people.
Do you have to be a witch or a pagan to enjoy Witch Lit?
Not at all! If you enjoy a good story, you'll enjoy Witch Lit.
How do you get ideas for plots and characters?
Often a character appears first, someone with an unusual trait or perspective and then I ask 'what if?' questions. This helps me get to know them and the idea for a storyline follows.
Have any of your characters shocked you and gone off on their own adventures? Do you go with it or bring them back?
My characters have adventures I hadn't planned all the time. If it's relevant to the plot, moves the story forward and is 'in character' it stays in.
Are you prepared to go away from known facts for the sake of the story and if so, how do you get around this?
Every fact is altered by the perception of the person recounting it. I love to give my readers alternative ideas, thoughts they can peruse and form opinions on for themselves. In Destiny and Wrath of Angels, the first two books of The Lilith Trilogy, for example, I show Lilith in a different light, leaving room for new possibilities in our understanding of her.
If the Lizzie Martin series was made into a movie, who would play Lizzie?
Louise Brealey is the first actress who comes to mind. Her slightly gawky but powerful portrayal of Molly Hooper in Sherlock gives her the perfect qualifications.
Where can we find out more about you and your stories?
My website is a great place to start www.wendysteele.com
---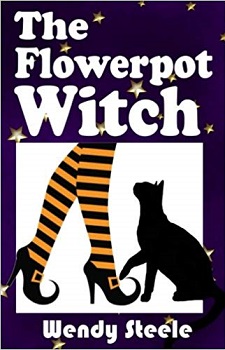 The Flowerpot Witch


A Wendy Woo Witch Lit Novel Book Three
Author – Wendy Steele
Publisher – Createspace
Pages – 374
Release Date – 19th June 2018
ISBN 13 – 978-1721160204
Format – ebook, paperback

Lizzie Martin has chosen pottery to be her new career…
But the teacher from hell threatens to thwart her ambitions before she starts.
She has support from her best friend Louise and Evan, another pottery tutor, but Rowan, her fifteen year old daughter is restless, Josh, her ex-husband is colluding with her aunt and though her mother is alive, access to her is forbidden. When The Morrigan appears in her sacred circle, Lizzie knows she has a battle on her hands.
There is hope though.
Stardust the chicken brings a new creature into Lizzie's life and a long awaited meeting with her Aunt Matilda brings Lizzie's past into perspective.
Lizzie's magic ventures beyond The Sanctuary, into the Welsh landscape and the realms of the fae.
Purchase online from:
---
You can find out more about Wendy Steele by visiting the website/social media sites below.
www.wendysteele.com
@WendyWooauthor
Facebook
YouTube
Goodreads