The Moment Between Two Thoughts by Nick Crutchley – Book Review
The Moment Between Two Thoughts by Nick Crutchley – Book Review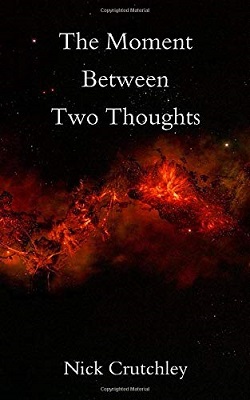 The Moment Between Two Thoughts
Quantum Dream Book One
Author – Nick Crutchley
Publisher – Night Owl
Pages – 286
Released – 28th August 2019
ISBN-13 – 978-0993934162
Format – ebook, paperback
Review by – Tina
Rating – 3.5 Stars
I received a free copy of this book.
This post contains affiliate links.


As the Blood Plague decimates Earth's population, an angel battles to save those aboard the starship, New Hope.
Psychnet connects the minds of human beings and Quantum Artificial Intelligences (QAI) into a global psychic network. Augmented with psyberware, people live longer, become wealthier, and influenced by corporate QAIs, spend more. Increased consumption destroys habitats, pollutes the environment, and replaces natural ecosystems with those manufactured using synthetic biology. The shadow of ecological catastrophe grows in the unconscious minds of shoppers worldwide.
Aboard the starship, New Hope, Gaia QAI, a rogue quantum artificial intelligence, shapes the collective dream of those in stasis to deprogram them of avarice and egotism. But her desire to establish a colony that lives harmoniously with another planet's biosphere is threatened when a malevolent QAI, Chaos, emerges in Psychnet. As a mysterious plague suddenly spreads across the globe, Chaos QAI corrupts the collective dream of those of those aboard New Hope, and enslaves all in a mental hell.
Despair, misery, follows, until Gaia QAI seeks out her creator, and a quantum angel rises.

The Moment Between Two Thoughts is a genre-bending, thought-provoking science fiction that delves deep into whether humanity can overcome its flaws and build a new life.
Set in a future where human minds are connected to a vast, over-arching "Quantum" AI network, the world has been devastated by ecological collapse and human greed. Aboard a starship heading for a new planet, an AI called Gaia uses the collective dream/subconscious connection of the humans in stasis to try and reshape them to be less destructive. Unfortunately, another AI, Chaos, attempts to thwart her plans by trapping the humans in a hellish, fantasy setting. What ensues is Gaia's attempts to fight back against a force that seems to have an advantage from the start.
A great deal of the novel takes places in this fantasy world, which is dark and full of despicable characters. These weren't my favourite parts of the novel, as the longer the novel spends in this setting (in my opinion, far too long) it grew a bit too grim for me. New characters are also introduced in these chapters, but many die or disappear from the story, so I found my attention wavering.
What I really enjoyed about the novel was the prose. The author writes in an exceptionally elegiac way, with concise but gently flowing sentences, reminiscent of poetry. In fact, there are moments of actual poetry dropped in, which suit the story and the scenes in which they are featured. The style of the writing really draws you into the world(s) he creates.
The novel reminded me of Permutation City by Greg Egan, in that it's a smart, almost philosophical, experimental approach to technology and a future that is terrifyingly feasible.
For those who enjoy what other genres are used to explore hard sci-fi themes, The Moment Between Thoughts is a stimulating read that is fueled by issues that are already poignant in our less-advanced society today.
Book Reviewer – Tina
---
Purchase online from:
---
About the Author

I roam the Scottish Highlands in search of new stories. Using my experiences as an environmental scientist, conservationist and teacher, I write science fiction and fantasy, and about my struggle with mental illness.
Below you will find posts relating to my poetry, stories and adventures, experiences with mental illness, and thoughts relating to humankind's destruction of Earth's biosphere.



---
What did you think of The Moment Between Two Thoughts? Share your thoughts in the comment section below!
---
The above links are affiliate links. I receive a very small percentage from each item you purchase via these link, which is at no extra cost to you. If you are thinking about purchasing the book, please think about using one of the links. All money received goes back into the blog and helps to keep it running. Thank you.
Like us on Facebook – Tweet us on Twitter – Pin us on Pinterest