Ariki and the Island of Wonders by Nicola Davies – Book Review
Ariki and the Island of Wonders by Nicola Davies – Book Review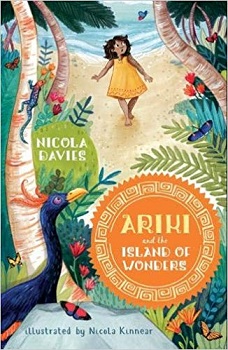 Ariki and the Island of Wonders
Author – Nicola Davies
Illustrator – Nicola Kinnear
Publisher – Walker Books
Pages – 96
Released – 4th July 2019
ISBN-13 – 978-1406369809
Format – paperback
Reviewer – Stacey
Rating – 4 Stars
I received a free copy of this book.
This post contains affiliate links.
After getting lost at sea in a tropical storm, Ariki and Ipo discover an uncharted island and have a great adventure in the second book of the Ariki series.
Ariki and Ipo are making the most of a beautiful day, sailing the sea near Turtle Island on a "borrowed" boat. They're too busy daydreaming to spot the grey clouds gathering overhead – but then a terrible storm breaks, carrying them miles from home. After days without food or drink, they are washed up on an unfamiliar island. The island is beautiful beyond belief: they see butterflies, each one lovelier than the last, lizards chasing across the rocks and, most wonderful of all, a gigantic blue bird with eyes that glow purple.
When they meet another castaway, however, the children discover this island is no paradise – there are dangers lurking in the shadows! A nail-biting adventure with a strong message about endangered animals and human intervention, and a wonderful partner to Ariki and the Giant Shark.

Ariki is bored learning about the ocean and the stars. She is training to be a Star Walker, but she longs to be in the ocean not learning about ripple effects in a bowl. When her tutor leaves her alone, she gathers her pig friend Bad Boy and heads to where her best friend Ipo is working.
Telling him he needs a break the pair (and Bad Boy) head to a boat owned by the daughters of Queen of Big Toe and take it for a little ride. However, not long into their journey a storm arrives and blows them off course. The wind howls, huge waves crash against them and rain lashes down. The pair are lost and after days adrift they find themselves with nowhere to go.
Helped by a friendly whale the three crew members eventually find an island where they meet another castaway, Crusoe McRobinson who has lived on the island since his boat sank and killed his crew. The island looks beautiful and is filled with exotic creatures, but it's not long before they realise that the island is dangerous and they are stuck.
Ariki and the Island of Wonders is the second book in a series about a young girl called Ariki who washed up on shore when she was a toddler and was taken in by the folk of Turtle Island. She loves the ocean and longs to be on or in it all the time. She doesn't like being stuck inside learning about it.
The plot is full of adventure and both Ariki and Ipo are delightful characters who find themselves in a serious situation and have to work out how to get out of it and learn to be gutsy, trusting and brave whilst far from home.
The book is for middle-grade readers and is easily read in just one sitting down to the shortness and the fabulous story. There are black and white illustrations throughout, and whilst I would have loved to of seen the animals in their full colour I do think colouring the pictures may have made this book feel quite young.
Ariki and the Island of Wonders is an amazing book that not only has a great plot but also includes some very valuable lessons and is educational too on environmental issues.
Book Reviewer – Stacey
---
Purchase online from:
---
About the Author

I don't remember a time when I wasn't fascinated by animals. From the moment I could walk I was out in the garden watching ants and worms, and collecting snails as pets.
I had my first pair of binoculars for my eighth birthday. They were so big, I couldn't hold them steady for more than a few seconds. I can still remember the very first bird I saw through them: a male blackbird with his golden-yellow eye ring and sooty black feathers.
My first job was studying geese in Scotland, my second was hand rearing jackdaws and my third was watching humpbacked whales from an uninhabited island in Newfoundland! In the last two years I've returned to studying animals and have been helping out on a long term study of sperm whales, sailing in the Sea of Cortez, and the Caribbean off the island of Dominica.
I've seen all sorts of animals, all over the world: chameleon's in Madagascar, turtles in the Seychelles, walruses in the Arctic, bat eared foxes in Kenya, salt water crocodiles in Australia. But I still love the animals that are within reach of my home in Wales: the ravens and red kites, the grey seals and the choughs, the roe deer and foxes, even the blackbirds that nest in my tiny garden.



---
What did you think of the book? Share your thoughts in the comment section below!
---
The above links are affiliate links. I receive a very small percentage from each item you purchase via these link, which is at no extra cost to you. If you are thinking about purchasing the book, please think about using one of the links. All money received goes back into the blog and helps to keep it running. Thank you.