The Traitor by Ava Glass – Book Review
The Traitor by Ava Glass – Book Review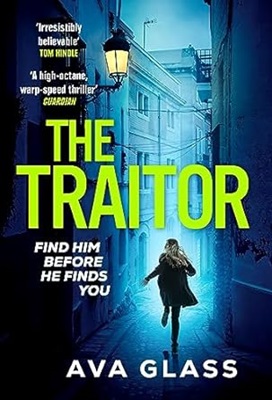 The Traitor
Author – Ava Glass
Publisher – Penguin
Release Date – 14th September
Pages – 416
ISBN 13 – 978-1804940099
Format – ebook, paperback, audio
Star Rating – 4.5
I received a free copy of this book.
This post contains affiliate links.

Synopsis
LONDON – EARLY MORNING . . .
A body is found in a padlocked suitcase.
Investigator Emma Makepeace knows it's murder. And it's personal.
She quickly establishes that the dead man had been shadowing two oligarchs suspected of procuring illegal weapons in the UK. And it seems likely that an insider working deep within the British government is helping them.
To find out who the traitor is, Emma goes deep undercover on a superyacht owned by one of the oligarchs.
But the glamorous veneer of the rich hides dark secrets. Out at sea, Emma is both hunter and prey, and no one can protect her.
Never has the turquoise sea and golden sands of the Rivera seemed so dangerous.
As the hunt intensifies, Emma knows that she is in mortal danger. And that she needs to find the traitor before they find her . . .
The Traitor is a gripping new spy thriller by author Ava Glass and the second book in her Alias Emma series. In this new instalment, British spy Emma Makepeace is on the hunt for Russian murderous arms dealers and someone working within the government who is passing on information to the Russians.
When a colleague is brutally murdered in a locked flat, and left inside a locked suitcase Emma is brought in to discover what happened as it turns out the man was on the hunt for Russian oligarchs who are dealing in arms, however, he also recently discovered that a third person was involved and was trying to find out who. This is what got him killed.
Emma has to go undercover as a crew member on a luxury yacht owned by one of the Russian Oligarchs to find out the truth and collect her evidence, but the traitor may be closer than she realised and she too may end up dead if she can't pull her cover off.
I loved The Traitor. The pace, the action, the kick-ass female spy. This is a book that you need to suspend your reality for a little, just like when watching an action movie, and just enjoy the rush that it gives you as Emma effortlessly finds herself in some situations and manages to get out of others with ease.
The tension builds throughout as you try to work out who betrayed their country and comes to a head on the yacht as you know Emma has nowhere to go if things go wrong.
Overall, if you love books that are full of action, and that feature a feisty, hot-headed female protagonist then The Traitor is the book to pick up. You also don't need to have read book one to understand this story as it works perfectly as a standalone.
---
Purchase Online:
Ava Glass

AVA GLASS is a former crime reporter and civil servant. Her time working for the government introduced her to the world of spies, and she's been fascinated by them ever since. She lives in the south of England.
Author Links:
---
The above links are affiliate links. I receive a very small percentage from each item you purchase via these links, which is at no extra cost to you. If you are thinking about purchasing the book, please think about using one of the links. All money received goes back into the blog and helps to keep it running. Thank you.