The Electrical Venus by Julie Mayhew – Book Review
The Electrical Venus by Julie Mayhew – Book Review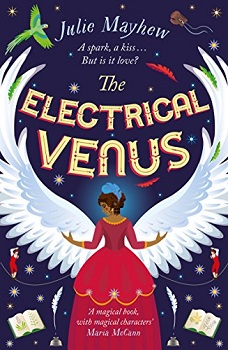 The Electrical Venus
Author – Julie Mayhew
Publisher – Hot Key Books
Pages – 288
Released – 19th April 2018
ISBN-13 – 978-1471407048
Format – ebook, paperback
Reviewer – Stacey
Rating – 4 Stars
I received a free copy of this book
Post contains affiliate links.
A spellbinding story of romance and discovery set in the filth and thrill of an eighteenth-century side-show, perfect if you loved The Mermaid and Mrs Hancock or Caraval.
Can this shocking new feeling be love, or is it electrickery?
In a lowly side-show fair in eighteenth-century England, teenager Mim is struggling to find her worth as an act. Not white, but not black enough to be truly exotic, her pet parrot who speaks four languages is a bigger draw than her. But Alex, the one-armed boxer boy, sees her differently. And she, too, feels newly interested in him.
But then Dr Fox arrives with his scientific kit for producing 'electrickery' – feats of electrical magic these bawdy audiences have never seen before. To complete his act, Fox chooses Mim to play the 'Electrical Venus'. Her popularity – and the electric-shocking kisses she can provide for a penny – mean takings are up, slop is off the menu and this spark between her and Fox must surely be love.
But is this starring role her true value, or is love worth more than a penny for an electrifying kiss?

The Electrical Venus is an unusual, mystical tale told by the performers of a travelling circus in 18th century England, run by husband and wife team, The Graingers.
Amongst the many performers, we meet exotic Mim with her skin the colour of coffee and her beautiful face. She is well educated, courtesy of one of the performers who has now left. She has big ambitions in life, plus she also has a pet parrot called George too.
There is also Alex, a boxer with one arm. He likes Mim. He wants to get out of his normal routine and try a new one that features him and Mim together.
One day The Graingers are visited by a Dr. Fox who wants to buy Mim for his own show, one that is all about 'Electrickery'. He wants her to be the star – His Electrical Venus.
As I stated this is an unusual tale and one I wasn't sure how I would get on with it. The book cover is so beautiful and the synopsis so inviting that I couldn't resist. I must admit that the story was just a delight to read.
The characters were all wonderful and so diverse. It really didn't feel like I was reading a historical novel. The plot moved at a steady pace. Normally I'd be the first to complain that there were no faster parts, but this book didn't need them.
If you are looking for something different then this book is a great choice. It has lots of laugh-out-loud moments, mainly from the outbursts of Mim's Parrot, and he had plenty of them. There is also a romantic side to the book. It is quirky, peculiar and was just a fun, engaging book that I truly enjoyed from the first page to the last.
Reviewed by Stacey
---
Purchase online from:
---
About the Author

Julie Mayhew originally trained as a journalist, then as an actress, and started writing because she wanted there to be more brilliant roles for girls. She is a writer for film and stage, and has been twice nominated for Best Drama at the BBC Audio Drama Awards for her radio work, including a nod for THE ELECTRICAL VENUS, the play which inspired her latest novel.
Julie's debut novel, RED INK, was short-listed for the 2014 Branford Boase Award, THE BIG LIE took the 2015 Sidewise Award for Alternate History amongst other accolades, while MOTHER TONGUE was lauded by the broadsheet press as "Chekhov for the terror age". She was born and grew up in Peterborough.





---