Counting Sheep by Pippa Chorley – Book Review
Counting Sheep by Pippa Chorley – Book Review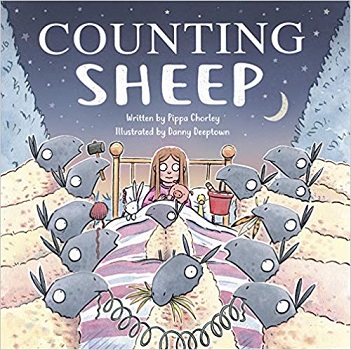 Counting Sheep
Author – Pippa Chorley
Illustrator – Danny Deeptown
Publisher – Marshall Cavendish International
Pages – 32
Released – 15th August 2019
ISBN-13 – 978-9814841191
Format – ebook, hardcover
Review by – Stacey
Rating – 5 Stars
I received a free copy of this book.
This post contains affiliate links.
One cold dark night when Sam can't sleep, her mum suggests that she counts some sheep. But how can she count them when one of the sheep can't jump over the fence.
Join Sam and her flock in this frolicking, rhyming farmyard tale as they try to help little Sheep find a way over the fence.
One night Sam is struggling to drift off to sleep, her mum tells her she needs to try counting some sheep. Try as she might sleep will not come because one of the sheep is very glum. The sheep, little Shep, is too small to jump the wood so his friends gather around to see if they could. Without all the sheep making the leap Sam definitely would not be able to sleep. They needed a plan and they needed one quick, 'aha' said one sheep I know just the trick. – That's as much rhyming you are going to get 🙂
Counting Sheep is an exceptionally enjoyable children's rhyming book. The book is silly, funny and will have children giggling along at not only the amusing story but also at the amazing illustrations that adorn each page.
The ideas that the sheep come up with are plans that I can see kids coming up with too – trying to make little Shep fly over the fence, or making him a ramp. I love that Sam comes up with the best idea that actually works.
I'm a great believer that rhyming books help new readers to read and the rhyming was spot on in this book, there were no sections that didn't hit the mark or were off. Everything rhymed which was nice to see.
This is Pippa Chorley's debut children's book and I can fully recommend it. The text is kept to a minimum on each page and matches the illustrations so that non-readers can follow the story too.
This would not only make a wonderful bedtime story it would also make for an entertaining class read as the plot is all about using your imagination and I can see it being the start of a class discussion, finding out what the pupils would have done to help get little Shep over the fence.
The story is also about understanding that you might not be able to do something the same way as others and sometimes you need to make adjustments and find a different way. It's also a story of friendship as all the sheep come together to help little Shep which in turn helped Sam.
This is a strong start to a writing career by Pippa Chorley and I do hope her next books are just as fun, engaging and include life lessons for children too.
Book Reviewer – Stacey
---
Purchase online from:
---
About the Author

Pippa Chorley grew up in a picturesque village in England surrounded by sheep. Trained as a primary school teacher, she loves to write stories that make children giggle and think outside the box. Pippa has a passion for writing in rhyme, not only because it is great fun, but also because she knows that rhyme is an essential part of children's reading development.
This is the first of three rhyming story books written by Pippa about the adventurous little girl Sam who loves to solve problems! Pippa now lives in sunny Singapore with her husband and their very own flock.






---
What did you think of Counting Sheep? Share your thoughts in the comment section below!
---
The above links are affiliate links. I receive a very small percentage from each item you purchase via these link, which is at no extra cost to you. If you are thinking about purchasing the book, please think about using one of the links. All money received goes back into the blog and helps to keep it running. Thank you.
Like us on Facebook – Tweet us on Twitter – Pin us on Pinterest