Interview with Author Rebecca L. Marsh
Rebecca L. Marsh
I am thrilled to have interviewed author Rebecca L. Marsh, who shared with us details of her writing life, her book 'Summer's Runaway', which was released on 13th April 2023, and answered a few fun questions. This post contains affiliate links.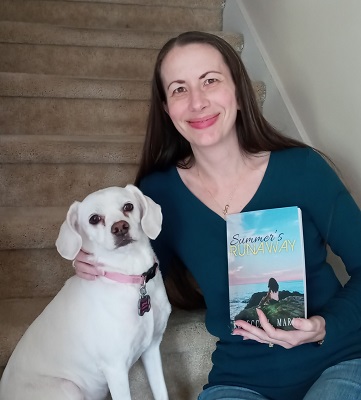 Rebecca L. Marsh is an award-winning author of women's fiction. She grew up in the mountains of Western North Carolina, and now lives in Dallas, Georgia, with her husband and daughter.
When not writing, she enjoys spending time with her family (cats and dog included), watching movies, and reading a good book. Rebecca occasionally makes home-made candy and works on her scrapbooks (she is woefully behind).
She is the author of When the Storm Ends, The Rift Between Us, Where Hope is Found, Remember the Butterfly, and Summer's Runaway.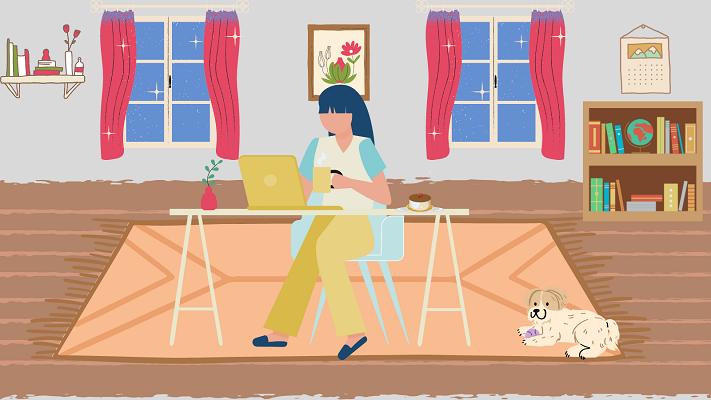 1) Where did the inspiration for your book come from?
This book (Summer's Runaway) is a sequel to my third book (Where Hope is Found). When I wrote the first book, I created a small town setting on a fictional island. I really love the island and the characters who call it home, and I wanted to write another story there. So, I did a little brainstorming and came up with a whole new story that revolves around a brand new character. Those who read the first book will still enjoy time with the characters they came to love while getting to know Hallie and her story.
2) How did you plan out the plot?
The same way I plot all of my stories. I put together the main elements in my head and came up with the rest as I went along.
3) When did you choose the title for your book?
This is something I often struggle with, but with this book, the title came pretty easily as I worked on the book.
4) How did you come up with the names for your characters?
Most of them just popped into my mind. I did ask my husband to help me come up with the name for the guy everyone is sure to hate.
5) Can you give us a hint to any sections that you removed?
I didn't remove any on this book. But I do edit bits and pieces in and out all the time as I go.
6) What made you choose this genre?
I wanted to write books that would affect people on an emotional level.
7) How long did it take you to complete your book?
I'm not 100% sure. I work on more than one at a time. While I'm writing one, I'm editing another. So, probably close to two years.
8) Can you describe your book in three words?
Heartfelt, Emotional, and hopeful.
9) What's the hardest part of being a writer?
For me, it's marketing. I'm just not that good at it and I struggle with taking risks.
10) Why should our readers pick your book up?
Because it will tug on their heartstrings and leave them with a smile.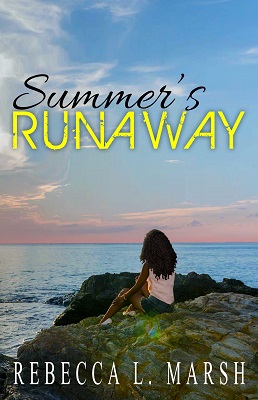 Summer's Runaway
Author – Rebecca L. Marsh
Publisher – Purple Angel Press
Pages – 257
Release Date – 13th April 2023
ISBN 13 – 978-1949498097
Format – ebook, paperback
Synopsis
Hallie ran away from home.
But what is she running from?
And, can she hide for the entire summer?
Three and a half years ago, Hallie had a happy home with a loving mother, a father she adored, and doting grandparents she loved to spend summers with. All of that changed when her father's career in the Army took him to the Middle East where he was killed in action. Hallie never gave much thought to her mother's angry insistence that her grandparents had pushed him into the Army. But his death caused that anger to seep into her heart. Nothing could convince her to forgive them or ever visit their island home again … or so she thought.
But when a threat arises at home that her mother refuses to believe is real, twelve-year-old Hallie finds herself running away from home to escape. She knows a safe place where she can hide, but she'll have to go back to the island, regardless of her feelings.
Hallie doesn't know how long she can stay hidden or if she will be forced to see her grandparents again, but it's a risk she has to take. No matter what else happens, she will never forgive her grandparents for her father's death and she can't go home … not until the end of summer.
Summer's Runaway is perfect for anyone who likes an emotional family drama that delves into, not just the lives of the characters, but also their hearts.
Purchase Online From:
Fun Questions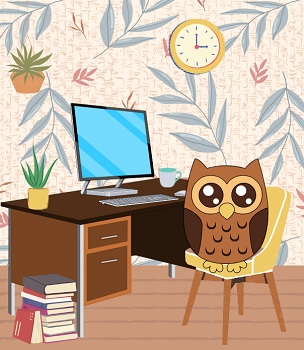 1) Do you have a writing buddy (i.e. a pet)?
I have three pets (two cats and a dog). When I'm writing, the dog is often next to me in her bed, and one of my cats likes to sleep in my lap.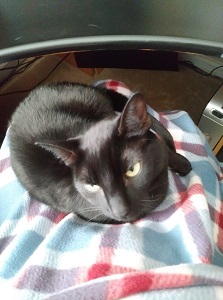 2) Do you have any writing quirks?
I like to write in the afternoon and I can't work if there is too much going on.
At a corner computer desk in my living room. It's not that neat, so we'll skip the picture.
4) Your book has been made into a movie, you've been offered a cameo role, what will you be doing?
I'd probably be a customer at the pharmacy where one of the main characters works.
5) A talking owl has just finished reading your book, what's the first thing he says to you?
"Whoooo's going to take me to the island and introduce me to all the sea birds?" Wink, wink. "I promise to only eat a few."
---
Author links
Twitter
Facebook
Instagram
Goodreads
Website
---
A big thank you to Rebecca L. Marsh for sharing her writing life with us and for a wonderful interview.
The above links are affiliate links. I receive a very small percentage from each item you purchase via these link, which is at no extra cost to you. If you are thinking about purchasing the book, please think about using one of the links above. Thank you.