London Hat Hunting Mission by Winnie Mak Tselikas – Book Review
London Hat Hunting Mission by Winnie Mak Tselikas – Book Review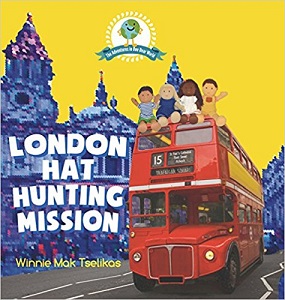 London Hat Hunting Mission
The Adventures in One Dear World
Author – Winnie Mak Tselikas
Publisher – One Dear World Ltd
Pages – 40
Released – 8th October 2017
ISBN-13 – 978-1999820008
Format – ebook, hardcover
Reviewer – Stacey
Rating – 5 Stars
I received a free copy of this book
Post contains affiliate links.
Hope, Jun, Lea and Parth are good friends living in London, and each of them comes from a different background. They are on a mission to find a cure for Mr. Globe's headache. Where are they hunting the hats? Will they manage to cure Mr. Globe?
The book is illustrated with a mix of real life photographs of iconic places in London and digital illustration so children can have a vivid visual experience of London and at the same time open up their world of imagination.

London Hat Hunting Mission is a superb young children's book that follows four friends, Hope, Lea, Parth, and Jun, as they travel around London looking for magical hats. The reason they are looking for them is that their friend Globe (an actual talking, walking globe) has a very bad headache. To cure his sore head they must find magical hats that are placed throughout London.
The four friends visit lots of landmarks and famous streets on their mission. They also meet lots of lovely people too.
Inside the front and back cover is a map of London showcasing the places the friends visit, so that the reader can follow their journey. The book is beautifully adorned with both illustrations and photographs. These will help the reader identify the locations that the children visit including Buckingham Palace, St. Pauls Cathedral, London Eye and many more.
There is a page for each famous street too, including information about why that street is popular and what you will find on it. This is where the reader gets to see all the different cultures that are in London, they also get to partake in learning a little about those cultures, including how to say thank-you in different languages, and the different hats that are associated with each culture or religion.
What I also adore about this book is that it has accompanying dolls, one for each of the children in the book, that can be purchased. So, a young child can share their adventure with the stars of the book. I think this is a great idea, especially with more books being written.
Overall London Hat Hunting Mission is just a delight to read. It is interesting and educational too. I can see this working well as a book to have at home, or one for a class read too.
Reviewed by Stacey
---
Purchase online from:
---
About the Author

Winnie Mak Tselikas is a believer in diversity. Born and raised in Hong Kong, she studied engineering, worked in commercial sales and in 2011 switched to education upon moving to London.
There, she met her half-French, half-Greek husband and they had a son, who now has family in China, France, Greece, HK, the UK and the US. Winnie considers her son to be a world citizen rather than of a particular nationality or culture.
Inspired by her family and London's diversity, she founded One Dear World and created the lovely adventures of Mr. Globe and the little Londoner dolls.