Love at the Northern Lights by Darcie Boleyn – Book Review
Love at the Northern Lights by Darcie Boleyn – Book Review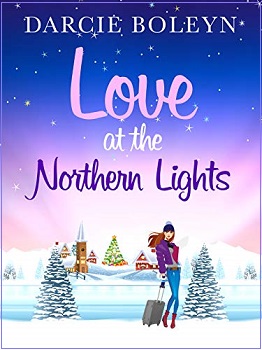 Love at the Northern Lights
Author – Darcie Boleyn
Publisher – Canelo Escape
Pages – 279
Released – 17th September 2018
Format – ebook
Reviewer – Stacey
Rating – 4.5 Stars
I received a free copy of this book
Post contains affiliate links.
'Climbing out the window in her dress and tiara wasn't exactly how Frankie imagined her wedding day…'
Runaway bride Frankie Ashford hops a plane to Norway with one goal in mind – find her estranged mother and make peace with the past. But when a slip on the ice in Oslo lands her directly in Jonas Thorsen's viking-strong arms, her single-minded focus drifts away in the winter winds.
When it comes to romance Jonas knows that anything he and Frankie share has an expiration date – the British heiress has a life to return to in London that's a world away from his own. But family is everything to Jonas and, as the one man who can help Frankie find the answers she's seeking, he'll do whatever it takes to help her reunite with her mother.
Now, as Christmas draws closer and the northern lights work their magic Frankie and Jonas will have to make a choice…play it safe or risk heartbreak to take a chance on love.

Frankie Ashford is running away from her own wedding. After getting an earful from her Grandmother she heads to the airport still wearing her dress and tiara and pulling the suitcase she was meant to take on her honeymoon. She doesn't have a plan on where she is going, she just knows that she has to get far away.
Sitting drinking a brew she pulls out the postcard she has been carrying around with her for years, a postcard from her mum who she hasn't seen since she was just a baby. She doesn't know whether her mum will still be at the same address, but she decides to find out and heads to the destination on the card, Norway.
Once in Oslo, Noway she sets out to find her mum and comes across gorgeous Jonas on her quest. What will the future hold for Frankie and her mum Freya? Only time will tell.
Love at the Northern Lights is a gorgeous book, it is filled to the brim with wonderful characters, beautiful scenery and just an adorable plot that will have you wishing for snow or a trip to Norway.
Frankie is one of those characters that you instantly adore and can't wait to find out more about. She has had enough of being pushed around by others and decides it's time to live her own life, starting with leaving a man she doesn't love.
Freya has been waiting for Frankie to find her for so long. She had her reasons for leaving when Frankie was just a baby. I'd gathered the person responsible for the reasons from quite early on – Well there has to be one character to dislike in the book.
The story just flowed effortlessly and I found myself eagerly turning the pages wanting to know more and getting sucked further and further into the plot. Norway sounds delightful and I can't wait to visit one day.
Love at the Northern Lights is a must read to get you in the mood for the colder, winter weather heading our way, which for once I am looking forward to it.
Reviewed by Stacey
---
Purchase online from:
---
About the Author

Darcie Boleyn has a huge heart and is a real softy. She never fails to cry at books and movies, whether ending is happy or not. Darcie is in possession of an overactive imagination that often keeps her awake at night. Darcie fell in love in New York, got married in the snow, rescues uncoordinated greyhounds and can usually be found reading or typing away on her laptop.
You can also find out more about Darcie by reading her author interview 'The Writing Life of: Darcie Boleyn'