Maigret's Childhood Friend by Georges Simenon – Book Review
Maigret's Childhood Friend by Georges Simenon – Book Review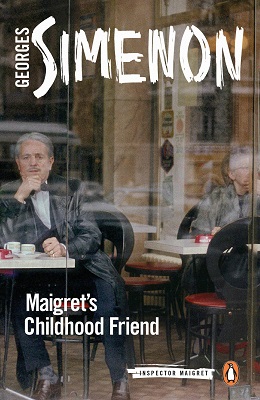 Maigret's Childhood Friend
Inspector Maigret Book 69
Author – Georges Simenon
Publisher – Penguin Classics
Pages – 192
Re-Released – 4th July 2019
ISBN-13 – 978-0241304235
Format – ebook, paperback
Review by – Clive
Rating – 4 Stars
I received a free copy of this book.
This post contains affiliate links.


A visit from a long-lost schoolmate who has fallen on hard times forces Maigret to unpick a seedy tangle of love affairs in Montmartre, and to confront the tragedy of a wasted life.
This novel has been published in a previous translation as Maigret's Boyhood Friend.

Georges Simenon was a prolific writer with hundreds of published works comprising novels, short stories, articles and a great deal of "pulp" fiction, much of which was published in low priced magazines. It is said that he regularly produced 60-80 pages per day. Maigret was his most successful character with 75 novels and 28 short stories published between 1930 and 1972.
Maigret's Childhood Friend was published in 1968 by which time Simenon was well settled into the character so there is no surprise that the book is easy to read. Indeed, it is short enough and compelling enough to read in a single day.
An earlier translation of this book was published as Maigret's Boyhood Friend but my O-level French suggests that the new English title is more accurate. My paperback copy bears an image of Maigret viewed through a café window, clearly contemplating a problem.
Although I cannot comment on the technicality of the translation of the book, Shaun Whiteside has perfectly captured the well-known images of Maigret and the atmosphere of mid-century Paris is so strong that I swear I could smell stale smoke from Disc Bleu or Gitanes on every page. Incidentally, Simenon was not raised in Paris and was not even born in France but his training as a Parisian newspaper reporter taught him the activity of every backstreet of that city.
As one would expect the story revolves around a mysterious murder and a selection of colourful suspects. During his investigation Maigret gets to visit a variety of businesses, bars and bistros, generally in the seedier parts of Paris. The investigation stalls somewhat until a flash of inspiration enables him to solve the case.
Although the case was intriguing the denouement left me a little flat. I had not been able to solve it myself but when Maigret revealed the truth I was not blown away.
But why should a couple of dull pages spoil the great fun that I gained from the preceding 174. I found the whole package all so entertaining and all so comforting that I have to award it four stars.
Book Reviewer – Clive
---
Purchase online from:
---
About the Author
Georges Simenon is one of the most addictive and bestselling European authors of the 20th Century. His work consists of 391 titles, and he is best known as the creator of the fictional detective series consisting of 75 books featuring Inspector Maigret, translated into more than 50 languages and sold in more than 50 countries.
There are over 800 million Simenon books sold worldwide and he is the most translated French speaking author of the 20th century and the second most translated author of all time in Italy after Shakespeare.
---
What did you think of Maigret's Childhood Friend? Share your thoughts in the comment section below!
---
The above links are affiliate links. I receive a very small percentage from each item you purchase via these link, which is at no extra cost to you. If you are thinking about purchasing the book, please think about using one of the links. All money received goes back into the blog and helps to keep it running. Thank you.
Like us on Facebook – Tweet us on Twitter – Pin us on Pinterest