Mortal Showdown by Nik Krasno – Book Review
Mortal Showdown: The Way It Is, Oligarch Series by Nik Krasno – Book Review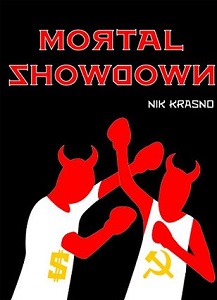 Mortal Showdown
Oligarch Series Book Two
Author – Nik Krasno
Publisher – Neplokho Publishing
Pages – 256
Release Date – 29th May 2015
ISBN 13 – 978-0993082771
Format – ebook, paperback
Reviewer – Clive
I received a free copy of this book
Post Contains Affiliate Links

Mortal Showdown is an action packed thriller sending the reader on a kaleidoscopic race through violence, sex, scamming and anti-scamming, political upheaval and murder.
Michael (Misha) – a Ukrainian oligarch who was rapidly climbing the Forbes rich list, wakes from a coma caused by an assassination attempt and realizes that he's in the thick of a multilayered attack on him and his business empire. Making things even worse – among his numerous adversaries is one of Russia's most influential strongmen. From rich and powerful, Michael very quickly becomes a fugitive, struggling for survival.
Counting on his wits and a handful of loyal associates, he searches for a way to even the score with each of his adversaries and to save his country from the Russian bear's grasp. In order to have the slightest chance in a face-off with his prime nemesis, Michael needs to attack head on, undertaking the greatest risk of his entire life. Unfortunately, the dangerous mission goes wrong from the very beginning…

This book continues the story of Mikhail Voratavich who we first met in Rise of an Oligarch, The Way It Is: Book One. I loved that book and in my review I gave it five stars and a hearty recommendation.
This sequel has all the elements of that first book; scheming, manipulation, sex and violence; all set against recent events in Ukraine. In its own right this is not a bad book but for me it fails to match the high standards of the first book because the story lacks authenticity and the writing quality has deteriorated.
In particular I felt that Mikhail did not have the depth of character that he had in the previous book. Yes, that character was corrupt, ruthless and at times used violence but at the same time I found that I admired his success and the way that he cared as best as he could for friends, family and the ordinary people of Ukraine. He had his own moral code which seems lacking in Mortal Showdown where he is portrayed as a brutal thug.
It seems to me that Nik has tried to spice up his writing with more sex, violence and bad language. This may appeal to many readers although personally I felt much of it was unnecessary. I do not know what language Nik writes in and it could be possible that there are translation issues, but I found many incorrectly placed apostrophes and some terms that were clearly not 'English' English as I know it.
For example a football club has a Chairman not a President, he will have box not a lodge and he will speak from a lectern or a podium, not from a tribune.
I am sorry if this comes over a little harsh because Mortal Showdown is a decent adventure story and it will be loved by readers who enjoy an action tale. The book ends with a hint that there will be third volume and my hope is that Nik can continue his story with the style and quality of Rise of an Oligarch.
If you have read Rise of an Oligarch you will want to read Mortal Showdown and I hope I have not put you off. I am not able to repeat the five star rating I gave to the first book but I am pleased to give Mortal Showdown four stars.
Book Reviewed by Clive
Purchase Links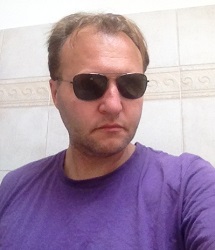 Nik Krasno is one of those writers who never thought he would end up authoring a book. He just knew that he had a story that apparently waited for the right moment to break out.
For many years Nik had been involved in law and business in few Eastern European countries, spending most of his time in Ukraine.
Witnessing the meteoric rise of a small number of individuals from modest citizens to mighty billionaires, Nik felt compelled to expose to the world the unique phenomenon taking place in this less familiar part of the globe. In the fictional plot of his Oligarch series he combines real and imaginary events with some 'lawyers' folklore' and known corruption and criminal schemes customary for Ukraine and other former USSR republics.
The author also shares some insight into the glorious and simultaneously tragic events of 2013 uprising in Ukraine resulting in ousting of the president, ensuing Russian aggression in Crimea and tensions and war in the Eastern regions of Ukraine. The imaginary characters are designed to reflect real behavior and mentality and provide decent entertainment for the readers.
Remember movies based on Bill Gates' and Mark Zuckerberg's biographies describing their path to wealth and glory? Although they were truly amazing, Nik thinks the rise of their Eastern billionaire peers is just a little more thrilling and unorthodox.
Author Link