Poppy's Place in the Sun by Lorraine Wilson – Book Review
Poppy's Place in the Sun by Lorraine Wilson – Book Review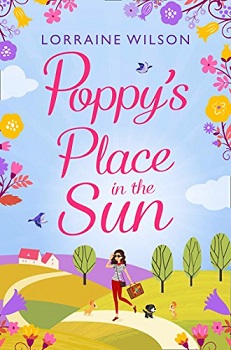 Poppy's Place in the Sun
A French Escape
Author – Lorraine Wilson
Publisher – HarperImpulse
Pages – 400
Released – 28th June 2018
ISBN-13 – 978-0008285289
Format – ebook, paperback
Reviewer – Stacey
Rating – 4 Stars
I received a free copy of this book
Post contains affiliate links.
Sometimes you need to lose yourself to find your way home…
With only her trusty dogs Peanut, Treacle and Pickwick by her side, Poppy Kirkbride could be forgiven for having doubts about her move to a quiet village in rural France. But as the sun shines down on her ramshackle new home, Poppy knows she's made the right decision. A lick of paint, and some TLC and her rustic farmhouse will be the perfect holiday retreat – Poppy's dream come true.
Poppy is welcomed by her fellow villagers, except for brooding local vet Leo Dubois, who makes it clear Poppy isn't welcome in his village – or his life! Leo might be gorgeous, but Poppy won't be told what to do by an arrogant Frenchman – no matter how kind and gentle he is to her dogs!
Determined to stay, Poppy tries to understand the enigmatic Frenchman better. But as the two get closer, Poppy sees another side to Leo – a man with heartbreak of his own. Falling in love with Leo is easy, but can he ever return Poppy's love? And what would this mean for her dream life and place in the sun?

Poppy Kirkbride is finally following her dream (with a little help from her recently deceased gran) and has purchased a home in a rural village in the South of France.
The home is in need of some renovations which she had hoped to complete with her boyfriend Pete. Unfortunately, Pete dumps her by text just moments after she signs on the dotted line taking ownership of the property.
Now children's book illustrator Poppy is determined to make a new life for herself alone in France, apart from her three dogs Treacle, Pickwick, and Peanut too. Even going against her parent's wishes.
She is happy in the village and everyone is kind and helpful, well nearly everyone. There is the matter of the local vet Leo who seems to of taken a disliking to her. What is his problem?
Poppy's Place in the Sun is a fun, gorgeous, summery read that takes you and all your senses to a lovely little area in France. The sights, the sounds, the smells and even the tastes all come through so perfectly. If we weren't having such gorgeous weather in the UK at the moment I'd be wishing I was there.
The book is filled with delightful characters that all have their own stories to tell. Poppy is one determined young woman. She has followed the advice given to her by her Gran to follow her dreams and decided that her job illustrating children's books can be done anywhere in the world and where better than somewhere the sun shines brightly for most of the year.
As well as the human characters we have her perfect four-legged friends who definitely stole the show – well them and the donkeys!!
This is just a lovely, quick, easy read that hooks you in and holds you within the pages until the very end. It is most certainly a book to read if you need a pick-me-up as it is so uplifting and heart-warming.
Reviewed by Stacey
---
Purchase online from:
---
About the Author

Lorraine Wilson writes flirty, feel-good fiction for Harper Impulse – a Harper Collins imprint – and is unashamedly fond of happy endings. She loves hearing from readers and feels incredibly grateful to be doing the job she always dreamt of.
She splits her time between the South of France and Cambridgeshire and is usually either writing or reading while being sat on, walked over or barked at by one of her growing band of rescue dogs.



---