Rita wants a Fairy Godmother by Máire Zepf – Book Review
Rita wants a Fairy Godmother by Máire Zepf – Book Review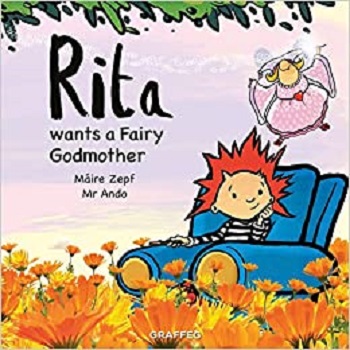 Rita wants a Fairy Godmother
Author – Máire Zepf
Illustrator – Mr Ando
Publisher – Graffeg Limited
Release Date – 24th February 2022
Pages – 36
ISBN 13 – 978-1802580440
Format – ebook, paperback
Star Rating – 4
I received a free copy of this book.
This post contains affiliate links.

Synopsis
Meet Rita. She's a little girl with very big ideas. When she doesn't feel like getting dressed in the morning, she dreams up a Fairy Godmother to help her out. Rita's Fairy Godmother would only have to twirl her wand -swoosh! – and things would happen. But who knows what things…
Rita is a young girl with a big imagination. She needs to get dressed but doesn't want to so she has an idea. Perhaps having a Fairy Godmother would be a good choice as she could wave her wand and Rita would be dressed. However, the more she thinks about it, the more unsure she is that having a Fairy Godmother is a good idea.
The book is part of the 'Rita Wants' series, in which young Rita comes up with ideas to make her life easier or more exciting, but not all her ideas are good.
The story is amusing, engaging, and quick to read. The pages are filled with illustrations that are colourful and enjoyable to look at.
Rita wants a Fairy Godmother is another fab book in a fast-growing series that I can see young children enjoying immensely as well as laughing along with Rita's dawn of realisations about what could happen if her wishes come true.
---
Purchase Online:
Máire Zepf

Máire Zepf has written 12 books for children, from picture books to a YA verse novel. Winner of the KPMG Children's Book of the Year, the Réics Carl Award and a White Raven in 2020, her books appear in 8 languages worldwide. The Co. Down author was the first Children's Writing Fellow for Northern Ireland and is Artistic Director for Quotidian.
Author Links:
---
Share your thoughts on Rita wants a Fairy Godmother in the comment section below!
---
The above links are affiliate links. I receive a very small percentage from each item you purchase via these links, which is at no extra cost to you. If you are thinking about purchasing the book, please think about using one of the links. All money received goes back into the blog and helps to keep it running. Thank you.