Snowflakes over Holly Cove by Lucy Coleman – Book Review
Snowflakes over Holly Cove by Lucy Coleman – Book Review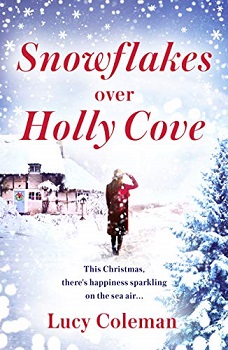 Snowflakes over Holly Cove
Author – Lucy Coleman
Publisher – Aria
Pages – 426
Released – 18th September 2018
ISBN-13 – 978-1788541558
Format – ebook, paperback
Reviewer – Stacey
Rating – 5 Stars
I received a free copy of this book
Post contains affiliate links.
As the snowflakes start to fall, Holly Cove welcomes a new tenant to the beautiful old cottage on the beach…
For lifestyle magazine journalist Tia Armstrong, relationships, as well as Christmas, have lost all their magic. Yet Tia is up against a Christmas deadline for her latest article 'Love is, actually, all around…'
So, Tia heads to Holly Cove where the restorative sea air and rugged stranger, Nic, slowly but surely start mending her broken heart.
Tia didn't expect a white Christmas, and she certainly never dared dream that all her Christmas wishes might just come true…
Set in Caswell Bay on the stunningly beautiful Gower Coast, the cottage nestles amid the limestone cliffs and the woodlands, where the emotions run as turbulently as the wind-swept sea.

Journalist Tia Armstrong has recently lost her mum. After taking time away from work she returns but still doesn't feel ready to face the world. Her boss thinks that a small working holiday may be in order and sends her off to Holly Cove in South Wales, a small seaside town. The place is gorgeous, especially when a cleaner turns up telling Tia she is there to help her relax and that also she was surprised to see her at the cottage as the owner doesn't normally rent it out.
Tia's working holiday is to interview couples about how they keep their romance alive. She doesn't particularly feel ready for meeting new people but knows that she can't wallow forever.
This is the first book I have read by Lucy Coleman/Linn B Halton and I'm sure not going to make this the last. The book is just wonderful from the beginning – New York my favourite place in the world – to the very last page.
Throughout I had a lot of empathy for Tia. I remember only too well what it was like when my dad died, not long after Christmas 2016, as well as the falling out of the family afterward, just like Tia's brother.
The character development was just perfect and whilst the plot unfolded slowly, I believe this is a book that needed to be devoured rather than read quickly.
I love books set at Christmas and can't get enough of them, they really are heartwarming and this is no different. I completely lost myself whilst submerged in the story, the whole way through I was fully engaged and I didn't want it to end.
This is a must read and one of the best books of 2018.
Reviewed by Stacey
---
Purchase online from:
---
About the Author

From interior designer to author, Linn B. Halton – who also writes under the pen name of Lucy Coleman – says 'it's been a fantastic journey!'
Linn is the bestselling author of more than a dozen novels and is excited to be writing for both Aria Fiction (Head of Zeus) and Harper Impulse (Harper Collins); she's represented by Sara Keane of the Keane Kataria Literary Agency.
When she's not writing, or spending time with the family, she's either upcycling furniture or working in the garden.
Linn won the 2013 UK Festival of Romance: Innovation in Romantic Fiction award; her novels have been short-listed in the UK's Festival of Romance and the eFestival of Words Book Awards.
Living in Coed Duon in the Welsh Valleys with her 'rock', Lawrence, and gorgeous Bengal cat Ziggy, she freely admits she's an eternal romantic.
Linn is a member of the Romantic Novelists' Association and writes feel-good, uplifting novels about life, love and relationships.




---