The Adventures of Eric the Spider by Elaine Madle – Book Review
The Adventures of Eric the Spider by Elaine Madle – Book Review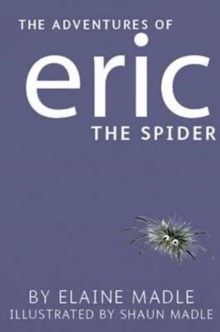 The Adventure of Eric the Spider
Author – Elaine Madle
Publisher – Austin Macauley
Pages – 39
Release Date – 31st October 2016
ISBN-13 – 978-1786120984
Format – ebook, paperback, hardcover
Reviewer – Stacey
I received a free copy of this book
Post Contains Affiliate Links

Eric may only be a little spider, but that doesn't stop him from having some big adventures!
When a spider, with big, long, spider legs, is spotted behind a curtain he seems a little scary. Luckily, he is quickly caught in a box full of socks and named Eric. But when Eric steals the socks (and a bike!) and goes on the run it is up to a diligent policeman to find the right sock-footed spider, stop Eric and rescue the bike!
Join Eric on his adventures as he escapes with some socks, flees from a birthday party, and goes camping on a very, very wet day in this beautifully illustrated rhyming book.

Eric the Spider, is a short children's rhyming book that is split into three separate stories, 'Eric the Spider', Eric has a Birthday' and 'Eric Goes Camping'.
The plot really is quite amusing from beginning to end. I can see children loving the fun antics that Eric gets up to, and being hooked to the pages. From stealing a bicycle whilst wearing socks, to having a party in a cave, the scenarios are all perfect and provide those laugh-out-loud moments.
I know a lot of children are scared of spiders, but with the illustrations having been drawn in a cartoon way, children won't be scared of Eric. Plus, he gets up to lots of daft things, especially in the first story, which in my opinion is the best.
The Adventures of Eric the Spider an interesting book that I'm sure children will enjoy and be eager to keep on reading. It would also work just as well as a class read too.
On a side note, I had a spider I named Eric, who lived in my bedroom when I was a small child.
The Adventures of Eric the Spider reviewed by Stacey

Elaine was born in Hackney, London in 1956. Her parents subsequently moved to Essex, where she still lives.
For the past twenty years she has worked as a support worker for adults with learning difficulties, a job she very much enjoys. She has one daughter, Cassie, and two grandsons, Sam and Sean.
She has always had fear of spiders which, ironically, inspired her to write the Eric series. Since writing these stories, confronting spiders is not as challenging as it once was as every spider is now more or less like Eric.