The President is Missing by James Patterson & Bill Clinton – Book Review
The President is Missing by James Patterson – Book Review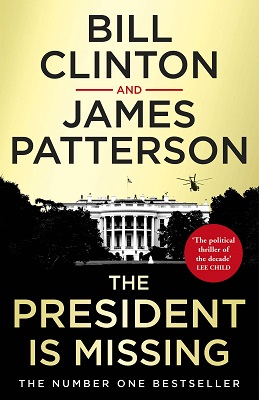 The President is Missing
Author – James Patterson & Bill Clinton
Publisher – Century
Pages – 528
Released – 4th June 2018
ISBN-13 – 978-1787460188
Format – ebook, paperback, hardcover, audio
Review by – Julie
Rating – 5 Stars
I received a free copy of this book.
This post contains affiliate links.


The President is missing. As an unprecedented cyberterrorist attack cripples the United States, the President must face an unthinkable truth: There is a traitor in his Cabinet. His life is in danger. And the only way to stay ahead of the shadowy forces tearing at the heart of America is to go off the grid, leaving behind his presidential protection.
The President must go missing – and he may never resurface… Set over the course of three days that shake a nation to its core, The President is Missing sheds a stunning light upon the inner workings and vulnerabilities of the American government. Filled with information that only a former President could know, this is the most authentic, terrifying thriller in years.

'The President Is Missing' is the debut novel from former president, Bill Clinton, in partnership with best-selling novelist, James Patterson. The cover is very simple and features a picture of the White House, leaving us in no doubt that this is a story about a fictional president of the USA.
The story is told in real time and written mainly in the first person. We see much of the action through the eyes of President Jonathan Lincoln Duncan. Inevitably, a president has a lot of staff around him and we meet several of his team. Each of them are introduced to us together with a brief backstory, taking up no more than a paragraph or two but making each seem real and three dimensional.
The story opens with a practice run-through of the president's upcoming appearance in front of a House of Representatives Select Committee, ahead of potential impeachment proceedings. There is secrecy surrounding what is actually happening but we are taken into the president's confidence and know the country is facing a malware cyber-attack. To complicate matters, there's a traitor in the president's inner circle. Only the president himself can thwart the terrorists' plans and to do this he has to go undercover. Throw into the mix his immune thrombocytopenia along with an assassin determined to eliminate him and you have the ingredients for a tense race against time as he attempts to save the USA from a total technology meltdown.
Once disguised, the president sees a side of life from which he has been shielded for years and meeting a homeless army veteran has a profound effect upon him. He witnesses other events which make him ponder moral and ethical situations faced by the general public each day.
On a macro level, this is a tale of espionage, counterespionage, treason, cyber and bioterrorism. On a micro level, it's a tale of love, loyalty, honour, hate, large egos and political jealousies. There are twists, turns, misdirection and of course, the final denouement.
The plot is fast-moving and maintains its momentum throughout as the country faces the threat of economic collapse, panic and mass hysteria. At times the authors give us moments of humour to ease the tension and, particularly when President Duncan is thinking of his late-wife, moments of poignant pathos. The descriptive passages are vivid and plunge the reader into the heart of the action.
I don't know how much input the former president had in the production of this work; the litmus test will be if he writes a novel independently. If the original plot idea was his, I commend him. It is imaginative and in places, quite gripping. Without doubt he would have been able to add a lot of insight into the mind-set of a president and the White House machine. Otherwise, this book has all the hallmarks of a slick James Patterson story, with short chapters and the proficient use of a whole plethora of literary devices. This work is up to his usual high standard and I award a maximum five stars.
Book Reviewer – Julie
---
Purchase online from:
---
About the Authors

James Patterson is one of the best-known and biggest-selling writers of all time. His books have sold in excess of 375 million copies worldwide. He is the author of some of the most popular series of the past two decades – the Alex Cross, Women's Murder Club, Detective Michael Bennett and Private novels – and he has written many other number one bestsellers including romance novels and stand-alone thrillers.
James is passionate about encouraging children to read. Inspired by his own son who was a reluctant reader, he also writes a range of books for young readers including the Middle School, I Funny, Treasure Hunters, Dog Diaries and Max Einstein series. James has donated millions in grants to independent bookshops and has been the most borrowed author of adult fiction in UK libraries for the past eleven years in a row. He lives in Florida with his wife and son.




William Jefferson "Bill" Clinton (born William Jefferson Blythe III) was the forty-second President of the United States, serving from 1993 to 2001. He was the third-youngest president, older only than Theodore Roosevelt and John F. Kennedy. He became president at the end of the Cold War, and is known as the first baby boomer president, as he was born in the period after World War II. He is the husband of the junior United States Senator from the state of New York and a Democratic candidate in the 2008 US presidential election, Hillary Rodham Clinton.
Since leaving office, Clinton has been involved in public speaking and humanitarian work. He created the William J. Clinton Foundation to promote and address international causes, such as treatment and prevention of HIV/AIDS and global warming. In 2004, he released a personal autobiography, My Life.


---
What did you think of The President is Missing? Share your thoughts in the comment section below!
---
The above links are affiliate links. I receive a very small percentage from each item you purchase via these link, which is at no extra cost to you. If you are thinking about purchasing the book, please think about using one of the links. All money received goes back into the blog and helps to keep it running. Thank you.
Like us on Facebook – Tweet us on Twitter – Pin us on Pinterest