The Writing Life of: Kim Nash
Kim Nash
This week I am thrilled to be interviewing author Kim Nash. Kim will be sharing with us details of her writing life, telling us all about her new book 'Sunshine and Second Chances', which was released on 4th June 2020, and answering a few fun questions too. This post contains affiliate links.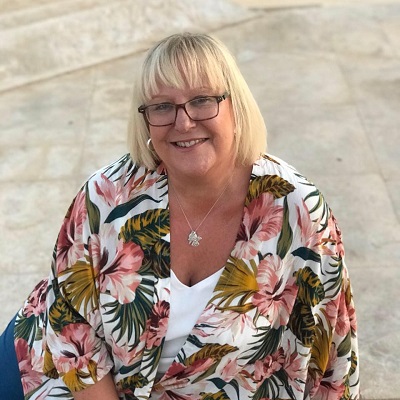 Kim Nash is an author of uplifting, funny, heart-warming, feel-good, romantic fiction.
Her latest book, Sunshine and Second Chances, was shortlisted for the 2020 Amazon Kindle Storyteller Award.
She lives in Staffordshire with son Ollie and English Setter Roni, is Head of Publicity for Bookouture and is a book blogger at www.kimthebookworm.co.uk.
Kim won the Romantic Novelists Association's Media Star of the Year in 2016, which she still can't quite believe. She is now quite delighted to be a member of the RNA.
When she's not working or writing, Kim can be found walking her dog, reading, standing on the sidelines of a football pitch cheering on Ollie and binge watching box sets on the TV. She's also quite partial to a spa day and a gin and tonic (not at the same time!) Kim also runs a book club in Cannock, Staffs.
Amazing Grace was her debut novel with Hera Books and came out in April 2019.
Escape to Giddywell Grange is Kim's second novel and was published in September 2019.
Sunshine and Second Chances is Kim's third novel and is out now!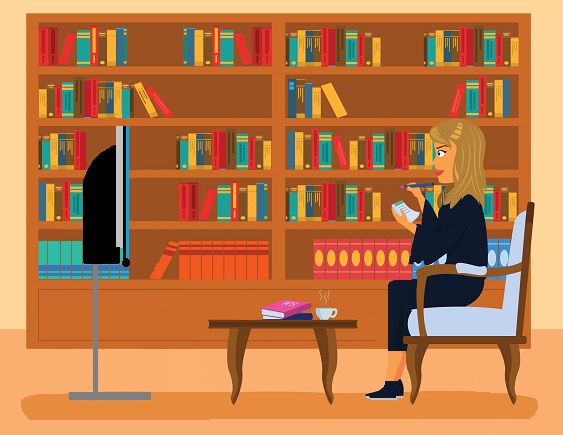 1) Did you enjoy writing when you were a child?
I did indeed! I remember loving writing stories in English but I must admit that I did struggle with English Literature.
2) Which author shaped your childhood?
Without doubt Enid Blyton. I loved her books, wanted to be the characters in them. My favourites were the Famous Five, The Naughtiest Girl in School, The Magic Faraway Tree and The Wishing Chair. I had a lovely childhood but there was no place that I would rather have been found than between the pages of a book.
3) What motivated you to begin your first novel?
My darling mum passed away after a long battle with cancer and I began to write down my feelings and what she would have said to me if she could still have spoken to me. I tried to keep my feelings inside of me so as not to upset the rest of my family, so I found that writing them down was cathartic.
Years passed and I'd had my son, and he was growing up, before I started to write again but I'd always been a huge reader and always said that one day I would love to write a book. That one day came and I thought, well it's not going to write itself Kim, so you'd best make a start. So I did!
4) Do you plot your book, or are you a pantser?
I'm getting to be a better plotter now. Your first book has no pressures, unless you've already got a contract so you have all the time in the world. Future books can be written for me quicker if I plot what's going to happen.
As I work full time, I need my writing time to be really productive so I need to know what I'm writing the minute my bum hits the writing chair. I am still a bit of a pantser too though and wing it quite a lot!
5) What is your average writing day?
Now this I struggle with. I have a child to get ready for school, although he should really be doing that himself now, and a dog to walk before I can even start work let alone think about writing. If I get myself really organised and don't take the dog out first thing, I can knock out a good 1k words before I start work and then I try again in the evening. I am a binge writer so can be more productive when I make a really concerted effort on a weekend.
6) What is the best thing about being an author?
For me, when someone contacts you and says that your book has meant something to them. In lockdown times, it's been wonderful to have so many readers write to me to say that my books have helped them to get through some really dark and lonely times.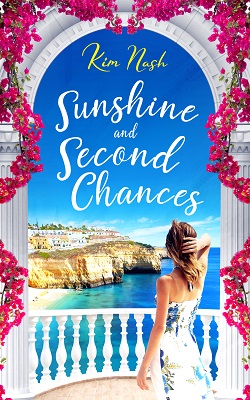 Sunshine and Second Chances
Author – Kim Nash
Pages – 237
Release Date – 4th June 2020
ISBN 13 – 979-8662661417
Format – ebook, paperback
Synopsis
It's never too late for second chances.
Liv wants her friends to think she has the perfect life. But honestly? She's running on empty. Desperate for a break from her needy family, Liv is determined that as she and her three life-long friends turn fifty they will honour their promise to each other – made on a beach at sunrise twenty-nine years before – to celebrate this milestone together.
And what better place to celebrate than a gorgeous villa in the Algarve? They'll enjoy the stunning beaches, picturesque fishing towns and glorious climate, and maybe be spoiled by the gorgeous Eduardo, who's making one particular heart unexpectedly flutter…
Liv's friends can't wait to escape with her: Debs is newly single, Fiona is caring for her mum, and Samantha is grieving. But does time away make the heart grow fonder? Is the thought of returning to reality too hard to bear? Is what they have really all there is to life?
It begins as a reunion in the sunshine, but little do the four friends know what life-changing decisions they'll all be making before their flight home…
A heart-warming, feel-good summer read about friendship, love and second chances. Perfect for fans of Nicola May, Jo Thomas and Fern Britton.
Purchase Online From:
7) How did you go about researching the content for your book?
It's based in The Algarve which is an area I know well, but obviously a trip there was quite useful. It was one of the last trips I had before travel stopped too.
8) How long did it take to go from the ideas stage to writing the last word?
I actually wrote this one quite quickly for me and did it in about 3 months. Then the editing started!
9) What made you choose the genre you write in?
I write romantic comedy because it's the genre that I love to read. I love books that take me on a journey of growth for the main protagonist and I'm a sucker for a happy ever after.
10) How did you come up with the name(s) for your lead character(s)?
I picked Olivia (Liv) for my main character because I wanted something reasonably upmarket but something that could be shortened too, but something that was quite fun and quirky too.
11) Can you give us an insight into your characters?
Olivia is a wife and mother of two teenage boys. While she lives a lovely life and has everything she wants, living in a big house, with plenty of available money, while she loves her family dearly, she feels really put on, and feels like she's lost her sparkle and purpose.
Debs is newly single, her husband left her for a younger, thinner, prettier model and she's really lost her self-confidence and is feeling generally down about her life.
Fiona is caring for her mother who has dementia and while she feels really guilty about it, fears that her mother may need a little more looking after than she can give.
Samantha is lonely after her husband died and she brought up her son alone, she spent the last few years hiding from him a number of things she discovered about her husband, and now her son is away at University, she doesn't know what to do with herself.
12) How did you feel when you had completed your book?
I felt like my ladies had gone on a wonderful journey, reunited with each other and formed an even stronger friendship than before. This made me really proud of each of them, for motivating each other to make changes in their lives, so that they could move forward and live a happy life and be the best version of themselves that they could be.
Fun Questions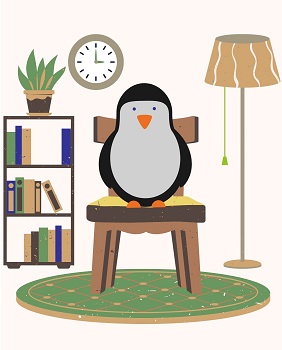 1) Do you have a favourite quote you live by?
Never let anyone dull your sparkle!
We do! We have Roni, our tri-colour English Setter. He was rescued from Greece and we've had him just over 3 years. He is adorable and at the same time a pain in the backside, but he's our pain in the backside and we couldn't love him more!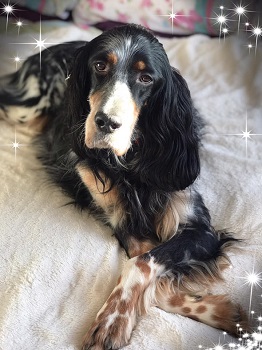 3) What's on your current reading list?
SOOOOO many wonderful books on my reading list but I'd like to tell you that I've just finished a book called The Girl at the Back of the Bus by Suzette D Harrison which is an amazing book, set across two timelines, Montgomery, Alabama, 1955 where protagonist Mattie witnesses an act of bravery by a woman named Rosa Parks that inspires her to change everything she knows and present day Georgia, Atlanta where Mattie's granddaughter Ashlee is living in relationship turmoil and has a career held back by prejudice.
She returns to her home where Mattie is dying and is determined to share her story before it's too late. It taught me about a culture that fought to survive and shows a history that hasn't always been kind. It was a real eye-opening, evocative, beautifully written, educational novel that I will never ever forget!
4) Your book has been made into a feature film, you've been offered a cameo role, what would you be doing?
I'd be a waitress working in a bar in Vilamoura where a lot of my book is set. It's one of my favourite places in the world and I would be sitting on my break, watching the world go by with the sunshine beating down on my shoulders!
5) If you could travel to the fictional world of any book for the day, which would you choose?
Right now I'd travel to my own fictional world in Sunshine and Second Chances. What I wouldn't give to be in The Algarve right now!
6) There's a penguin sitting in your writing chair, what is the first thing he says to you?
'God, isn't your dog annoying! Why does he bark at everything? AND why aren't you sitting in this chair writing? Are you procrastinating AGAIN Kim?'
---
I would like to say a big thank you to Kim Nash for sharing with us details of her writing life and for a wonderful interview.
Author links





---
Share your thoughts on our interview with Kim Nash in the comment section below!
---
The above links are affiliate links. I receive a very small percentage from each item you purchase via these link, which is at no extra cost to you. If you are thinking about purchasing the book, please think about using one of the links. All money received goes back into the blog and helps to keep it running. Thank you.
Like us on Facebook – Tweet us on Twitter – Pin us on Pinterest