The Writing Life of: Sonia Farnsworth
Sonia Farnsworth
This week on 'The Writing Life of:' I am thrilled to be interviewing author Sonia Farnsworth. Sonia will be sharing with us detail of her writing life, telling us all about her latest book 'Losing the plot Plot in LA', which will be released on 2nd June 2015 and answering a few fun questions too. Post contains affiliate links.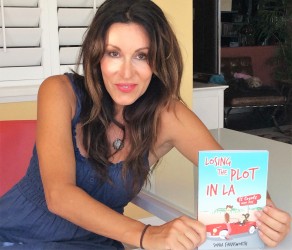 Sonia was born and raised in Southern California, living most of her life in Hollywood. Her mother was French, so as a result, her summers were happily spent traveling between Paris and Cannes.
She eventually developed a love for all things European and returned to live in London as a young adult.
'Losing the plot Plot in LA', is Sonia's first novel. She currently lives by the sea in San Clemente, California with her rescue dog, Holly, and is working on her second novel.
---
1) Do you remember the moment you decided that you would like to become a writer?
I don't remember the exact moment, but I've always loved to write. When I was little I would make up stories about a variety of subjects, people I met, swimming pools, and silly things going on with my family and friends.
I was like a sponge and felt inspired to write about everything and then turn it into a story. I would say most of my inspiration then and now, comes from people watching and experiencing life! I think that means I'm a voyeur!
2) How did you go about following your dream?
I would write short stories all the time, for my eyes only and one day 20 years ago I was ready to write my first novel!
Inspiration came in the form of a VERRRRYYYY exasperating boyfriend I was living with. One day sitting at my desk crying after a humongous fight, I turned on my prehistoric Mac computer, that looked like a robot, and started writing "Losing the Plot in LA". I couldn't stop, I kept writing every chance I got and finished it pretty quickly but then life got in the way and it got shelved for a long time, a very long time!
This year I finally finished the last edit and Mascot Books published and released it June 2nd.
It truly is a dream come true!
3) Is there a particular author that inspires you?
Yes! Tama Janowitz, after I read her book "Slaves of New York" I knew I would and could write a book. She inspired me as I really liked her style, it was very relaxed which reminded me of my writing.
I was always told that my writing wasn't formal enough, "too relaxed" is what I was told over and over again. Once I read "Slaves Of New York" I felt totally confident that I could be a writer and publish a novel.
The moral is NEVER LISTEN TO ANYONE ELSE, go with your gut. Originality is a blessing… follow it.
4) What is your average writing day like? Do you have any strange writing habits?
I look at writing as a job, if you're lucky and able to write from 9:00 – 3:00 do it!
Discipline yourself to sit and write because once the juices get flowing you're on your way. I do have one bad habit which is not optimum for the waistline, I love to eat Trader Joe's peanut butter cups while writing… the whole box! The velvety chocolate and peanut butter as it melts in my mouth puts me in a blissful place, until I come down from the sugar high!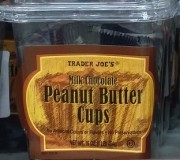 I also enjoy drinking wine while I'm writing at night but when I read it the next day most of its crap with a few profound gems. I try to keep these two habits in check for obvious reasons…
5) Do you write Longhand, Type writer, Computer?
Definitely computer, I prefer to write longhand but it adds extra time and work having to type it into the computer, so I don't do it any more.
6) From all your books, do you have a favourite character?
Hmmmmmm…not really, I love em all but if I had to pick one it would be 'Trouble'(the dog).
7) Do you plot your books completely before hand or do you let your imagination flow whilst in the writing process?
I never know where I'm going, when I'm writing, I just let it flow onto the page. I don't want to control it, that comes later. I don't worry about spelling, grammar or punctuation, the idea is to get it out then the plot and ending will come to me as I'm progressing.
Lastly comes the editing which is my least favorite as it is sooooo tedious, it takes me forever to stop editing, I keep going over it , again and again! It's so hard to stop and be done with it.
Concerning your latest book: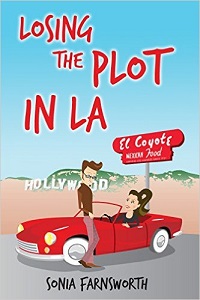 Losing the Plot in LA
Author – Sonia Farnsworth
Publisher – Mascot Books
Pages – 184
Release Date – 2nd June 2015
ISBN-13 – 978-1631770951
Format – paperback

Sylvie is a trendy, LA party girl with more going on than she knows what to do with.
Between apartment hunting, insane friends, a rapidly growing puppy, and one too many boys to juggle, she's just trying to catch her breath.
Will the craziness overwhelm her, or will she find a better path to move forward? Draw a bath, pour some bubbly, and join her as she tries not to Lose the Plot.

Read our review of 'Losing the Plot in LA'
8) How long did it take to get from the ideas stage, to the date of publication?
20 years! I started and finished it 20 years ago but did nothing with it. I pulled it out and did some edits a few years later and then it sat again….life got in the way….and then last year I re-edited and voilà!
I have to say it was really tough editing this last time because I was not the same person that I was when I wrote it many years before.
9) Did you suffer from writer's block at any stage? How did you overcome it?
I don't seem to have writers block, more like editing block.
I can spend hours on just one sentence, it makes me crazy. The way I overcome it is to just work through it but when I get really stuck I go for a walk or work out.
To avoid it taking another 20 years to finish my book I took time off work and edited every day from 9-3. Why only until 3:00? By then I was stir crazy and had to get out of the house so I would go to happy hour to talk to some real people!
10) How did you come up with the name(s)for your lead character(s)?
Sylvie the main character is my cousin's name and I've always loved it. Some of the others just came to me as I was writing, but when I got stuck I would look up names on the internet and see which ones resonated with the specific character… so many cool names out there. I like name that are a bit different.
11) If your book was made in to a film, who would you love to play the lead character(s)?
Someone quirky, funny and funky! Hmmmm let me think about that one…….a brunette Amy Schumer, she is hilarious. I'm not really up on the young talent these days so I'll have to research that one because I'm visualizing that it will be made into a movie!
12) Did you get anyone in particular to read your work before sending it to the publisher i.e family member, friend etc?
No, just the publisher, I read somewhere to never share one's writing with friends and family. I'm not quite sure why but I went along with it.
In retrospect I think it would have been a good idea to get insight from friends and also open it up to readers that I don't have a relationship with. Lesson learned for my next novel…
Author Links