Losing the Plot in LA by Sonia Farnsworth – Book Review
Losing the Plot in LA by Sonia Farnsworth – Book Review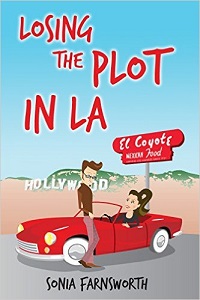 Losing the Plot in LA
Author – Sonia Farnsworth
Publisher – Mascot Books
Pages – 184
Release Date – 2nd June 2015
ISBN-13 – 978-1631770951
Format – paperback
Reviewer – Stacey
I received a free copy of this book
Contains Affiliate Links

Sylvie is a trendy, LA party girl with more going on than she knows what to do with.
Between apartment hunting, insane friends, a rapidly growing puppy, and one too many boys to juggle, she's just trying to catch her breath.
Will the craziness overwhelm her, or will she find a better path to move forward? Draw a bath, pour some bubbly, and join her as she tries not to Lose the Plot.

'Losing the Plot in LA' is one woman's story of love and life in Los Angeles, California.
Sylvie is a sucker for love. She dates the 'wrong' blokes that make her miserable, as well as show her a good time.
Together with her dog, Trouble, Sylvie faces a reality, that not all men are cut out for relationships, and those that are, well, they just don't 'do it' for her!
I've never been a fan of books full of narrative (as I've said in previous reviews), but this one felt different. The story is told by one person all the way through, Sylvie, and feels very much like you're her therapist, and she's telling you all about the highs and lows in LA, and in her life.
Sylvie comes across as a strong, independent woman, that knows what she wants in life. That is until the man of the moment appears, flashing those puppy dog eyes, then she turns to putty in his hand, no matter how he treats her.
I like that Sylvie, although living in the fast lane and incredibly beautiful, isn't perfect. She's clumsy, silly, comedic and outright daft at times. Her fun personality is truly infectious.
The book makes you feel very much at ease, even though you feel that you are looking into someone else's life. I laughed out loud at moments, cringed at others, and quite often just wanted to tell her to wake up and face the facts, that the men in her life are no good for her.
A brilliant book for a début novelist that reminds me of that Cyndi Lauper song – 'Girls just Want to have Fun'.
Book reviewed by Stacey
Puchase from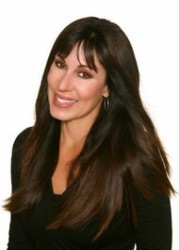 Sonia was born and raised in Southern California, living most of her life in Hollywood.
Her mother was French, so as a result, her summers were happily spent traveling between Paris and Cannes.
She eventually developed a love for all things European and returned to live in London as a young adult.
'Losing the plot Plot in LA' is Sonia's first novel. She currently lives by the sea in San Clemente, California with her rescue dog, Holly, and is working on her second novel.
You can find out more about Sonia, over on – The Writing Life of: Sonia Farnworth
Author Links