The Stranger Times by C.K. McDonnell – Book Review
The Stranger Times by C.K. McDonnell – Book Review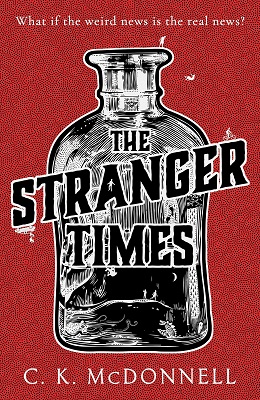 The Stranger Times
Author – C.K. McDonnell
Publisher – Bantam Press
Pages – 432
Released – 14th January 2021
ISBN-13 – 978-1787633353
Format – ebook, paperback, hardcover, audio
Review by – Stacey
Rating – 5 Stars
I received a free copy of this book.
This post contains affiliate links.


There are dark forces at work in our world (and in Manchester in particular), so thank God The Stranger Times is on hand to report them . . .
A weekly newspaper dedicated to the weird and the wonderful (but mostly the weird), it is the go-to publication for the unexplained and inexplicable.
At least that's their pitch. The reality is rather less auspicious. Their editor is a drunken, foul-tempered and foul-mouthed husk of a man who thinks little of the publication he edits. His staff are a ragtag group of misfits. And as for the assistant editor . . . well, that job is a revolving door – and it has just revolved to reveal Hannah Willis, who's got problems of her own.
When tragedy strikes in her first week on the job The Stranger Times is forced to do some serious investigating. What they discover leads to a shocking realisation: some of the stories they'd previously dismissed as nonsense are in fact terrifyingly real. Soon they come face-to-face with darker forces than they could ever have imagined.

Hannah Willis has walked away from her London home and her marriage after hitting the point of no return with her husband's numerous affairs, and the fact she burned down their house, by mistake.
Penniless she finds herself in Manchester and in need of a job, rapidly. Any paying job will do and that is what she gets when she applies for a job reporting for The Stranger Times newspaper which covers the weird and wonderful goings-on in the world. From haunted toilets to waxworks attacks. The staff is a mix of eclectic misfits and their boss is as eccentric as they come. She is also promoted to Assistant Editor on her first day.
Whilst most people scoff at the paper and their reporting, strange, supernatural occurrences are currently happening in Manchester right under everyone's noses and The Stranger Times is suddenly thrown into the mix, but the forces are dark and the staff has found themselves in grave danger.
OMG, where to start with this review? The book is aptly named, not only because it is the title of the newspaper in the story but because it is completely and utterly strange. It is bizarre, weird, and oh so wonderful.
The book is part mystery, fantasy, thriller, supernatural, and suspense. It has a bit of everything really. It feels like there are two plots woven within one another, one the daily life of the goings-on a The Stranger Times and the other a man on the run from powers outside of our realm that has enlisted the help of a man who is desperate to save his dying daughter and has agreed to be the man's 'Beast'.
From the very first page, I was hooked. I adore the writing skills of C.K. (Caimh) McDonnell, the way he hooks you in, and the humour he creates whether that be the type to make you roll your eye or laugh out loud. It is littered with one-liners, comments, or quotes that made me snigger on more than one occasion.
The member of The Stranger Times team are all so different, yet they work well together. They are realistic with all their flaws on show. They are comfortable with one another and caring in their own sarcastic way. But then this is set in Manchester and sarcasm is how we deal with life around here!
Not having read this style of book before I took my time and savoured it. I simply adored this book and I do hope that there will be more to come from The Stranger Times, perhaps more outlandish stories to cover, especially with that ending too!
Book Reviewer – Stacey
---
Purchase online from:
---
About the Author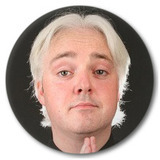 Irishman Caimh McDonnell is a former professional stand-up comedian and TV writer who now concentrates all of his energies on his books. Born in Limerick and raised in Dublin, he has taken the hop across the water and calls Manchester his home.
His TV writing work has seen him work on some of the biggest topical comedy shows on British TV and has earned him a BAFTA nomination. These days he can be found happily writing his next book in the office in the back garden, with only his dog and his imagination for company.
His book 'I Have Sinned' has been nominated for the Kindle Storyteller Award 2019. Previously, his debut novel 'A Man With One of Those Faces' was nominated for best novel at the 2017 CAP awards.




---
What did you think of The Stranger Times? Share your thoughts in the comment section below!
---
The above links are affiliate links. I receive a very small percentage from each item you purchase via these link, which is at no extra cost to you. If you are thinking about purchasing the book, please think about using one of the links. All money received goes back into the blog and helps to keep it running. Thank you.
Like us on Facebook – Tweet us on Twitter – Pin us on Pinterest