The Writing Life of: Heidi Swain
Heidi Swain
This week on 'The Writing Life of:' I am thrilled to be interviewing author Heidi Swain. Heidi will be sharing with us detail of her writing life, telling us all about her latest book 'The Cherry Tree Café', which was released on 16th July 2015 and answering a few fun questions too. Post contains affiliate links.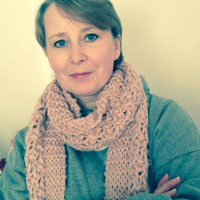 Although passionate about writing from an early age, Heidi Swain gained a degree in Literature, flirted briefly with a newspaper career, married and had two children before she finally plucked up the courage to join a creative writing class and take her literary ambitions seriously.
A lover of Galaxy bars, vintage paraphernalia and the odd bottle of fizz, she now writes contemporary fiction and enjoys the company of a whole host of feisty female characters.
Heidi can be found at the keyboard at all hours of the day and night and quite often scribbling longhand in her car during her lunch break. She lives in stunning south Norfolk with her wonderful husband, son and daughter and a mischievous cat called Storm.
---
1) Do you remember the moment you decided that you would like to become a writer?
To be honest no, I don't. There was never a blinding flash of enlightenment, rather a steady accumulation of notebooks that until a few years ago I was too afraid to write in for fear of choosing the wrong words! I guess I've always known I wanted to write, but gaining the confidence to put pen to paper and fingers to keyboard took a while.
2) How did you go about following your dream?
My writing career began in earnest with a local creative writing course. The support and encouragement of fellow writers led me to join an on-line short story community and 'put my writing out there' for the first time. It was as a result of that experience that my desire to write my first novel grew.
After that initial attempt I then wrote, "The Cherry Tree Café", which I shared with my alpha readers before submitting to the RNA New Writers Scheme and then, after further tweaking, sent out to publishers.
3) Is there a particular author that inspires you?
There are lots of authors I admire for many, many reasons, but I guess my stand-out inspiration would have to be Miss Read (Dora Saint). I have read more books by her than any other author and never tire of admiring her talent to turn the minutiae of village life into a mesmerising tale full of clever twists and turns.
4) What is your average writing day like? Do you have any strange writing habits?
Every week day is a writing day for me and as such will vary according to whether or not I am also working on that day.
If I'm working then I'll snatch 20-30 minutes before leaving home at eight, then another 45-50 in my car or an empty classroom at lunchtime. Sometimes I'll type up what I've written in the evening or carry on writing longhand.
Designated writing days generally involve longer hours at the keyboard and less longhand. I like to start reasonably early, generally by eight and then work until lunchtime, before carrying on in the afternoon until my daughter comes home from school and I'm required to feed someone or wade through the ironing pile.
I can't think of any strange habits… but then again, I don't want to think too hard just in case!
5) Do you write Longhand, Type writer, Computer?
That depends on which stage of the writing process I'm grappling with.
I never used to write longhand at all, but that all changed with Novel Number 2. I wrote the entire first draft in longhand (typing up what I had written in the evenings and at weekends) before switching to editing on the computer, then re-reading on my Kindle and sending to my editor.
I dare-say it wouldn't work for everyone, but it's a system I'm more than happy with. Writing longhand slows the brain down a little and, so far, I've had far less editing to do as a result.
6) From all your books, do you have a favourite character?
Well, so far I've only had "The Cherry Tree Café" published and I absolutely love both the main character Lizzie and her best friend Jemma.
Perhaps I could revisit this question when I've written a few more books? Although I do have to warn you I have a sneaking suspicion that my answer may very well change with every one!
7) Do you plot your books completely before hand or do you let your imagination flow whilst in the writing process?
I do like to have a plan in place before I launch off however, there is always room for manoeuvre. In my experience when the characters start taking over you have to be prepared to let them dictate the course of events to a certain extent.
I think I'd feel too stifled if I stuck rigidly to a detailed plan and had every scene and chapter plotted out. I do like to begin knowing how things will end but as far as getting there is concerned, that's something I like to discover on the way.
Concerning your latest book: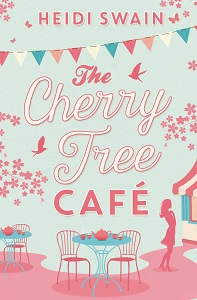 The Cherry Tree Café
Author – Heidi Swain
Publisher – Simon & Schuster UK
Pages – 464
Release Date – 16th July 2015
Format – ebook, paperback, audio

Cupcakes, crafting and love at The Cherry Tree Café…
Lizzie Dixon's life feels as though it's fallen apart. Instead of the marriage proposal she was hoping for from her boyfriend, she is unceremoniously dumped, and her job is about to go the same way. So, there's only one option: to go back home to the village she grew up in and to try to start again.
Her best friend Jemma is delighted Lizzie has come back home. She has just bought a little café and needs help in getting it ready for the grand opening. And Lizzie's sewing skills are just what she needs.
With a new venture and a new home, things are looking much brighter for Lizzie. But can she get over her broken heart, and will an old flame reignite a love from long ago…?

Read our five star review of 'The Cherry Tree Cafe'
8) How long did it take to get from the ideas stage, to the date of publication?
Overall it was quite a lengthy process. At a guess I would say between eighteen months and two years.
The manuscript was sent to the RNA New Writers Scheme at the end of April 2014, before further polishing and submitting to Books and The City in July. I signed with Simon and Schuster just in time for Christmas that year and publication day was July 16th 2015, exactly a year and a day after I submitted!
Second time around things are happening much faster!
9) Did you suffer from writer's block at any stage? How did you overcome it?
Nope. So far I've never encountered the dreaded block and I hope I never do.
10) How did you come up with the name(s)for your lead character(s)?
Excellent question, and an incredibly tricky one to answer! Quite often a main character or one who features prominently will land fully formed and bring their name with them. It is naming the minor characters that I sometimes find tricky. More often than not an on-line search for popular names around the time the character was born can prove helpful and I always make a note of any names I think may be of use in the future.
Sometimes however it is just a case of waiting around for the name to pop up, much the same as working through a plot dilemma. I find a brisk walk or a stint at the ironing board works wonders for sorting out any problems.
11) If your book was made in to a film, who would you love to play the lead character(s)?
I think Eleanor Tomlinson, (who plays Demelza in the BBC adaptation of Poldark), would be perfect in the role of Lizzie Dixon.
12) Did you get anyone in particular to read your work before sending it to the publisher i.e family member, friend etc?
I have two great friends who read 'The Cherry Tree Café' before I did anything with it. In fact, they were hugely instrumental in ensuring it didn't languish on the memory stick for too long!
The manuscript of Novel Number 2 however has only been read by my fabulous editor Clare Hey. The writing life has been such a whirlwind there simply hasn't been time to pass it on to anyone else!
Author Links