The Writing Life of: Parker J Cole
Parker J Cole
This week on 'The Writing Life of:' I am thrilled to be interviewing author Parker J Cole. Parker will be sharing with us detail of her writing life, telling us all about her latest book 'Vengeful Vows', which was released on 25th May 2016 and answering a few fun questions too.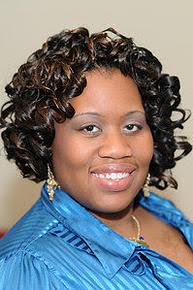 Parker J Cole is the author of Dark Cherub and the Sins of the Flesh series; this includes Many Strange Women, The Other Man, and Vengeful Vows. She is also host of The Write Stuff, which showcases Christian authors worldwide and the Parker J Cole Show interviewing guest, news, and commentary.
When not writing or hosting, she spends most of her time reading, knitting, cooking and concocting new ideas for stories. She lives in Michigan with her husband and dog, Sarah.
---
1) Do you remember the moment you decided that you would like to become a writer?
From my early moments, I always knew I would be a writer. There was always a book in my hand or I told stories to my siblings. I knew I would be a writers.
2) How did you go about following your dream?
When I lost my job back in 2010, I looked at the manuscript for my book Dark Cherub, and decided that I wasn't going to dream about being a published author anymore. So, I worked on the book. My husband gave me the money to publish it with a vanity press and in 2011, I published my first book Dark Cherub.
3) Is there a particular author that inspires you?
I take my inspiration from readers but I do enjoy a great variety of authors who all have great skills in dialogue, description, or some other aspect of the craft.
4) What is your average writing day like? Do you have any strange writing habits?
I don't have an average writing day. I work all the time so I make sure to write something every day. I do tend to write better on my lunch hours and after hours at work because my mind is still in work mode. My writing routine is to have my dog, Sarah, with me. She either sits on my feet or is next to me in some way.
5) Do you write Longhand, Typewriter, Computer?
When I need to focus, I write longhand and then transfer the notes to a computer. When I was younger, I used a typewriter and I'm seriously considering going back to a typewriter so I don't have to worry about being distracted by the Internet.
6) From all your books, do you have a favourite character?
I don't have a favorite character from all my books. I love all my children the same!
7) Do you plot your books completely before hand or do you let your imagination flow whilst in the writing process?
I plot about two or three chapters roughly with a general idea of where I want to go. Then I write. I find myself plotting increasing more and more because it gives you that discipline you need to finish your project.
Concerning your latest book: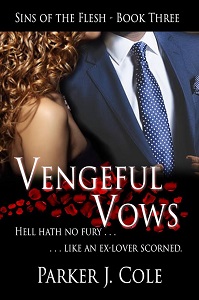 Vengeful Vows
Sins of the Flesh Book Three
Author – Parker J Cole
Publisher – eLectio Publishing
Pages – 320
Release Date – 25th May 2016
Format – ebook, paperback

Daffodil Simmons knows how the world works. She's the spider, all the world is a fly. She has spent her life spinning webs, using people for personal gain. And now, she's about to spin her biggest one yet – for vengeance. She'll do whatever it takes to get revenge on the two men who abandoned her: her father, and her former lover. When she blackmails her half-sister Leah Westwood's ex-lover to do her bidding, she tightens her fist around his will and brings him into submission to her plans.
Vincent Miller hates that Daffodil has a noose around his neck, forcing him to do whatever she wants. But he'll do anything to steal Leah back from Jacob Westwood, the man who destroyed his life, even if it means making a deal with a blue-eyed spider. Yet as Daffodil spins her web, he finds himself entrapped by a silk of a very different kind and intrigued by a woman who only sees him as expendable prey.
Everything is going according to plan until another spider, a ghost from Daffodil's past, begins to interfere with their web. It's a battle of wits against a powerful foe. When it comes time to make the ultimate choice, can Daffodil lay aside everything she's ever known… for something even greater? Can Vincent set aside his need for revenge to go after what's in front of him?

8) How long did it take to get from the ideas stage, to the date of publication?
The book took an entire year to write. From January to December. Then my publisher released it six months later in May, so the entire process was eighteen months.
9) Did you suffer from writer's block at any stage? How did you overcome it?
When I suffer from writer's block, I get away from the story. I may put it aside for a day or two, work on another project and then return to it. Or, I read a book and sometimes reading a book will help get those creative juices flowing because you may read something you really like and that can inspire you again.
10) How did you come up with the name(s)for your lead character(s)?
Daffodil has been around since the first book of the series. When I came up with her name, I want a name that would be a little odd but remind someone of flowers. Vincent's name was unashamedly taken from the show back in the eighties called 'Beauty and the Beast' with Linda Hamilton and Ron Pearlman. I used to love that show.
11) If your book was made in to a film, who would you love to play the lead character(s)?
I think I'd like unknowns to play the characters because I'd like t to think the book turned to film would catapult their careers.
12) Did you get anyone in particular to read your work before sending it to the publisher i.e family member, friend etc?
I had a couple of beta readers check out the manuscript before I sent it in. Then of course, my agent looked at it too. My mother loved it as well since she edits all my books.
You can find out more about Parker J Cole by visiting the website/social media sites below.