The Writing Life of: Isabella Louise Anderson
Isabella Louise Anderson
This week on 'The Writing Life of:' I am thrilled to be interviewing author Isabella Louise Anderson. Isabella will be sharing with us detail of her writing life, telling us all about her latest book 'Cards From Khloe's Flower Shop', which was released on 22nd January 2017, and answering a few fun questions too.
So without further ado I'll hand you over to Isabella. Post contains affiliate links.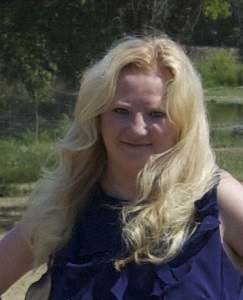 Isabella grew up with a book in her hand, and to this day nothing has changed. She is a member of the Romance Writers of America and has been featured on several blogs. While Isabella doesn't blog a lot, she focuses her time on featuring other writers, along with writing and editing.
She lives in Dallas with her husband. She enjoys spicy Mexican food and drinking margaritas, and can be found spending time with family and friends, cheering on the Texas Rangers, and reading.
---
1) As a child what did you want to do when you grew up?
So many things, but as an avid reader, being an author always stood in the back of my mind. I finally began to pursue that dream in January of 2010, when I started taking online classes from Gotham Writers' Workshop. Since then, I haven't looked back.
2) Who were your favourite childhood authors?
Danielle Steel and Judy Blume.
3) At what point in your life did you realise you wanted to be a writer?
After the first day of my GWW class, I knew I'd found my passion for life.
4) How did you go about following that dream?
After completing my first creative writing class, I continued to take more classes, where I earned a certificate from GWW. I have it hanging in my office, which inspires me to keep on writing.
5) What is your writing day like? Do you aim for a certain amount of pages or words before you stop for the day?
Each day is different, but I'm currently working on another book, and my aim is for 80,000 words. To aid in meeting my goal and to help me write each day, I use the Pomodoro Technique—it's something helps move me along, even when writer's block hits.
As a daily goal, I try to at least to 1,200 to 1,500 words.
6) Did you ever consider writing under a pseudonym?
I write under the name Isabella, but my middle and last names are Louise and Anderson.
7) Do you have any strange habits before starting, or whilst in the midst of writing?
Hmm, not that I can think of.
8) Do you write longhand, typewriter, or on a computer?
I write longhand when making notes or outlining, then write the MS on a laptop.
9) How many books have you written? Do you have any unpublished work?
I've written three complete manuscripts, but have two published, along with a short story.
10) Are you a plotter or a pantser?
As I've come to see with my current WIP, I'm both.
11) Do you read all the reviews left for your book(s)?
Absolutely! Of course, each author would prefer to receive a positive review over a negative one, but when in this business, I know that I can't please everyone. Also, with negative reviews, they help me want to be a better author.
Concerning your latest book: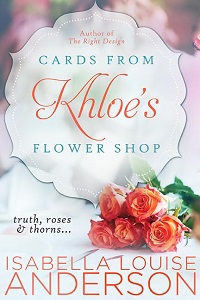 Cards From Khloe's Flower Shop
Author – Isabella Louise Anderson
Publisher – Chick Lit Goddess
Pages – 290
Release Date – 22nd January 2017
ISBN 13 – 978-0991416738
Format – ebook, paperback

As the owner of a successful florist shop, Khloe Harper trusts her instincts. She has a strong bond with her family and friends, but after being betrayed by her last love, she's kept herself at arms' length from romance.
When dashing entertainment attorney Derek Thomas walks into her store, Khloe's interested is piqued. What at first seems like a business relationship quickly turns into romance, and Derek slowly plucks away the petals she's been hiding behind. Just as Khloe lets down her guard, she discovers that Derek may not be worthy of her love after all…
Frumpy Connie Albright has a faux fascination with an imaginary man named Walt, sending herself flowers from him to feel less out-of-place with the "mean girls" she works with. Gabby Lewis, a recently widowed senior, isn't ready to give up on love—which means releasing herself from survivor's guilt and taking a chance on finding happiness and companionship again.
As these stories intertwine through flowers and cards sent from Khloe's shop, the three women begin to learn that love can only truly blossom when you trust your heart.

12) How long did it take you to get from the idea's stage to your date of publication?
I wrote "Cards From Khloe's Flower Shop" as part of NaNoWriMo, but finished it in 17 days, as opposed to 30. Though, through editing, medical setbacks, along with a death of my brother, it took over a year and a half to get to the publishing day, which was on January 17th of this year.
13) How did you come up with the names for your characters?
Well, Khloe Kardashian-Odom was on the cover of my USWeekly magazine. She's my favorite of them all, but I've always loved the name. As far as Gabby and Connie, Gabby is a mixture of two women I knew growing up. For Connie, the name didn't seem too fancy, but that's just what I wanted for her character (read the book, and you'll see why).
14) Can you give us an insight into your main character(s) life?, What makes them tick?
There are three main characters. Khloe just wants to find love, though isn't willing to risk her heart being broken again, so when a man that lies to her, she's beyond ticked.
Gabby is a spunky widow who's quite adventurous. I'd like to say she gets upset, but she's very forgiving and understanding, and that's one of the things I like most about her.
Connie is desperate to be liked women, men—anyone, and she goes to great lengths to get it. What sets her off are evil and catty women.
15) Which was your hardest scene to write?
Believe it or not, I didn't have a problem writing any scenes in the book—they all just came so naturally to me.
16) How did you come up with the title of your book?
I knew this book was going be about a flower shop, and since Khloe is the tie between Gabby and Connie, I figured "Cards From Khloe's Shop" was fitting.
17) Did you get a family member/friend to read your work before sending to the publishers?
I did for the first draft, but they didn't read the final draft before I self-published it.
18) What process did you go through to get your book published?
Since I self-published my two books, I kept in contact with my editors, cover designer, and formatter, and took lessons I learned on what to and what not to do when publishing. I learn something new each time, and, of course, it gets easier each time.
19) What did you do once you had written the final word in your book?
I called my brother and told him I wrote another book. He was so supportive, and he told me how proud of me he was. That's something I'll never forget.
20) What's next for you, writing-wise?
I'm currently writing a country contemporary romance, which is a mix of truth and fiction. I love it so much!
1) What's your favourite food?
Mexican—seriously, I could eat it every single day, (don't forget the margaritas, of course).
2) If you had a box of crayons and you could only choose one, which colour would you choose?
Purple!
3) What movie could you watch over and over again?
"When Harry Met Sally."
4) What would be the top song on your playlist?
Luke Bryan's "Drink a Beer."
5) If you won millions on the lottery, what would be your first purchase?
A new home!
6) A talking duck walks into your room wearing a baseball cap and sunglasses, what's the first thing he says to you?
"Are you ready for some Texas Rangers baseball?!"
You can find out more about Isabella by visiting her website/social media sites below.
www.chicklitgoddess.com
ChickLitGoddess
@ILA121209
Facebook
Pinterest
Goodreads
I would like to say a big thank you to Isabella for sharing with us details of her writing life, and for a wonderful interview.