The Writing Life of: Tina O'Hailey
Tina O'Hailey
This week I am thrilled to be interviewing author Tina O'Hailey. Tina O'Hailey will be sharing with us details of her writing life, telling us all about her latest book 'When Darkness Begins', which was released on 28th May 2020 and answering a few fun questions too. This post contains affiliate links.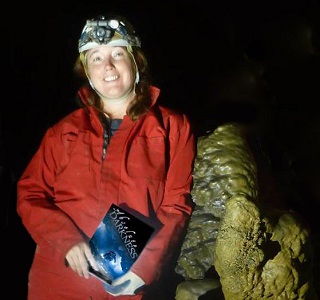 Tina O'Hailey is a professor in animation and game programming, caver and occasional mapper of grim, wet, twisty caves (if she owes a friend a favor or loses a bet), whose passion is to be secluded on a mountain and to write whilst surrounded by small, furry dogs and hot coffee. Tina was once struck by lightning.
She has served as an artistic trainer for Walt Disney Feature Animation, Dreamworks and Electronic Arts. Any movie credit she has is minimal and usually found in the special thanks section. The meager credits do not account for the great honor it was to teach talented artists who worked on numerous feature films and games.
Tina O'Hailey has authored animation textbooks "Rig it Right" and "Hybrid Animation" published by Focal Press and the Darkness Universe novels "Absolute Darkness" and "When Darkness Begins" published by Black Rose Writing.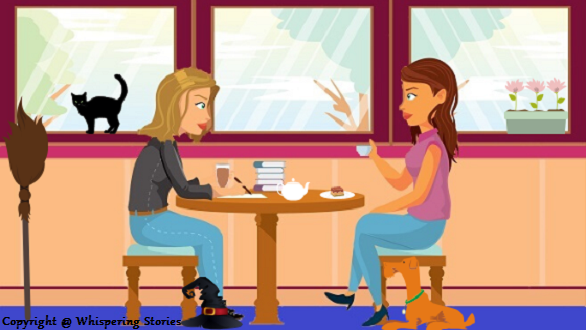 1) As a child did you have a dream job in mind?
Growing up I had three things: Piano. Writing. Art. I was too practical to have a dream job. I had a plan—even as a teen. I chose art as a "day job" with a backup of being a certified nursing assistant. The whole time I figured I'd write in the evenings and one day get on bookshelves. It's who I have always been.
The one dream I had, I suppose, was to be a concert pianist. I was always not quite the best, but close to the best at the state competitions and my mother didn't want me to go to a college out of state. I had my heart set on Anderson college in SC. Why on earth didn't I want to go to Florida Southern, which had a very good music program and was 30 minutes from home…oh, I guess because it was 30 minutes from home.
2) Who was your favourite childhood author (s)?
Like most kids my age, I liked Stephen King. I started reading him fairly young. Too young. I had limited access to books—what my mother had on her bookshelf and what the small library at the Christian school had and would give me access to. Eventually, I had a note from my mother to give the librarian so I could gain access to the older kids books. I did not have time for Nancy Drew and books I should have been reading. I started reading "big kid" books in second grade—certainly they were not age appropriate.
From my mother's bookshelf: V.C. Andrews, Erma Bombeck, Mary Higgens Clark. Then I found my own books in the older kids section of the library: Dickens, Shakespeare, Tolkien, Doyle, etc. (Most of it was over my head at the time. Maybe, still it still is.) I did receive a box set of the Narnia books and a set of English ghost stories, which I read repeatedly during the summer when the library could not be accessed. When I was 18 I found Chelsea Quinn Yarboro and she changed my life. She probably shaped me more than anything.
3) Was there a particular point in your life that you realised you wanted to be a writer?
I can't remember a time when I wasn't a writer. I constantly wrote plays as a child and had my dolls perform them. Later I would use my nieces, nephews and cousins as actors—they were toddlers and I had to speak their lines. I remember beating at a manual typewriter when I was 8 or so, writing short stories. I wrote and printed newsletters to give to my neighbors at age 11. I'm sure they were overjoyed. If the internet had existed then…
4) What is your average writing day like? Do you have any special routines, word count, etc?
It depends on what time of the academic year it is. But usually I write on the porch—overlooking a valley. I tend to write in the morning and mid afternoon. If it is during the academic quarter, I write in the evening after classes are out. I don't write a whole lot during the quarter—class prep and grading require focus. I catch up during the breaks and summer.
But, I can write anywhere. When I travel for the University—I get my best writing done on the long plane rides to India/China/etc. As far as word count—I only pay attention when I'm doing a Novel November sprint. I try to end mid scene or on a cliff-hanger so I have something to grab onto the next day.
5) How many books have you written? Any unpublished work?
I have 2 animation textbooks both with 2nd editions published with Focal Press/ Taylor and Francis: Hybrid Animation and Rig it Right. Both of those have been translated into other languages [Standard Chinese, French, Japanese—I think. I don't get copies of those from the publisher] and have a large international following.
Fiction books in the Darkness Universe published by Black Rose Writing are Absolute Darkness and its prequel When Darkness Begins. Both of those are available in paperback, on kindle and also on audible. [I wrote that ever so calmly. Holy Cow—my book came out on audible, literally, yesterday! I didn't even know it was in production. How cool is that?]
Unpublished work. Oh yes. I'd say there are 6-9 books, full manuscripts, which I torched on the way to Absolute Darkness. (Sci/fi Fantasy – though my publisher has it listed as a paranormal romance) I didn't like them. But a thriller titled Running in Place helped me find the main characters for Absolute Darkness. I ripped those characters out of that story and made them cavers. They crawled into a cave and found the next character—Alexander. He's who I wrote about in the prequel When Darkness Begins. (YA Dark Fantasy)
I do have a WIP that I'm working on now, also in the Darkness Universe: A Dark Drink. It is a thriller. I'm 210 pages in—with 10 chapters to go; and having a blast with this one. It's hard to not have a fantasy element when you are used to creating a world to fit your story—but for monsters in the real world, I am not lacking.
6) Are you a plotter or a pantser?
I'm definitely a plotter. BUT—characters walk on to the page that I never knew about. They take over the story and I have to re-plot. I do my best thinking about the plot when riding my motorcycle. I go for a good ride, think about the plot or the character or whatever, and when I'm ready to write the next morning the story is there.
Concerning your latest book: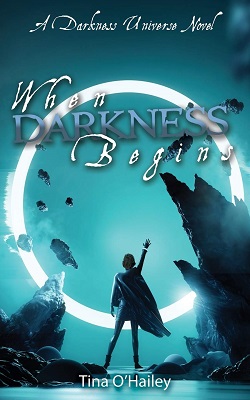 When Darkness Begins
Author – Tina O'Hailey
Publisher – Black Rose Writing
Pages – 230
Released – 28th May 2020
ISBN-13 – 978-1684334957
Format – ebook, paperback

If you could change time to save your first love—even if it meant turning your back on the universe—would you?
It is time for the Vechey youth to earn their place as time-guardians. The near-immortal Vechey protect the universe from the devastating Manipulators—devourers of souls, mindless seekers of chaos. First, the youth must survive a mysterious and deadly ritual created by the all-powerful clan leader Eterili. Having regenerated thousands of times with the birth of each universe, Eterili is taking this one as hers and bending all in it to her grand designs.
Catha's time-slipping skills are underdeveloped. She is time-blind—unable to see through time, unable to protect herself from the ritual. The Vechey shun her for being different. Her parents ignore her as if she were already dead.
Aithagg loves Catha unconditionally and will do anything to save her. He tries desperately to unlock the ritual's mysteries and find a way to help Catha survive with him. Or will saving Catha enable the Manipulators to destroy the universe?
---
7) How did you go about researching the content for your book?
I do my research in September and October. Outline in October. Puke out the manuscript in Novel November. Tie up the manuscript in December (sometimes). I teach more and write less from January – March. Thought I might edit a little. Then I work to complete the manuscript in early summer. Edit in August until it is done. Rinse and repeat. It sometimes overlaps with the next creation cycle.
The research for When Darkness Begins was fun. I listened to History of the World podcast to get the timelines straight on where homo-sapiens came from and what species were there before, what the world was like 100,000 years ago and beyond. I also researched the Topper site in the US where early human artifacts can be found and a controversial hypothesis that there were humans there 40,000 – 50,000 years ago. Many archeological findings became story points in my book as we see the Vechey tribe come together. If you are familiar with the migrations of early man and archeological digs you might recognize them throughout the book. Of course, it is my world and multi-verse so the rest is from my own warped mind.
8) How long did it take to go from ideas stage to writing the last word?
I think it took about one year.
9) How did you come up with the title of your book?
The original title was Alexander. Then a character named Eterili walked into the book and told me this was her book, really. Her universe. The Darkness Universe. So I had to change the title accordingly. Then she whispered it is a multiverse—get ready to write.
10) Can you give us an insight into your characters?
Alexander is a Vechey. He is nearly immortal and is in charge of guarding time from the Manipulators. (Nasty beings, Manipulators. More on that in a second.) Alexander is a 10,000 year old lonely rebel. When he was a child his name was Aithagg. He has lived so long that he has had many names and many adventures. His first love, Catha, was not a strong Vechey and his first instinct was to protect her and to help her through their coming-of-age-ritual. He failed. This is the story of him trying to save Catha, and ties into him trying to save Brandy (a Linear) 10,000 years later (which is detailed in Absolute Darkness)
Linears are mortals like you and me who cannot walk through time as Alexander does. He's trapped in an eternity of doing what he must and constantly trying to atone for his teenage failure. Aren't we all?
Catha is an independent, out-of-place, Vechey who isn't developing the time-slipping skills she needs to survive their coming-of-age ritual. Her parents shun her—treating her as if she were already dead. We see her complete character arc, as she becomes who she was always meant to be—and it is beautiful. The tragedy is that Alexander does not know her full arc, leaving us as the reader to hurt more for him.
Manipulators are energy beings that inhabit Linears. "Wear their skins like clothing" Their sole purpose is to destroy time. They are driven by a maddening need for chaos and they do not know why. What they destroy the Vechey must fix else time will slip and unravel—destroying this universe.
The beautiful part of the book is how all three: Linears, Vechey, and Manipulators are related together in an elegant entanglement that doesn't reveal itself until the very end of the book. The truth is tragically never revealed to the characters. I placed images at the front of each chapter, visual timelines to help the reader see where they were in time. There are symbolic icons used throughout the book as well. I did not make a language for the Vechey, though I was tempted. I tend to go super nerdy on things.
11) What process did you go through to get your book published?
Since Absolute Darkness was already published by Black Rose Writing I sent an email with the final manuscript to the publisher and they were interested. For Absolute Darkness, I self published first then submitted it for reprint to many publishers until Black Rose Writing picked it up.
12) What's next for you writing wise?
I'm excited to finish A Dark Drink. Surprisingly, I do not have the next book for this year's Novel November in mind. It will come into focus soon—usually around July with a long motorcycle ride.
The fun thing about the Darkness Universe is that these books are different genres but all take place in the same place. For instance, in A Dark Drink, which is a straight up thriller, the characters know the characters from Absolute Darkness. In fact, Alexander will probably do a walk on for a cup of coffee. But there will be no fantasy elements, no time-travel, not evil Manipulators (maybe). Each one is a stand-alone book. But if you read them all – you'll start to see the connective tissue that is there.
There is one overarching theme through all of them that I haven't spoken about: CAVES. I LOVE to cave. I don't do it as much anymore as I would like. In my 30s I caved every weekend. Absolute Darkness features two young women cavers who are cave-divers. (Something I won't do and that's why I chose it as a topic—to scare me. It will make you sweat.) When Darkness Begins uses Mammoth cave as a backdrop. That is where the Vechey live. Eterili (their eternal matriarch who is quite the puppet master) chose that cave in case one day she has to call all of her people from across time there for safety. In A Dark Drink, Jude (the MC) only wants three things in life: to cave, to ride motorcycles, and to mix cocktails. The research for that one will be fun. I don't mix cocktails as a rule.
Fun Questions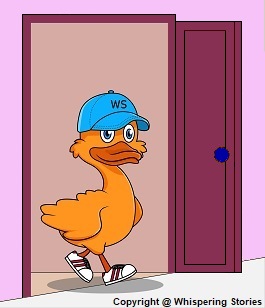 1) If you could have any super power for the day which would you choose?
Flying.
Oh yes. I always have pets. Nibbler (Nibbles) & Ruby are momma and daddy long-haired Chihuahuas. Occasionally I have to babysit their baby, Diamond (Fluffy)—when she comes home from college while my college kid goes on a trip. I also have a rescue cat Maggie. My other rescues: Jack (a lab-ish dog) and Angel (a Corgey/shepard-ish dog) are no longer with us. Oh, I have to babysit the college hamster: Jorek too sometimes. I live in a zoo.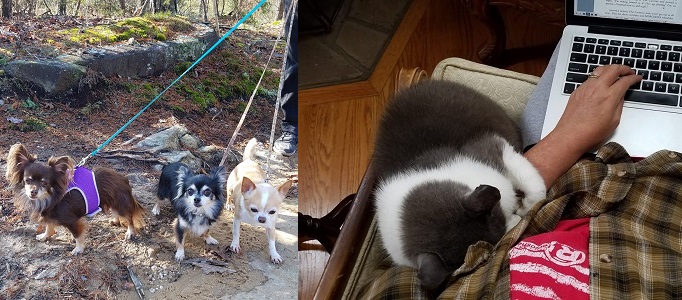 3) If you decided to write an autobiography of your life, what would you call it?
Escaping Polk County
4) Your book has been made into a feature film and you've been offered a cameo role, which part would you choose, or what would you be doing?
I'd probably play Aithagg's mom.
5) Where is your favourite holiday destination?
I live on a bluff overlooking a state forest. This is my holiday destination.
6) A baseball cap wearing, talking duck casually wanders into your room, what is the first thing he says to you?
"Do you have a light?"
---
I would like to say a big thank you to Tina O'Hailey for sharing with us details of her writing life and for a wonderful interview.
Tina O'Hailey – Author links





---
Share your thoughts on our interview with Tina O'Hailey in the comment section below!
---
The above links are affiliate links. I receive a very small percentage from each item you purchase via these link, which is at no extra cost to you. If you are thinking about purchasing the book, please think about using one of the links. All money received goes back into the blog and helps to keep it running. Thank you.
Like us on Facebook – Tweet us on Twitter – Pin us on Pinterest