I Hope You Dance by Beth Moran – Book Review
I Hope You Dance by Beth Moran – Book Review
I Hope You Dance
Author – Beth Moran
Publisher – Lion Fiction
Pages – 320
Release Date – 18th September 2015
Format – ebook, paperback
Reviewer – Stacey
I received a free copy of this book
Contains affiliate links

Ruth Henderson has moved back in with her parents – something she swore she would never do, especially not at the age of thirty-three. But in the face of the mountain of debt left by her late-partner and the fact that her teenage daughter, Maggie, is expressing her grief through acts of delinquency, there was really only one option.
Returning to a house Ruth swore never to set foot in again is bad enough. Add to this an estranged father, whirlwind mother, and David – the boy next door who broke her heart – and it is little wonder Ruth can barely make it out of bed.
But then, reunited with her old friend Lois, Ruth is persuaded to go along to a monthly girls' night. Here she meets a bunch of incredible women and for the first time since leaving home at eighteen, Ruth begins to make some genuine friends. She also has her first ever date – with the charming Dr Carl Barker. However, after a disastrous dinner, and a fraught Maggie still struggling with her father's death, Ruth promises her daughter she won't go out with any other men.
A promise she quickly regrets when David, the boy next door, asks her to dance…

Ruth has lost everything; her husband, her job and now her home. Having to return to her mum and estranged dad's home a widow, with an emotional 14 year old and a mountain of debt, was not what she had hoped her future would be like.
'I Hope you Dance' is an emotional book that will bring a tear to your eye, and warmth to your heart.
Ruth is a beautiful woman in her thirties, trying to cope with life. Moving back to a place that has so many memories, both good and bad, is hard for her. Not only has she just lost her husband, but then to discover that he was hiding a mountain of debts must have been horrendous.
Her daughter Maggie is hurting. She has lost her dad and is angry at everyone, causing her to become destructive. Ruth is the target of a lot of her anger, especially when Maggie thinks that she is moving on, and dating men again.
I can fully understand Ruth's desire to sink beneath her duvet, hiding from the world, but with the help of her bossy mum she is slowly starts to get back on her feet, and discover that there is so much still to live for.
Friendships and family play a big part in the book, with girlie nights where the only rule is 'whatever is said on the nights never gets repeated', and a rift in the family that goes deeper than you can imagine, the book keeps you hooked right through to the very last page.
The perfect blend of happiness and sadness, new beginnings and old love, create an emotional roller coaster of a book that will have you cherishing life and all it has to offer.
Book Reviewed by Stacey
Purchase Links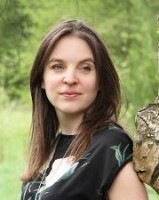 After studying Biochemistry at university, Beth initially worked in cancer research, and then spent ten years teaching antenatal classes, before giving it up to follow her dream of becoming a writer.
She is a passionate communicator, regularly featuring on BBC Radio Nottingham, and is part of the national leadership team of the women`s network Free Range Chicks, which gives her
ample opportunity to organise events that include two of her favourite things – food and dancing. She lives in Nottinghamshire (where she grew up) with her husband and three children.
Author Links