A World Alone by R K Weir – Book Review
A World Alone by R K Weir – Book Review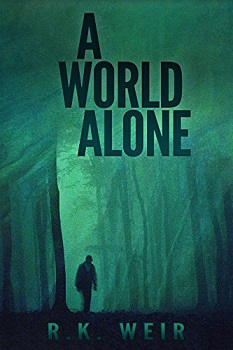 A World Alone


Dead World Trilogy Book One
Author – R K Weir
Pages – 209
Release Date – 17th September 2016
Format – ebook
Reviewer – Clive
I received a free copy of this book
Post Contains Affiliate Links

Stella Carlisle is a thousand miles from her destination, and she's willing to do whatever it takes to get there. Whether that means manipulating fellow survivors, or killing them, nothing is going to stop her from getting what she wants.
While the infected lurk around every corner and bandits hide in every shadow, starvation and illness follow closely in their wake.
In a world of personal demons, void of connection, Stella truly is living in a world alone.

At first glance this appears to be a fairly formulaic book based in a post-apocalyptic world where most of the population have been turned to flesh eating zombies and the healthy survivors will do almost anything to get by. That said, the author does tell the story very well with action all the way, some of which is rather gory.
R K Weir knows how to build and hold the tension which he does by giving us less rather than more information. For example we are given very little background on the pandemic and virtually nothing on Stella's past or her reasons for trying to go wherever it is that she is so keen to get to.
There is also very little description on the "infected" so we do not fully know what they can or cannot do, what drives them and how they may be vulnerable. These unknowns help perpetuate the fear.
The book is written in the first person with the events narrated by Stella or Logan, generally in alternate chapters. This helps with the tension but on more than one occasion I found myself turning back to the start of the chapter to check who was telling this part of the story because I struggled to see any recognisable difference in the writing style or language of the two characters.
A World Alone is an easy, albeit light read that deserves four stars. I look forward to the sequel.
Book reviewed by Clive

A self-published author, an aspiring to be a full-time novelist with a penchant for dreaming, crafting realities and building worlds from nothing are what I enjoy doing most.
If I'm not thinking of new stories or imagining new characters, then I'm most likely watching Netflix or reading.
Full-time journalist student by day, aspiring indie author by night.