Why Do I Love Writing Dark Romantic Suspense? by Karen Lynn – Guest Post
Why Do I Love Writing Dark Romantic Suspense? by Karen Lynn – Guest Post
Today on the blog we welcome author Karen Lynn, with her guest post 'Why Do I Love Writing Dark Romantic Suspense?'. You can also find out information about her new book, 'A Sea of Smoke: Dark Romance' which was released on 10th May 2018. Post contains affiliate links.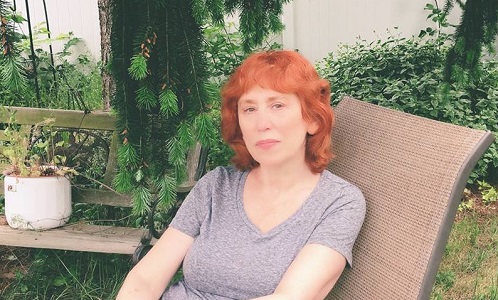 Karen Lynn, a native New Yorker has always loved writing poetry and short stories with intense characters struggling to find love and survive in a troubled world. After years of working in the legal field, Karen moved with her son to Oregon. Inspired by the rain and Portland's creative culture, Karen has been able to follow her dream of writing novels.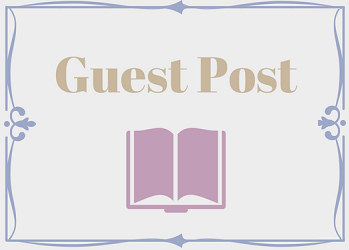 Why Do I Love Writing Dark Romantic Suspense?
Why do I love writing dark romantic suspense? Powerful emotion and extremely complex, intense characters excite me. I write what I love to read, and stories with highly charged emotions, passion and tension are what I thrive on. That's why I created broken, imperfect characters in a constant struggle to find and hold onto love without succumbing to the darkness that threatens them. When I write I lose myself in the characters and their fractured worlds. It is a lonely process, but a necessary one because if it is not real to me, it won't be to my readers either. Every main character deals with some form of mental and emotional turmoil, irrational, compulsive behavior and spiraling out of control obsessive needs. Oh, how we adore those deliciously dark, destructive secrets and fantasies we are afraid or reluctant to share. In dark romance, we get it all. But there's a lot more involved here.
Love triangles and obsession? Nobody consciously seeks them. Who wants the trouble, heartache and danger? Kristen, the conflicted heroine in this series certainly doesn't. But she gets more than her fair share of it. To truly understand her, you have to open yourself to the experience of deep, all consuming love. With Kristen and Jake, it happens out of the blue and is almost instantaneous. Quite the opposite occurs with Logan, where the bond takes years to build and is very difficult to sever.
If it is possible to love too deeply, Kristen is guilty. Then again, so are Jake and Logan. None of them set out intending to hurt anybody, least of all themselves. Except, possibly Logan, but I'll let you be the judge of that. You will find many parts of A War of Hearts and A Sea of Smoke, open to interpretation. After all, life and human behavior are very unpredictable.
---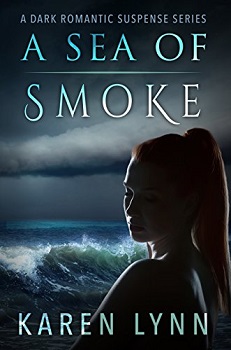 A Sea of Smoke: Dark Romance


A War of Hearts Book Two
Author – Karen Lynn
Pages – 505
Release Date – 10th May 2018
Format – ebook

Two men obsessed, one woman caught in the crossfire.
Kristen wears a smile for survival. Her nights are spent dreaming of Jake, the lover she left behind. Her days are spent living a nightmare with Logan, who is still unsatisfied in victory.
Jake does not have the comfort of pleasant dreams. Shallow gratifications fail to quiet his raging mind. Haunted by his lover's disappearance and his best friend's murder, he grows obsessed.
With so much on the line, Kristen plays the game and bends to Logan's will despite the pain it brings her.
With nothing left to lose, Jake lives on the edge. Consumed by emptiness, he will never rest until he finds the woman he loves. And hurts the man who shattered his world.
The tables have turned, the stakes at an all-time high. Now, it is just a matter of time before the fine line between love and hate is crossed.
An unforgettable and gripping dark romantic suspense tale that will leave you on the edge of your seat.
But this twisted, emotional roller coaster ride is not over yet!
Purchase online from:
---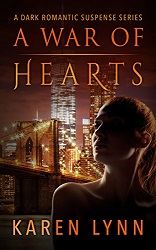 A War of Hearts: A Dark Romance
What happens when passion erupts into dark obsession? They're about to find out the hard way.
Logan is poison and Kristen knows it. She's developed a hatred for the increasingly risqué lifestyle he is addicted to. His lust for deviant sex, women, and drugs threatens to destroy her world. Yet every time she tells herself it's over, his seductive powers draw her back.
That is until she meets Jake. Together their worlds are rattled by a love so powerful it promises to change their lives forever.
Unless the manipulative Logan has his way. As he struggles to preserve his crumbling sanity, his determination to keep Kristen at all costs spirals out of control.
While Jake will die for Kristen. Logan is ready to kill for her. Lose yourself in this dark, passionate and deeply emotional tale of toxic love, obsession, revenge and murder.
Book One 'A War of Hearts: Dark Romance' is currently free on Amazon Kindle for a limited time only, so grab a copy for free whilst you can.
---
You can find out more about Karen Lynn by visiting the website/social media sites below.