A Book of Feelings by Amanda McCardie – Book Review
A Book of Feelings by Amanda McCardie – Book Review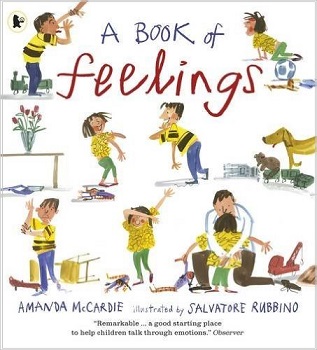 A Book of Feelings
Author – Amanda McCardie
Illustrator – Salvatore Rubbino
Publisher – Walker Books
Pages – 48
Release Date – 1st September 2016
Format – paperback, hardcover
Reviewer – Stacey
I received a free copy of this book
Post Contains Affiliate Links

A Book of Feelings stars a brother and sister, Sam and Kate, and their dog, Fuzzy Bean. Sam and Kate know what makes them happy: cuddling Mum, reading a story with Dad, swimming, running and dancing. lots of things! But they don't feel happy all the time, and in the course of the book we see them feeling grumpy, embarrassed, shy, nervous, frightened, sad and jealous.
This book shows the children in many different situations at home and at school, and show how they change over time, how emotions can escalate and how people can help each other. Amanda McCardie's supremely subtle and sensitive text is as alive to the nuances of children's behaviour as Salvatore Rubbino's amazing pictures.

'A Book of Feelings', is a great way of teaching children not only about the different kinds of emotions that there are, but also how those emotions may affect them and how to identify and understand them in other people.
Told is a story book manner, we meet Sam and Kate along with their parents and Fuzzy Bean, the family's pet dog. Throughout the book the family go through lots of different situations and the books shows what kind of emotions and feelings that those situations may cause.
There are a lot of emotions/feelings, including happy, grumpy, nervous, shy, sad, hurt and loved, to name but a few. At the back of the book there is an index included so that the children can see exactly which page each emotion can be found on. The emotions are also highlighted in bold throughout.
There are numerous illustrations, drawn by renowned artist Salvatore Rubbino, on each page. These drawing represent the emotions, and what is causing them.
The story is told in a lovable, easy to understand way and naturally blends the feelings shown in the story, and shows them as part of everyday life.
It teaches children that they will have lots of different feelings for different reasons, but it is only natural to feel that way, and that although some last a lot longer than others, most feelings won't last forever.
A Book of Feelings is a superb book that will come in very useful for children.
Book Reviewed by Stacey
Purchase Links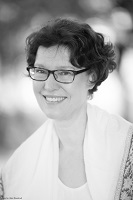 As a child
I was born in Leamington, Warwickshire. One of my earliest memories is that we had lots of hedgehogs living at the bottom of the garden. Sophie, the Jack Russell in OUR VERY OWN DOG, joined my family in Leamington. We moved to Gloucestershire not long afterwards. That's where I spent the rest of my childhood.
As an adult
I went to a school that had more boys in it than girls. English was my favourite subject, and after school I studied English at Oxford. I wrote endless poems and stories as a child, but didn't start to write again until I was in my thirties.
As an artist
I like to write on a table that looks out into the garden, especially if there's a blackbird outside. I also like writing on trains, because I find the noise and rhythm help. I work a lot on the computer, but I work more freely when I write by hand. My children's books are THE FROG BALLET (Julia MacRae, 1997), which won a UK Reading Association Award; DAVY AND SNAKE (Red Fox, 2000); A BOOK OF FEELINGS (Walker Books, 2015), shortlisted for the SLA Information Book Award, 2016; and OUR VERY OWN DOG (soon to be published by Walker Books, 2016).