The Search for the Giant Arctic Jellyfish by Chloe Savage – Book Review
The Search for the Giant Arctic Jellyfish by Chloe Savage – Book Review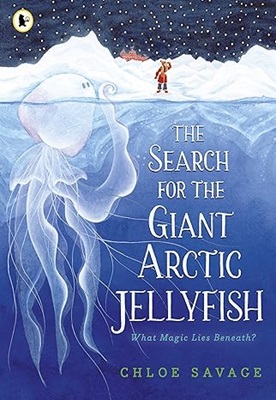 The Search for the Giant Arctic Jellyfish
Author – Chloe Savage
Publisher – Walker Books
Release Date – 5th October 2023
Pages – 32
ISBN 13 – 978-1529512878
Format – Paperback, hardcover
Star Rating – 5
I received a free copy of this book.
This post contains affiliate links.

Synopsis
A moving tale of grit, endurance and self-belief to inspire young explorers and dreamers from a stunningly talented debut.
Dr Morley is about to embark on a quest to the northernmost tip of the world, to discover a creature that everyone talks about but nobody has ever seen: The Giant Arctic Jellyfish. After years of research and hard graft, she gathers together a highly trained crew and a boat full of specialist equipment, and sets sail for the vast icy scapes of the Arctic. Will she find what she is searching for? Or will it find her?
From debut author-illustrator Chloe Savage comes a beautifully detailed adventure into the unknown, sure to captivate the imagination of young explorers.
The Search for the Giant Arctic Jellyfish is an absolute joy of a book that is both beautiful and amusing.
We meet Dr Morley and her crew who have sailed to the North Pole to find and research the Giant Arctic Jellyfish. Dr Morley has wanted to discover the jellyfish for years and now she has the best chance as she has the best equipment and crew. However, the jellyfish is more cunning than the doctor ever imagined.
I adored this book. I did wonder if it was based on real events when I began but with no mention at the back about a real expedition it must just be a story, though there really is a Giant Arctic Jellyfish.
The pages are filled with adorable images that feature the crew and many different animals found in the arctic, and usually a jellyfish hiding under or behind something. The jellyfish made me giggle as she teased the crew to her whereabouts.
Overall, The Search for the Giant Arctic Jellyfish is an incredible book. It has a calming, wintery, magical feel to it and was such a delight to read.
---
Purchase Online:
Chloe Savage
Chloe Savage received a BA in TV and film set design from Cardiff University in Wales and an MA in children's book illustration from the Cambridge School of Art in England. She has worked in opera, film, and television, but says she discovered her passion for illustration and storytelling while doodling on call sheets. The Search for the Giant Arctic Jellyfish is her first book. A great lover of food and the seaside, Chloe Savage lives in England.
Author Links:
---
The above links are affiliate links. I receive a very small percentage from each item you purchase via these links, which is at no extra cost to you. If you are thinking about purchasing the book, please think about using one of the links. All money received goes back into the blog and helps to keep it running. Thank you.