Safiyyah's War by Hiba Noor Khan – Book Review
Safiyyah's War by Hiba Noor Khan – Book Review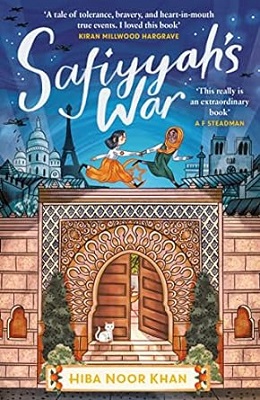 Safiyyah's War
Author – Hiba Noor Khan
Publisher – Andersen Press
Release Date – 6th July 2023
Pages – 336
ISBN 13 – 978-1839133138
Format – ebook, paperback, audio
Star Rating – 5
I received a free copy of this book.
This post contains affiliate links.

Synopsis
War comes to the streets of Paris and Safiyyah's life changes for ever.
Her best friend's family have fled, and the bombing makes her afraid to leave the mosque where she lives. But when her father is arrested by the Nazis for his secret Resistance work, it falls to Safiyyah to run the dangerous errands around the city.
It's not long before hundreds of persecuted Jews seek sanctuary at the mosque. Can Safiyyah find the courage to enter the treacherous catacombs under Paris and lead the Jews to safety?
Safiyyah's War is a stunning middle-grade book that is both thrilling and sad. It also taught me a lot about the breakout of WWII in France, what the people of France went through, and how the people of the Grand Mosque of Paris played a major role.
Safiyyah is such a beautiful character who is warm and inviting to read about. Her thirst for knowledge is heartening and her strength and bravery shine off the page.
This is a book that once I began I found hard to put down. The pacing was perfect, the story flowed well, and the plot felt so real that the ambiance of the time and place had me envisaging everything from the feelings of the characters to the smells and sounds of life in France and the terrifying feeling of war.
This is truly an outstanding book. It not only provides the reader with an adventure-filled story but it will also educate and inspire them too. Overall, Safiyyah's War is a book that deserves to be in every school library.
---
Purchase Online:
Hiba Noor Khan

Hiba Noor Khan is the author of 6 books for children, including Safiyyah's War, How to Spaghettify your Dog, The Little War Cat, Inspiring Inventors and One Home. The Little War Cat, published in 2020 was long-listed for the Jhalak Prize and the UKLA Book Award and her work has been translated into Swedish, Korean, Turkish, Breton, Chinese, and counting.
She secretly wants to be an explorer, and is happiest surrounded by nature, especially near the ocean.
Author Links:
---
The above links are affiliate links. I receive a very small percentage from each item you purchase via these links, which is at no extra cost to you. If you are thinking about purchasing the book, please think about using one of the links. All money received goes back into the blog and helps to keep it running. Thank you.