The BFG by Roald Dahl (Waterstones Exclusive) – Book Review
The BFG by Roald Dahl (Waterstones Exclusive) – Book Review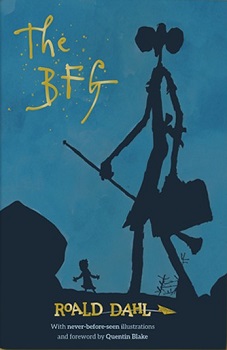 The BFG
Author – Roald Dahl
Illustrator – Quentin Blake
Publisher – Penguin Books Ltd
Pages – 197
Release Date – 23rd June 2016
Format – hardcover
Reviewer – Stacey

Filled with never-before-seen illustrations by Quentin Blake, this limited edition of The BFG is part of a year of celebrations to mark 100 years since Roald Dahl's birth. It includes an exclusive new foreword in which Quentin tells the fascinating story behind his long collaboration with Roald Dahl and these never-before-seen pictures.
The Big Friendly Giant once looked rather different. His marvellous ears were rounder, he wore an apron and on his feet were a pair of boots. Quentin Blake thought the book was already on the way to the printers when he got a call; Roald Dahl had a few changes to make. So Quentin visited Roald Dahl at home for the first time and together, around the kitchen table, they recreated the giant, with his waistcoat and sandals that we know today. But what would become of Quentin's original drawings? Tucked away in a drawer in his studio, they've been seen by not a goggler – until now.
'We is in DREAM COUNTRY . . . This is where all DREAMS is beginning.'
On a dark, silvery moonlit night, Sophie is snatched from her bed by a giant. Luckily it is the BIG FRIENDLY GIANT, the BFG, who only eats snozzcumbers and glugs frobscottle. But there are other giants in GIANT COUNTRY: fifty-foot brutes who gallop far and wide every night to find human beans to eat. Together with her friend the BFG, Sophie sets out to rid the world of trogglehumping giants forever…

To coincide with the cinema release of 'The BFG', and 100 years since author Roald Dahls birth, Waterstones has released an exclusive limited edition book that is full with never-before-seen illustrations by Quentin Blake.
I've been hard pushed to find one person who likes Roald Dahl's books who doesn't think that this story is one of his best works, it is certainly my favourite Roald Dahl book.
The story, following orphan Sophie and the BFG, is enchanting and magical, but it also includes some gruesome scenes, as the not to friendly giants go for lunch, with their choice of food being children.
Roald Dahl had a real knack for making his stories come to life. His books are all fun and interesting and they keep kids hooked to the pages with their elaborate stunts, tricks and characters. He understood children, and could really get to the heart of what they liked and were interested in.
This book is a keepsake, I'm not sure it's one that you would want to give to a young child to read, more of a 'children's book for an adult'. The newly released illustrations are beautiful and being that there are only 5,000 copies, you really are getting a wonderful, classic book that you can treasure forever.
Book Reviewed by Stacey
Purchase Link – Only 5,000 copies were made, which have now all sold out.