A Christmas Wish and a Cranberry Kiss at the Cosy Kettle by Liz Eeles – Book Review
A Christmas Wish and a Cranberry Kiss at the Cosy Kettle by Liz Eeles – Book Review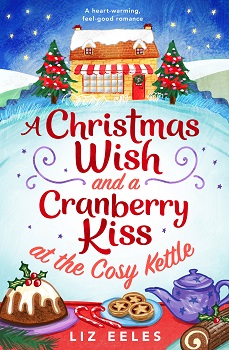 A Christmas Wish and a Cranberry Kiss at the Cosy Kettle
Author – Liz Eeles
Publisher – Bookouture
Pages – 284
Released – 7th November 2019
ISBN-13 – 978-1786816733
Format – ebook, paperback
Review by – Stacey
Rating – Four Stars
I received a free copy of this book.
This post contains affiliate links.
Running from heartbreak, twenty-five-year-old Becca has moved to the cosy village of Honeyford. Living with her best friend Zac in a little stone cottage, and serving mince pies and steaming gingerbread lattes at the Cosy Kettle, is the perfect escape from her past.
But starting over isn't always plain sailing, and Becca's shyness is holding her back from making her mark on the café. To make matters worse, her crush on blond-haired, blue-eyed local heartthrob Logan gets stronger by the day – but he can barely remember her name. So as the snow starts to fall in Honeyford, Becca has one big Christmas wish: to completely reinvent herself. Becca dreams of bringing the Cosy Kettle success and finding romance with Logan under the mistletoe.
As she gets a makeover, cosies up to Logan over mulled wine and plans the most festive celebration the café has ever seen, Becca wonders why she waited so long to step out of her comfort zone… Zac, on the other hand, thought she was perfect before – always caring for others – and he misses the quirky girl with the bright blue hair.
When Logan turns out to not be all he seems, Becca is left wondering if he's really the one for her. With her party plans also going awry, can Becca save her beloved Cosy Kettle in time for Christmas? And has the key to her happiness been in front of her all along?

This is the third book in the Cosy Kettle series and the third one that I have read and reviewed too. The first two books 'New Starts and Cherry Tarts at the Cosy Kettle' and 'A Summer Escape and Strawberry Cake at the Cosy Kettle', I reviewed earlier in the year and absolutely enjoyed them, so I couldn't wait to begin this book.
Each book has focused on a different resident of the small village of Honeyford and this book is no exception, this time the plot focuses on shy and reserved Becca who is the manager of the Cosy Kettle Café situated at the back of the bookshop on the high street.
Becca left her life in Birmingham behind after a devastating break-up which really knocked her confidence. She moved in with her friend Zac and got herself a job running the café. After two problematic moments and a visit from her confident and beautiful twin sister Jasmine, Becca decides she needs to turn her life around and so makes herself a 'wish list' with six items she needs to complete or overcome before Christmas, including getting the man of her dreams, Logan.
Can Becca fulfil her wish or will she realise that everything she ever needed was right there in front of her?
I have really enjoyed reading the Cosy Kettle series of books and getting to know all the residents of Honeyford, especially the members of the book club, including Stanley, which meet in the café.
Becca has been a prominent figure throughout the last two books so it was nice to see her get her story told and also to watch her grow and come out of her shell a little. In the first book I found bookshop owner Flora a little too harsh but I warmed to her in book two, however, I again found her a little too overbearing at times and I still don't think anybody in their forties behaves and speaks the way Flora does, I would have put her at least another ten years old, if not more.
The story is enjoyable, funny in parts, and filled with gorgeous mouth-watering cakes and drinks. It was wonderful to see Honeyford at Christmas in all it's frosty, sparkly glory. Overall the book was so sweet and lovely and whilst it can be read as a standalone I would recommend reading the previous two books first, especially the first which has to be my favourite of the entire series.
Book Reviewer – Stacey
---
Purchase online from:
---
About the Author

Liz began her writing career as a journalist and press officer before deciding that she'd rather have the freedom of making things up as a novelist.
Being short-listed in the Corvus 'Love at First Write' competition and the Novelicious search for a new women's fiction star gave Liz the push she needed to keep putting pen to paper …. and 'Annie's Holiday by the Sea' (her first published novel) is the result.
Liz lives on the South Coast with her family and, when she's not writing, likes to spend time walking by the sea, and trying to meditate. Her ambition is to be serene one day …. she's still got a long way to go.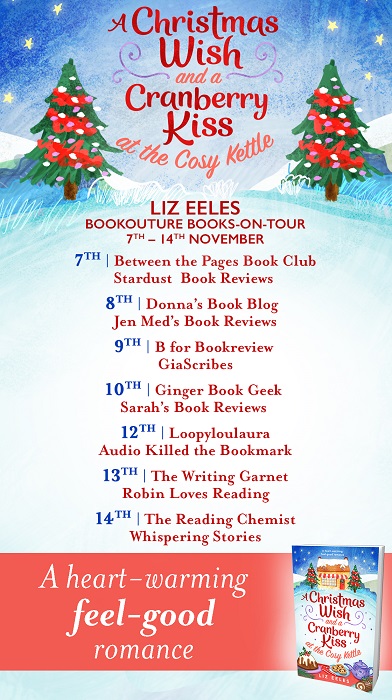 ---
What did you think of A Christmas Wish and a Cranberry Kiss at the Cosy Kettle? Share your thoughts in the comment section below!
---
The above links are affiliate links. I receive a very small percentage from each item you purchase via these link, which is at no extra cost to you. If you are thinking about purchasing the book, please think about using one of the links. All money received goes back into the blog and helps to keep it running. Thank you.