Anya and the Secrets of Cupola by N.A. Cauldron – Book Review
Anya and the Secrets of Cupola by N.A. Cauldron – Book Review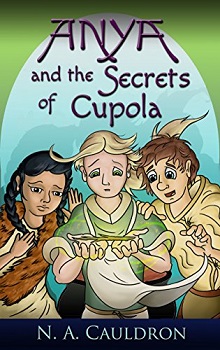 Anya and the Secrets of Cupola
The Cupolian Series Book One
Author – N.A. Cauldron
Publisher – Wiggling Pen Publishing
Pages – 306
Release Date – 4th September 2015
Format – ebook, paperback
Reviewer – Stacey
I received a free copy of this book
Post Contains Affiliate Links

Deep in the walls of Cupola lies a secret. A 200 year old magical secret. And it's up to Anya and her friends to solve it.
Meet Anya, a twelve year old girl with utterly no direction in life. Meet Taika, her best friend who can make a potion strong enough to cure a weregoblin, but may forget to warn you that it can explode at any moment. And then there's Gevin. Yeah … well … Gevin's just Gevin isn't he?
These three unlikely heroes will have to brew potions, battle monsters, and even endure the night-of-the-overturned-chicken-stool before discovering the deepest mysteries of Cupola.

Twelve-year-old Anya lives in the village of Cupola with her annoying older brother, and their mother. Her father disappeared in mysterious circumstances when she was just a little girl.
Anya lives in a time when children had to go to work to help their families keep a roof over their heads, and food in their bellies. It is not long after starting her new job as a Kitchen Elf, at the Kingdom of Cupola, when she and her two best friends, Taika and Gevin, uncover hundreds of years old secrets about Cupola.
Needing to discover all the answers, including why the Knights of the village are going missing, the three of them set out on a dangerous quest which will see them facing trolls, witches and even a very annoyed queen! But can the three of them discover all that Cupola has to hide?
Anya and the Secrets of Cupola is an exciting and magical children's book, most likely best suited to children 8 and above. The plot will keep young minds occupied and engaged as the youngsters go on some epic quests and have fun-filled adventures, alongside a few awesome battles.
Anya is the main voice in the book. She is a very smart, brave young girl. She values her job, her family and her two loyal, caring friends who look out for her. The trio work really well together, which they need to do if they are to uncover the secrets that Cupola is hiding.
Anya and the Secrets of Cupola read like a cross between a magical fantasy and a fairy-tale, which will hook kids straight away. The story builds tension throughout, and once they set off on their quest the book is full of action, which makes it an enjoyable read, leading up to a mini cliff-hanger, that takes you nicely into book two, Anya and the Power Crystal.
Book Reviewed by Stacey
Purchase Links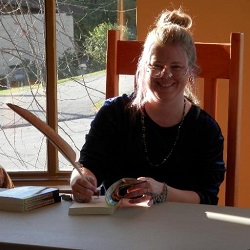 N. A. Cauldron grew up on the outskirts of modern Cupola. As a young child, she enjoyed listening to the tales told of Cupolian's history. This ultimately led to a successful career as a research historian and her recent authorship of historical fiction. She is an avid herbologist, and spends her free time hunting out and collecting rare herbs for her potion making. She is especially fond of the snaggled tooth humpmoss, and has been known to spend weeks at a time on fungal expeditions.
Although Ms Cauldron is currently spending her time attempting to acquiesce to earth's society, her roots and permanent home will always remain in Cupola. She is currently studying earthly children's literature and plans to contribute to its volumes upon finishing her historical works on the Cupolian time period known as the Magical Revolution.
Author Links