Child of Privilege by Ross Ponderson – Book Review
Child of Privilege by Ross Ponderson – Book Review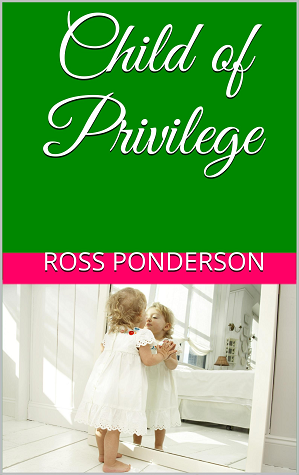 Child of Privilage
Author – Ross Ponderson
Pages – 316
Release Date – 26th August 2016
Format – ebook
Reviewer – Stacey
Rating – 4 Stars
I received a free copy of this book
Contains Affiliate Links

Dana Van Werner is riding a bus bound for nowhere.
In her pockets, she carries a bus ticket, $260, hope, her own wits, and an unbreakable will. In her memories, she carries the nightmares of frequent beatings, growing up in constant fear, physical and verbal abuse, and her father's unfathomable hatred. Dana, a 19-year-old débutante born into wealth, privilege, culture, and social standing, ponders her new world–the "real" world–for which she is laughably ill-prepared.
She doesn't know where she's going, where her next meal is coming from, or where she'll sleep tonight. She does, however, take comfort in two certainties: that the brutal beatings at the hands of her father–a psychotic, powerful attorney–are finally over; and that her decision to run away from the palatial mansion she once called home has probably saved her life.
This lovable, down-to-earth teenager (more "girl next door" than débutante) grows up quickly as she confronts intercity buses, seedy motels, wet t-shirt contests, jail cells, honky-tonks, and predatory night people. All the while, she is relentlessly pursued by private investigators hired by her revenge-obsessed father to bring her back under his control.
You'll cheer the courage, strength, and determination of this endearing heroine as she searches for a new home and a new life, and finds a gentle, caring man–a bachelor deputy sheriff–who truly loves her.
But she has no inkling of the nightmare awaiting her at the end of the road.
A dizzying chain of events is triggered by an accident that claims the life of someone Dana loves. Suspicions surrounding the tragedy–and her own anger–force the teenager to return home. Upon her arrival, a humiliating family secret kept carefully hidden for years is callously revealed. This sets the stage for the inevitable final showdown between father and daughter as long-simmering anger, resentment, and hunger for revenge finally erupt into a terrifying flashpoint.

19 year old Dana Van Werner is on the run from the one person who should love her unconditionally. She is fleeing from a man that's not only capable of assaulting his wife, but is also evil enough to batter his own daughter and attempt to rape her.
The book is a harrowing tale of domestic abuse that may not sit comfortably with some people, as the violent scenes are quite graphic.
Richard Van Werner, Dana's father, is a powerful attorney that can make anything happen, including making police paperwork get lost in the system, and people disappear. He's used to playing hard ball and getting his own way, and his daughter leaving only angers him more than he's ever been. Dana running off has stirred up his emotions and he will do anything to bring her back home, though not to love her, but to own her – she is his!
Ross Ponderson has approached a subject that many feel difficult to fathom, let alone read about, but the truth is that this type of behaviour does go on behind closed doors, and I feel that he's trying to show with Richards character, that even people that are well-loved and high up in society, are capable of inflicting such pain, physically and emotionally, on others.
Right from the first chapter, I was drawn into the pages and immersed completely in the book. Dana's story, although emotional to read at times, was inspiring. To witness how one young woman had such courage to flee, alone, with nothing to her name, leaving her designer clothes and wealthy lifestyle behind her, then later in the book confront the man that was causing her so much grief, was inspirational.
The book isn't a romantic easy read that warms the heart. It is a book that will pull at your heart strings, get your emotions flowing and sometimes make you feel a bit uncomfortable, but I fully enjoyed it.
Unfortunately I do have one criticism though. I didn't like the epilogue and would have preferred not to have read it, as I like to make up in my imagination what the future has in store for a character. The epilogue however, told you everything about the rest of Dana's life including her family, kids etc so there was nothing left to the imagination.
Book reviewed by Stacey
Purchase Links


I am a retired IT guy who spends far too many hours writing things on computers for the pure self-satisfaction of seeing them on screen.
Now, instead of writing programming code, I write actual English words in the hope that millions of people will enjoy reading them.
I enjoy writing (of course), reading, railroading, history, surfing (the web, that is), museums of any kind, 1970's music, wishing I'd become a professional musician (much to the dismay of my weary keyboard), and strolling through the local malls.
I ALWAYS brake for book emporiums and music stores. "Child of Privilege" is my first novel; my 2nd epic is currently being first-drafted. Hopefully, many more novels will follow.
Have a read of our interview with Ross – 'The Writing Life of: Ross Ponderson'
www.rossponderson.blogspot.co.uk
@rossponderson
Facebook
Goodreads