She Counts by N.D Thompson – Book Review
She Counts by N.D Thompson – Book Review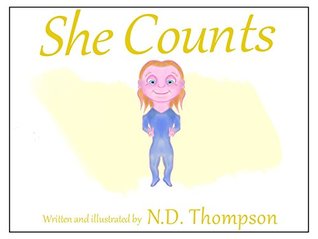 She Counts
Author – N.D Thompson
Publisher Ravenwood Press
Pages – 32
Release Date – 15th January 2017
Format – ebook, paperback
Reviewer – Stacey
I received a free copy of this book
Post Contains Affiliate Links

This book highlights the inevitability of our children's growth.
A perfect story to read to your little one and be reminded of your love for each other. If you still have the chance to read to a little one, do so.

She Counts, is a young children's ebook, only 16 pages long. It is written and illustrated by author N.D Thompson for his daughter, Novalyn.
The book follows the journey of Novalyn's childhood, yet to come, via counting. It starts off with her learning to count to three, and ends with her being a teenager and 'no longer counts on me'.
It is a very sweet book, and you can feel through the choice of words, how much N.D Thompson really loves his daughter. It is written in a rhyme, something I always feel that young children enjoy.
The illustrations are beautiful within the book, but I would of loved to see the front cover, which, although it shouldn't do, is the illustration that draws people to the book, have that 'choose me' look to it. It needs to have more to it that just a little girl, and the title on it. It is also a little bit bland in colour.
It's would also of been lovely if there was a paperback version to go with the ebook, as young children still like to have a physical book, and schools, nurseries etc, don't use ebooks. This story would be a lovely addition to any school library.
She Counts is a beautiful gesture from a father to his daughter, that all youngsters can enjoy.
Book Reviewed by Stacey
Purchase Links