Touched by Abbey MacMunn – Book Review
Touched by Abbey MacMunn – Book Review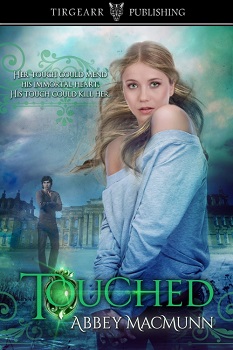 Touched
Author – Abbey MacMunn
Publisher – Tirgearr Publishing
Pages – 206
Release Date – 13th July 2016
Format – ebook
Reviewer – Julie
I received a free copy of this book
Post Contains Affiliate Links

When inquisitive antique dealer Cami Wilson learns she's the revered offspring of an immortal mother and a mortal father, it's not just her hybrid status that has her all flustered. The title comes with her very own super-sexy guardian.
Jaded immortal Joseph Carlisle has only one thing on his mind; his sworn duty to protect the hybrid from those who wish her harm. Anything else would be complicated. That is until they meet.
Chemistry sizzles between them but there's a problem—the hybrid's curse. Cami's touch, skin to skin, proves near fatal to her and all immortals, Joseph included.
But the fated lovers discover her curse is the least of their concerns when a friend's deadly betrayal threatens to tear them apart forever.

'Touched' is a romantic fantasy novel by British author, Abbey MacMunn.
MacMunn blends the outlandish with the ordinary throughout her book, along with smatterings of humour and irony. We first meet Cami, the main protagonist, enmeshed in a perilous situation. There are men with swords pursuing her in Morrisons and further into the story we are introduced to an immortal gay hairdresser, who we only meet after the main characters have found a parking space outside his salon in the rush hour in Southampton.
We see much of the story through the eyes of Cami but occasionally we glimpse an alternative perspective with insights from Joseph, her supernatural guardian and love interest.
MacMunn sometimes uses topical references and products to make her points, which may or may not stand the test of time; I suspect that she's fine with the iconic moment when Madonna fell off stage but will an international audience know what a Tic Tac is?
The danger with the technique of dropping us directly into an action scene on page one, is that we can't empathise with the characters at that stage. In this case, MacMunn strikes a reasonable balance between excitement and interest, giving just enough background in the first chapters for us to care about Cami. However I would have liked far more explanation as to how and why the Carlisle brothers became immortal.
Cami's experiences were at times mind-blowing and she took an awful lot in her stride in a short space of time. She seemed to have no adjustment issues with accepting she was 'the Hybrid'. However, from the author's point-of-view, I can understand that to have delved deeply into Cami's psyche would have interrupted the flow of the story and I was pleased that MacMunn managed to keep the structure reasonably tight.
I found some of the dialogue a little incongruous. Immortal beings using endearments such as 'babe' and 'hun' somehow diluted the scenes. However, the descriptive passages were vivid and I enjoyed the sights and smells that were evoked on a tour inside the manor house.
In essence, this is a love story set against a backdrop of the age old struggle between good and evil. The title suggested the main players' desire for each other would be paramount but I could have survived without the graphic bits and would have preferred an emphasis on the tender rather than the tactile.
If you enjoy romantic, slightly raunchy novels with a large helping of the paranormal, you should suspend reality and settle down on the sofa with this Touched.
'Touched' is a light-hearted read with a few new twists on a tried and tested formula and I look forward to finding out more about Cami and Joseph et al. I was torn between three-and-a-half and four stars, as I had a few reservations as noted above. However as there were far more positives than negatives and this book maintained my interest all the way through, I'm plumping for the higher rating.
Book Reviewed by Julie
Purchase Links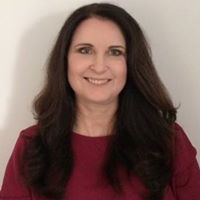 Abbey MacMunn writes paranormal, fantasy and sci fi romance, and occasionally children's books too. She lives in Hampshire, UK, with her husband and their four children.
When she's not writing, she likes to watch films and TV shows – anything from rom-coms to superheroes to science fiction movies.
She is a proud member of the Romantic Novelists' Association.
Author Links
www.abbeymacmunn.com
@abbeymacmunn
Facebook
Pinterest
Goodreads