Arrowood and The Meeting House Murders by Mick Finlay – Book Review
Arrowood and The Meeting House Murders by Mick Finlay – Book Review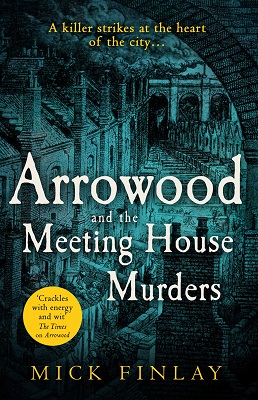 Arrowood and The Meeting House Murders
Arrowood Book Four
Author – Mick Finlay
Publisher – HQ
Pages – 400
Released – 8th July 2021
ISBN-13 – 978-0008324551
Format – ebook, paperback
Rating – 5 Stars
I received a free copy of this book.
This post contains affiliate links.


Synopsis
London Society takes their problems to Sherlock Holmes. Everyone else goes to Arrowood.
Nowhere to hide.
London, 1879. As winter grips the city, a group of African travellers seek sanctuary inside the walls of the Quaker Meeting House. They are being hunted by a ruthless showman, who is forcing them to perform in his ethnic exhibition in the London Aquarium.
Nowhere to turn.
Private investigator William Arrowood and his assistant Barnett agree to help the travellers avoid capture. But when they arrive at the Meeting House, they find a scene of devastation. Two people have been murdered and the others have fled into the night.
Nowhere to run.
The hunt for the real killer leads Arrowood into the dark heart of Victorian London. A shadowy world of freak shows, violence and betrayal, where there are no good choices and only the slimmest chance of survival…
Set in London 1896 (not 1879 as the synopsis states), private investigator William Arrowood is back with his fourth case. This time he has taken on a case concerning four African travellers who have come to him for protection after they have run away from the travelling freak show to whom they have been sold.
Arrowood and his associate Norman Barnett take the four to a Quaker house where they should have been safe. When the pair step away from the house a group of men burst in killing one of the Africans and Mr. Fowler who ran the place. Two of the Africans escape but another and Mr. Fowler's wife are missing.
Although he knows he will no longer get paid for the job, Arrowood is determined to uncover what happened and locate the missing two people. The police have put just two men on the job to find the killer(s) so are happy for Arrowood's support in bringing them to justice, but the list is long for suspects, made even longer when officers from South Africa arrive with news that two of the travelling Africans are wanted for murder and theft back home.
Arrowood and The Meeting House Murders is the fourth book in the series and the third I have read, I really need to go back and read book one. I have a love for historical mysteries and sleuths so this series has been exceptionally enjoyable to read.
You not only get to see Arrowood and Barnett in their search for the truth and their detective work you also get to see them as normal people dealing with families/love lives. I adore how much the book is similar to Sherlock Holmes novels and yet the main character hates him. He thinks he is a charlatan. Where Sherlock spends time thinking and coming up with ideas that no one else has thought of, Arrowood is more pragmatic and is an actions man, and likes to get fully involved and work out the case on the go.
If you enjoy historical mysteries or sleuths set in the Victorian era then this series is one to pick up, it is an amazing and engaging read that had me hooked the whole way through, especially when I thought I had things worked out in my head and then I'd have to rethink as author Mick Finlay would take the book in a different direction. He certainly kept me guessing!
Purchase Online From:
---
What did you think of 'Arrowood and The Meeting House Murders'? Share your thoughts in the comment section below!
---
The above links are affiliate links. I receive a very small percentage from each item you purchase via these link, which is at no extra cost to you. If you are thinking about purchasing the book, please think about using one of the links. All money received goes back into the blog and helps to keep it running. Thank you.
Like us on Facebook – Tweet us on Twitter – Pin us on Pinterest – Join us on Instagram