Dark Hollows by Steve Frech – Book Review
Dark Hollows by Steve Frech – Book Review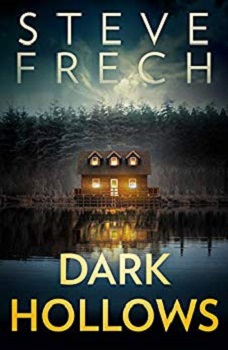 Dark Hollows
Author – Steve Frech
Publisher – HQ Digital
Pages – 384
Released – 6th December 2019
ISBN-13 – 978-0008372170
Format – ebook, paperback, audio
Review by – Stacey
Rating – 4 Stars
I received a free copy of this book.
This post contains affiliate links.
Jacob Reese enjoys the quiet life, running a coffee shop and renting out his cottage in The Hollows, Vermont.
But the calm is shattered when a woman who looks eerily similar to his ex-girlfriend Laura turns up to stay in the cottage, and leaves a mysterious note in the guest book.
Now Jacob's seeing Laura everywhere―a glimpse of her face across the street, her music box left outside his house, a gift he gave her years before hanging from the trees.
But it can't be Laura. Because Laura's dead.
Someone knows Jacob's secret―what really happened the night Laura died―and they're out for revenge…

Jacob Reese lives in a small town called The Hollows, Vermont with his dog, Murphy. He leads a quiet life with his canine companion. He owns a cottage that faces his home that he rents out to holidaymakers as well as running the local coffee shop.
Jacob is normally very picky when it comes to his cottage guests, choosing to only go with ones who have been previously stayed at other homes on the tourism website 'Be Our Guest' he rents through. When a young woman with no previous rentals asks for a one night stay at his cottage there is something about her that makes him say yes. However, when she arrives he's not sure he was right to allow her to stay as she is giving off a serious vibe.
The next morning the woman is gone, but the cottage has been left open wide and nothing inside has been used or touched except for the guest book where there is a written note stating 'Laura Aisling'. That is the name of his girlfriend who is dead. He knows it can't be her, meaning that someone knows his secret.
Dark Hollows is a suspenseful, mystery novel that I flew through it a couple of days. The book moves along at a steady pace, never slow, never fast but keeping you hooked to the pages.
The plot is dark and creepy, what with the name of the place, The Hollows, the setting which is just Before Halloween and a possible dead girl come back to haunt her previous lover – Or has she?
We get to read all about Jacob's present life as well as his past, in which we find out about his previous occupation and his relationship with Laura. There is also the reoccurring vivid nightmare he keeps on having to decipher.
There was plenty of tension within the pages and well as some unexpected moments as you try to figure out whether this is a supernatural story or a thriller. If you are not a fan of books with many characters then you will be happy that there are not many secondary characters in the book which keeps the main focus on Jacob.
I was a little apprehensive when I began as I realised early on that the book had very long chapters, given the copy I had, had only 17 chapters and 384 pages and that long chapters are one of my bugbears about books, however, I can honestly say I didn't notice as I was so engrossed.
If you like books that are exciting, climatic, and keep you on your toes then Dark Hollows is a must-read for you. My tiny disappointment was that I wanted the book to keep on going as I wanted to know what Jacob had decided!
Book Reviewer – Stacey
---
Purchase online from:
---
About the Author
Steve Frech lives in Los Angeles. In addition to writing, he produces and hosts the Random Awesomeness Podcast, an improv-comedy quiz show that has been performed at Upright Citizens Brigade, The Improv, iO West, and Nerdist.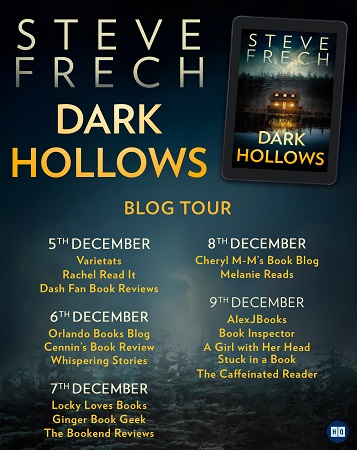 ---
What did you think of Dark Hollows? Share your thoughts in the comment section below!
---
The above links are affiliate links. I receive a very small percentage from each item you purchase via these link, which is at no extra cost to you. If you are thinking about purchasing the book, please think about using one of the links. All money received goes back into the blog and helps to keep it running. Thank you.