Deadheading by Paul Cristo – Book Review
Deadheading by Paul Cristo – Book Review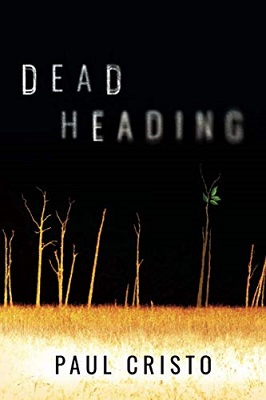 Deadheading
Author – Paul Cristo
Publisher – PaJe Press
Pages – 372
Released – 31st March 2020
ISBN-13 – 978-1934613450
Format – ebook, paperback
Review by – Ed
Rating – 5 Stars
I received a free copy of this book.
This post contains affiliate links.


A bizarre sickness is infecting the planet, turning its victims into contorted piles of flesh. Lewis barely notices though, rarely looking up from his number-crunching job and voracious appetite for streaming entertainment. But his life changes forever after waking up one morning to find the world's population eradicated. Stranded without food or water, he's forced to use ingenuity to survive, foraging resources from the desolate city around him.
Until he discovers he's not alone.
Lewis's new life is threatened by a violent gang of gun-wielding scavengers. He learns these men are harvesting survivors, inflicting slavery and torture for a horrifying purpose.
Outmanned and outgunned, Lewis and some newfound friends must band together, employing their collective wit and cunning against a deadly foe to avoid being killed. Or worse… captured.
DEADHEADING is a post-apocalyptic journey of survival, ingenuity, and a dollop of vengeance.

Paul Cristo's novel Deadheading, which is written in the first person, starts with a pandemic starting in other countries and spreading until it finally reached the protagonist's unnamed large city that his mother lived in, Middle, NW. Those who caught the disease were grossly deformed while dying. The unnamed man stockpiled food supplies and filled every vessel, including his bathtub with water, which proved to be wise. He stayed in his apartment for many weeks before his food started running out, the power went out, and the faucets ran dry. In chapter two he ventured out and drove his car to grocery and convenience stores without running into a single person or a parcel of food. Was he the last man on earth?
The protagonist broke into a nice house and found some food and water in the toilet reservoir tank. He took the food and water to a new house that was for sale and went to sleep. He awoke and heard someone burglarizing the house. He was the first person he had seen alive. But the other man had a gun, took his food and water, and left in a pick-up truck. The protagonist then found a new house with a garden in the back yard with fresh vegetables. He broke into a library and stole a book, For the Love of Gardening, by Mildred Green. He expanded the garden.
One day he hears a rumble of trucks on the nearby freeway. The next day, he watches the freeway and sees three pickup trucks speed by. He eventually finds the house where they are living and sees a woman with her ankles shackled and manages to rescue her. When he gets her back to his house, the reader finally finds out that the protagonist writing in the first person is named Lewis, when the woman, Frankie, introduces herself in Chapter ten. Frankie tells Lewis that the really bad guy running the men in this part of the world was named Jarod.
The novel moves from survival to an action thriller with Lewis and Frankie leading the action. Lewis is extremely innovative and learns to make explosives, fly an airplane (a very entertaining read), and learns to run equipment. Frankie learns how to become an expert with a bow and arrow, and they go out and attempt to save the world from Jarod. I won't share anymore and spoil it for the readers.
The current Covid-19 virus pandemic plaguing the world made my review of this novel very timely. The plot was excellently crafted, and the novel was expertly edited. It expressed tension, uncertainty; and feelings of inadequacy, triumph, and mystery. I thoroughly enjoyed it. I do highly recommend it for readers of all genres including young adults. I worry that my review does not properly display the excellence of this novel as it is a must read.
Book Reviewer – Ed
---
Purchase online from:
---
About the Author

My earliest memories are of my parents telling me bedtime stories. Even before I could speak, I was drawn to a well-spun yarn. Who of us isn't? Goldilocks and the Three Bears can be absolutely riveting if told properly, which probably is why, much to the chagrin of my parents, I demanded to hear it every night before bed. Every single night.
I eventually grew out of bedtime stories and moved from my hometown Tulsa to spend my formative years in Phoenix. Music became my focus, leading me to music school at Berklee College and freezing my ass off for three and a half years. Following an intense period of study and a steady diet of 2am pizza, I moved to Los Angeles to pursue a career as a film composer. Two decades went by before I began to miss story time.
My day job put me in close proximity to some wonderful storytellers, which got my wheels turning. Though telling a story through music can be powerful and rewarding, a part of me wanted to capture whatever magical pixie dust my parents sprinkled onto their storytelling. At first, it felt presumptuous, even imposterous to think I might produce words worth reading. But then an idea struck, and I impulsively leapt from my MIDI keyboard to a QWERTY keyboard.


---
What did you think of Deadheading? Share your thoughts in the comment section below!
---
The above links are affiliate links. I receive a very small percentage from each item you purchase via these link, which is at no extra cost to you. If you are thinking about purchasing the book, please think about using one of the links. All money received goes back into the blog and helps to keep it running. Thank you.
Like us on Facebook – Tweet us on Twitter – Pin us on Pinterest