Don't Mess With Duck by Becky Davies – Book Review
Don't Mess With Duck by Becky Davies – Book Review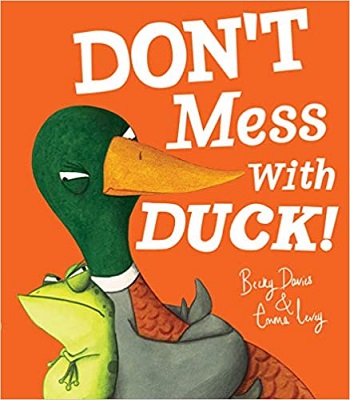 Don't Mess With Duck
Author – Becky Davies
Illustrator – Emma Levey
Publisher – Little Tiger Press
Pages – 32
Released – 4th March 2021
ISBN-13 – 978-1788815918
Format – paperback, hardcover
Rating – 5 Stars
I received a free copy of this book.
This post contains affiliate links.


Synopsis
No more quacking! No more chatting! And no more SPLASHING!
Duck is on a mission to find a peaceful pond. He wants to be ALONE.
What will Duck do when he finds the perfect pond… but someone's already in it?
Don't Mess With Duck is a book that I am ashamed to say reminded me of myself. Duck likes peace and quiet but he keeps on having to move because every time he settles somewhere groups of people arrive and make lots of noise and splash around soaking him.
He thinks that he has found the perfect place, but it is frog's home. He likes the quiet too, so they get along fine, that is until another family arrives wanting to share their pond. What will they do?
I might be known for liking my peace and quiet, especially when trying to relax or read my book and I might be known for moving numerous times to get away from people that invade my space, hence why this book reminds me of myself!
The book is superb, give you a good laugh, and has some impressive full-page, bright, and colourful illustrations that are quite comical at times.
The motto behind the book is that sometimes it is good to share and be around others rather than be alone. Though I also think that it is good for the soul to want some time for yourself and not have to listen to others shouting, screaming, disturbing your peace. A mixture of both is the perfect cocktail as far as I'm concerned.
Purchase Online From:
---
What did you think of 'Don't Mess With Duck'? Share your thoughts in the comment section below!
---
The above links are affiliate links. I receive a very small percentage from each item you purchase via these link, which is at no extra cost to you. If you are thinking about purchasing the book, please think about using one of the links. All money received goes back into the blog and helps to keep it running. Thank you.
Like us on Facebook – Tweet us on Twitter – Pin us on Pinterest