Full Disclosure by Camryn Garrett – Book Review
Full Disclosure by Camryn Garrett – Book Review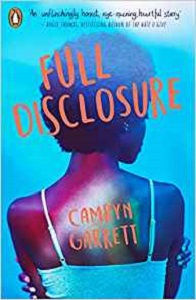 Full Disclosure
Author – Camryn Garrett
Publisher – Penguin
Pages – 320
Released – 31st October 2019
ISBN-13 – 978-0241367063
Format – ebook, paperback, hardcover, audio
Review by – Stacey
Rating – 4 Stars
I received a free copy of this book.
This post contains affiliate links.
Simone is HIV-positive – and positive HIV won't define her.
She also knows that celibacy is the best way to stay safe.
Enter Miles Austin: intelligent, funny and way too sexy for Simone to resist.
But her classmates don't know that she's HIV-positive – and what is the truth worth in the hands of the wrong person?

Teenager Simone has not had an easy life. She was born with HIV and has had to take antiretroviral medication daily to control the growth of the virus, plus all the hospital visits and group talks. She also had to move school after she told someone she thought she could trust about her HIV but the girl decided to spread it around and people began treating her differently, staying away from her, calling her names, etc.
At her new school, no-one knows, not even the teachers, or so she thought. When she starts dating Miles, Simone receives an anonymous letter telling her to stay away from him or the person will tell the school about her HIV.
Simone doesn't want to be held to ransom about her illness, however, she also doesn't want the whole school to find out and for her life to end up how it was at her old school.
There are two things about this book that hit me within a few chapters of reading it, the authors easy writing style and how diverse the book truly is.
Author Camryn Garrett has a way with words, it's as if she is talking directly to her teenage audience (yes I know I'm a little, okay a lot above the teenage years), but it is not surprising how her words come across when you realise that she wrote the book at just seventeen.
The book's diverseness represents the world today. We have Simone being brought up by her two gay dads. One of her best-friends is queer and Simone herself is Bi.
The book talks openly about subjects that some YA books steer clear from, including sex, buying vibrators, masturbation, and a whole lot more. The book also covers subjects such as safe sex and sexual health as well as answering some of your questions about living with HIV.
All of the characters are realistic and wonderful to get to know and understand. If you are a teenager at school then this book will probably speak to you more than someone of my age and that is who the book is for. It is an amazing story mixed with factual information on lots of subjects teenagers might want to know about but are too scared or embarrassed to ask.
Overall the book is a poignant, heart-warming read that I simply adored from cover to cover. A fresh new voice in the YA market that truly knows her audience and is exceptionally relatable.
Book Reviewer – Stacey
---
Purchase online from:
---
About the Author

Camryn Garrett was born and raised in New York. When she was thirteen, she was selected as a TIME for Kids reporter, where she interviewed celebrities like Warren Buffett and Kristen Bell. Her writing has appeared in the Huffington Post, MTV, and Rookie Magazine.
In 2015, she was named as one of MTV's 8 Inspiring Teens Using Social Media to Change the World. Camryn is also interested in film, having spent the summer of 2017 at New York University's Summer Filmmaking Workshop.
She is a proud advocate of diverse stories and writers.



---
What did you think of Full Disclosure? Share your thoughts in the comment section below!
---
The above links are affiliate links. I receive a very small percentage from each item you purchase via these link, which is at no extra cost to you. If you are thinking about purchasing the book, please think about using one of the links. All money received goes back into the blog and helps to keep it running. Thank you.